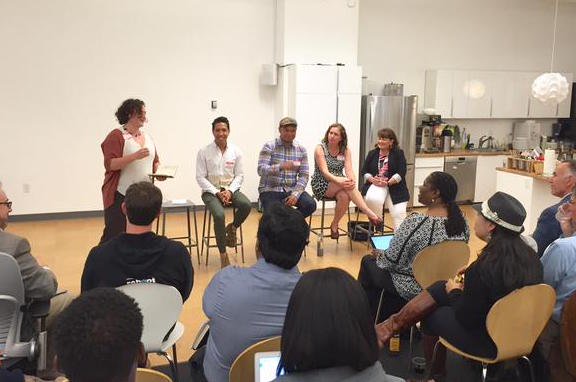 You've hired the perfect candidate, and can't wait for them to jump in with all the skills that blew you away during the interview process. But your work isn't done: to set your new hire up for success, it's essential to give them thoughtful employee onboarding.
Last week, Lever hosted a panel with top leaders in the talent industry. Together, they outlined some key employee onboarding tips that will get your new hire fired up for their role.
Ensure that the central players are prepared for your new hire's arrival.
Employee onboarding is a complex process, and most effective when a few figures take ownership. Ensure that HR is prepared to make crucial arrangements such as payroll, desk set-up, and benefits. Position the hiring manager as a mentor figure to the new hire, available to answer questions and articulate expectations for the employee's new role. Paolo Casumbal, Lever's Technical Recruiter, noted that "The hiring manager determines what the employee's entire learning process will be like, and we need to make sure that the hiring manager has weekly 1:1s with the new employee, from the very beginning."
Give them a list of tasks to keep them productive during downtime.
Your new hire will likely have some time to kill outside of shadowing meetings and developing new work relationships. Outline a set of activities for them to engage in; tell them how to set up their various company accounts and encourage them to dive into your company history. If downtime doesn't naturally emerge, make space for it on their schedule. Maureen Middleton, National Director of HR and Talent at Summer Search, emphasized, "The first few days of work are particularly exhausting. Don't pack them with back-to-back meetings." It's important to give your new hire time to read and reflect upon the new environment they've entered.
Immerse your new employee in company culture.
Rajon Tumbokon, Head of Tech Academy at LinkedIn, doesn't allow the engineers in his program to begin work during the first week. His priority is to connect them to company culture. To achieve this, you can suggest that your new employees take walks with their colleagues to learn about their respective journeys. On top of that, organize meetings in which company leaders delineate your company's core values and mission. Ultimately, this allows the new hire to align their values with those of their new colleagues.
---
Each company's processes are different, and we hope these tips give you some food for thought as you perfect your own employee onboarding!
Join part one of our Hiring for Growth webinar series, "Practical Tips from Stealth through Series C." Hear exclusive tips on hiring success for early to mid-stage startups from the man who built Twitter's sourcing function from scratch.