In 2016, we watched more and more recruiters realize that to hire the candidates they wanted, they couldn't pray for a qualified pool of inbound applicants – they had to actively seek them out.
This is where the hard work begins. To convince top candidates to respond, you have to both differentiate your content and differentiate the places you source. Get creative, and you can engage candidates before and better than other recruiters.
Last year, we enlisted the help of Jer Langhans, co-founder of Paired Sourcing, to compile this list of fresh ideas for sourcing candidates. Our goal was to help you begin thinking outside the box.
Now, we're celebrating the new year by sharing even more candidate sourcing ideas. Even with the sporadic buzz about the following talent gold mines, they remain largely untapped. Without further ado, these are the top 4 new places to begin sourcing in 2017:
Reddit
What is it?
Reddit is the self proclaimed "front page of the internet", presumably because noteworthy articles are often displayed on Reddit before they appear elsewhere. How does it work? Users submit links to blog posts, images, or videos on the site, and others vote those links up or down. That way, the most interesting, provocative, or even disturbing content makes it to the top of the page.
Why source here?
Reddit has subreddits, or sections for specific topics. If you like politics, movies, gaming, jokes (you name it), you can browse that subreddit for interesting content. These sections are often rich with qualified talent. Say you're hiring a sales development manager at a B2B company, for example. Many users posting in the B2B sales subreddit are so passionate about the industry that they enjoy discussing it outside their day job. And don't you want to recruit the candidates who talk endlessly about the industry you're hiring for?
Here's an added bonus: candidates interested in B2B sales roles may actually seek out career advice there, making them the ideal targets for your sourcing reach-outs.

There are also existing subreddits made specifically for job postings, which you would be remiss not to advertise in. If you're looking to fill a product design role in San Diego, for example, try posting in subreddits like "/r/SanDiegoJobs" and "/r/DesignJobs" as a start. One pro tip: engage with Reddit through sharing other content before you begin posting jobs. Once you've thoroughly explored the site and interacted with other Redditors, you'll have more success as you try to tell them about your open roles.
Our final suggestion? Poke around the discussion subreddits as well, where users often voluntarily field a variety of questions from others. In the "IAmA" subreddit, for example, people answer questions related to what they identify as ( "I am a software developer", "I am a medical student"), and in AMA ("ask me anything), you can ask one user any question. Often, the featured person in these subreddits is a passionate expert eager to share their knowledge with others, meaning they could be the deeply motivated candidate you seek.
Medium
What is it?
Medium is an online publishing platform, a self-described "place where everyone has a story to share and the best ones are delivered right to you". In other words, they're "your daily news reimagined". Medium is a blogging platform that hosts content from any user, meaning it contains a hybrid of amateur and professional publications.
Why source here?
Not surprisingly, Medium is a promising space to source writers and various types of content creators. Often, Medium contributors publish thought-provoking, unique pieces that you can't find anywhere else online. If they're creating compelling content because they find it fulfilling rather than simply because work requires it, they'd likely bring lots of passion to your role. Similar to Redditors who post relevant content outside of their day job, these writers will probably be deeply invested in any writing role if they're already doing it without pay.
You'll find more than just writers on Medium, however. The platform is crawling with product marketers, engineers, and executives who want to share their thoughts on the issues they value most. In a quick scan of recent published posts, we found posts written by a teacher, web producer, college student and designer. Contributors will often list their current role in their writer's bio, just as our own Head of Diversity and Inclusion, Ciara Trinidad, did above. That way, you can see if their background matches the role you're hiring for.

Twitter
What is it?
Twitter is an online social networking service where users can post and read messages restricted to 140 characters. As the second largest social network in 2016 behind Facebook, it has a neverending reach and loyal base of users.
Why source here?
We readily admit that sourcing on Twitter is not exactly a new idea, but we can't emphasize enough how rewarding it can be to tap into its pool of candidates.
First of all, you can use Twitter's advanced search to find users who have used keywords related to your role in their profile or history of tweets. Looking to hire a digital marketing manager in Austin? Type in "digital marketing" and "Austin" into advanced search, and see who's getting excited about the topic there.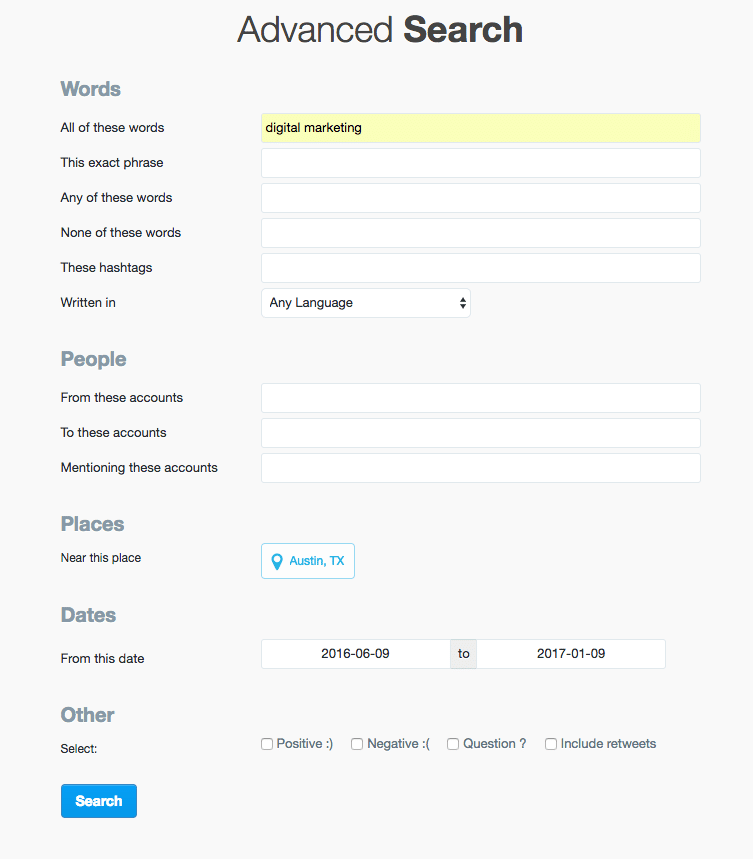 Also, as most of us know, one of Twitter's signature features is the hashtag. More than a fun way to emphasize one portion of your tweet, they are actually used to track conversations on specific topics. And as a recruiter, they serve as a useful tool to find groups of people who are discussing topics that relate to your open role. If you want to find a group of people who are passionate about a very niche topic like #recruitmentmarketing, for example, type it into the search box to see who's talking about it in the Twittersphere.
Your users
What is it?
The base of people who have passionately engaged with your product before. Particularly those who have taken the time to provide you with detailed, constructive feedback and who have acted as ambassador for your company brand. Often, they've shared their thoughts on your company review site or through support tickets.
Why source here?
The truth is, the people who have avidly used your product know its intricacies better than anyone else (sometimes, they know them even than your own team). They're all too familiar with most of its existing strengths and flaws, and the fact that they paid for your product in the first place means they know how and why it's valuable.

If you do decide to reach out to your current or former users, do so carefully and strategically. We suggest that you prioritize both those who have expressed interest in joining your team, and those who have been most engaged and invested in your product.
—
At times, it may feel like every top candidate is inaccessible. It stings when you reach out again and again, yet get no reply. We promise, however, that new sourcing pools are emerging all the time. Who would've thought that Medium, a blogging platform founded in 2012, could be such a rich source of talent?
If you're looking to jump into even more new sourcing pools, don't forget to download our tip sheet of 15 more (we repeat, 15!), fresh sourcing ideas.
Not sure how to get in touch with the candidates you source? Read our post on the best ways to find anybody's email.