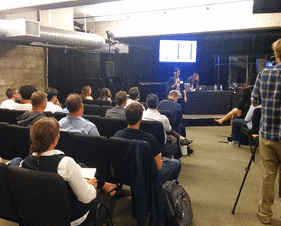 Earlier this month, we hosted our first event, Technical Recruiting Best Practices. The turnout was fantastic! Over 75 recruiters and hiring managers from startups all over the Bay Area came together to talk about the biggest challenge in the tech scene today: attracting, finding, and hiring great talent. We had a power lineup of presenters: Aline Lerner of the popular data-driven blog about recruiting, AJ Mizes of Sungevity, and Moses Sison of UberConference. Here are the takeaways:
Aline Lerner on Judging Technical Resumes
Turns out that most of us really aren't that great at judging applicants… when we do it alone!
The good news: Recruiters are better at judging candidates from top companies, while engineers fare better when candidates provide clear explanations of past projects.
Bottom Line: If recruiters, engineers, and hiring managers can work together, they will find the "gems" among the masses.
AJ Mizes on Combining Tools and the Human Experience to Attract Talent
Sungevity has successfully increased their recruiting efforts by creating a company brand focusing on the mission and the story – something that we can all do better.
But – warning – branding efforts are only successful if they are honest, sincere, and directly beneficial to existing employees
Moses Sison on The Top of the Hiring Funnel
There are two main ways to fill your pipeline: hunting – outbound sourcing by reaching out through Linkedin, etc. and farming – creating a compelling brand and story about your business that will attract candidates to your company and jobs page
Take away: Job descriptions that explain the actual work involved in the role will attract a greater numbers of applicants
The insights that our presenters shared revealed many of the challenges that we all face when competing for top talent and we can't wait to hold our next event. Thanks again to everyone who came and we look forward to seeing you again soon!