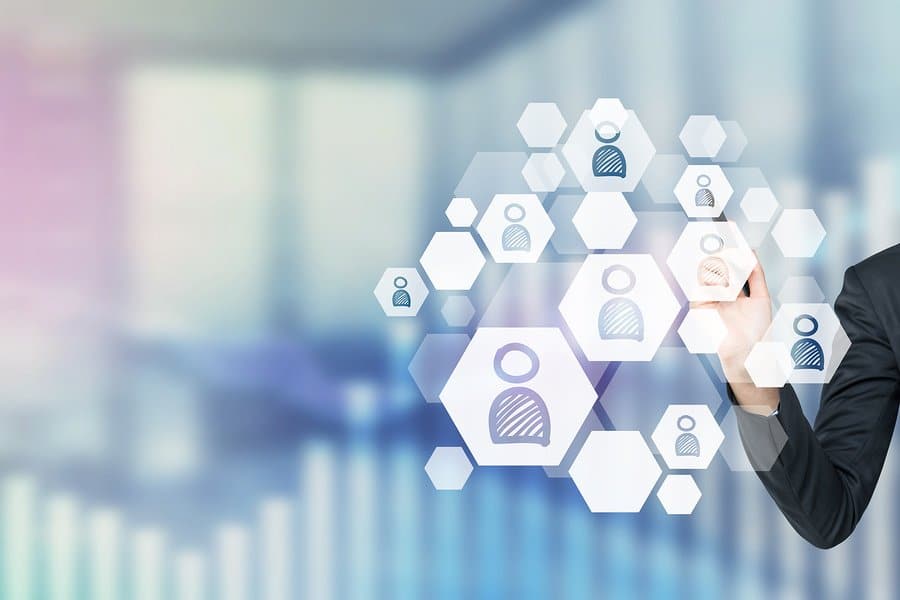 In a recent Lever webinar, How to Freshen Up Your Sourcing Strategy for 2016, we had the pleasure of welcoming sourcing expert Jer Langhans as our guest. Jer has 15 years of sourcing experience at companies like Cisco, Microsoft, EA, Disney, Starbucks, and Expedia. Now, he's the co-founder of Paired Sourcing, where he helps companies discover new talent and prime leads.

Sourcing Tips and Tricks for Recruiters
Given the increasing importance of sourcing candidates today, and as more companies begin to incorporate proactive sourcing techniques into their talent acquisition strategies, we were thrilled to have Jer share his expertise.
Here are 10 pieces of sourcing advice we learned during the session. To listen to the entire webinar, access it here.
1. Spend one third of your sourcing time on the "gorillas"
Jer recommends that you spend only about a third of your time on sourcing from your applicant tracking system (diving back into your database of candidates) and LinkedIn – what he calls the "gorillas". Your ATS and LinkedIn are likely where you spend a lot of your time already, and might be some of the largest and most important investments you've made. They're definitely important, says Jer, in fact, he's found that looking into his own ATS first has always been the most successful strategy. That said, a third of your time is all that you should be devoting to gorillas so you have time to focus efforts elsewhere as well.
2. Spend another third of your sourcing time on online sources
Although they may not come to mind as obvious sourcing tools, there are many sites where people display their skills and expertise that you can mine for talent. Among those Jer suggested were Quora, GitHub, Stack Overflow, Facebook, Twitter, and Instagram.
3. Expect to do some investigative work
While sites like Quora, GitHub, and Stack Overflow, are prime sources for discovering a person's expertise, people are more inclined to share their contact information on social channels like Facebook and Twitter. Be prepared to rely on multiple channels to find the information you need.
4. The Google Play Store is a goldmine for emails
Jer's pro tip: People who've published apps in the Google Play Store usually include their email in their app's profile page. If you're sourcing Android developers, there's a high chance you can find their email this way. Jer just did an Android developer search for a client, and of the 200 candidates he found, around 80 to 90 percent had published apps.
5. Spend the last third of your sourcing time on offline sources
Going old school and meeting people in person at events, conferences, meetups, etc. is a widely overlooked part of candidate sourcing, but it can be incredibly effective, and it's an opportunity to meet people where there's probably less competition.
6. "Call and coffee" your referrals
Employee referrals are one of the most successful sources of hire, so Jer reminded everyone: don't ignore them. If you have a bunch of referrals in your system, don't take a "we'll get to them if they're qualified" mentality. Instead of letting them sit while you source more candidates online, Jer says, engage them promptly and "call and coffee" them. When referrals are often a company's number one source of hire, doubling down your efforts there is worth the investment.
7. Attend and host meetups
When "calling and coffeeing" referrals becomes too much because you have too many referrals (a good problem to have), start hosting meetups. Meetups offer a way to increase your efficiency, still meet potential candidates in person, and start establishing your employer brand.
8. READ ME: Source 100 candidates per job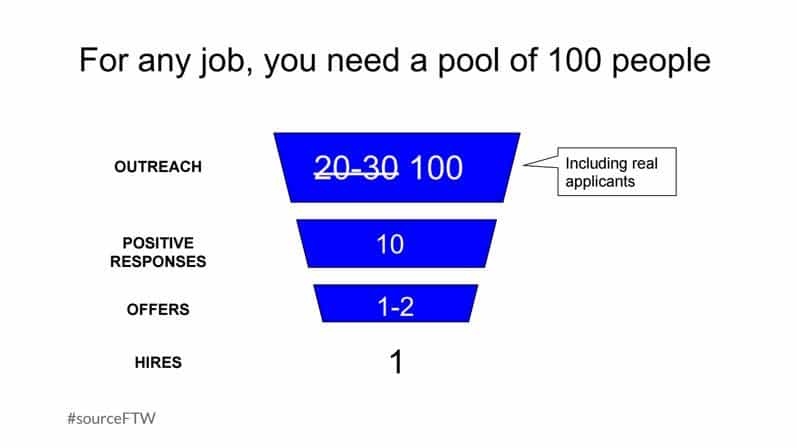 In what Jer called "the most important slide of the whole deck," he stressed that everyone needs a longer list of candidates – based on his experience, 100 per role. If you only fill your funnel with 20 candidates, you likely won't fill the requisition and you'll have to start over again. Sourcers can go through this cycle three or four times until their team finally makes a hire, which is time teams don't have. When you fill the top of your funnel, chances are a lot higher you'll end up with a hire during the first cycle.
9. Outreach tip #1: Be personable
It's hard enough to get candidates to respond to a person, let alone a no-reply email address. Some systems automatically send emails from a no-reply address, so make sure you're not in that boat. People want to know that they're speaking with a person.
10. Outreach tip #2: Don't go straight for the kill
It's a big no to ask the person you're sourcing if they're interested in a job and if they want to talk without giving them some information first. What's the why? Explain why the opportunity is compelling, and what the candidate would be able to achieve on the job. It's also always ideal to customize your outreach to the given candidate and their past experience.
Final thoughts: sourcing tips and tricks for recruiters
To hear all of this and more straight from Jer, and for real-life examples of bad, better, and great sourcing outreach, listen to the full webinar.