Today, we've collected many features and improvements into one, bigger release. You'll see some changes, and hopefully some welcome improvements. Major parts of the app have been reconsidered. The profile, list, and snooze page have all been streamlined. And thanks to a smart, new architecture, Lever is faster than ever.
A better list and profile
The candidate list and profile are the main pages in Lever, so we've made dozens of improvements to make those views better, faster, and more productive.
The list now highlights critical information about your candidates that makes it easier to track to-do's. Referrals stand out from the crowd. The status of current and upcoming interviews are visible at a glance. Feedback forms can be monitored as they come in from interviewers.

We've cleaned up the profile by removing the tabs from the history view and unifying all the different workflows into the action bar at the top. A candidate's history appears in one blended view, and you can use the filters to view any combination of information.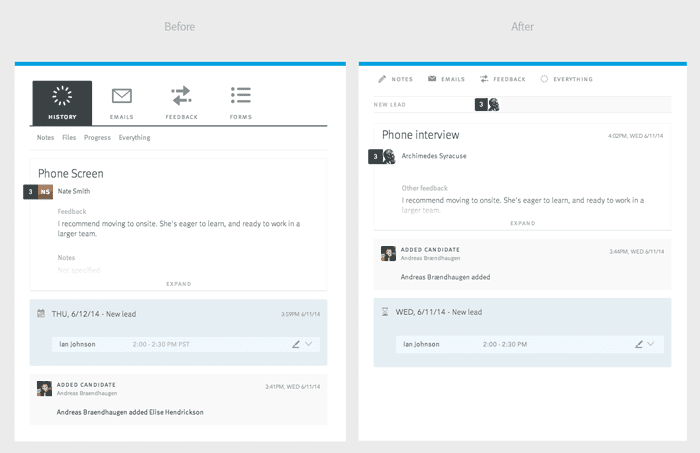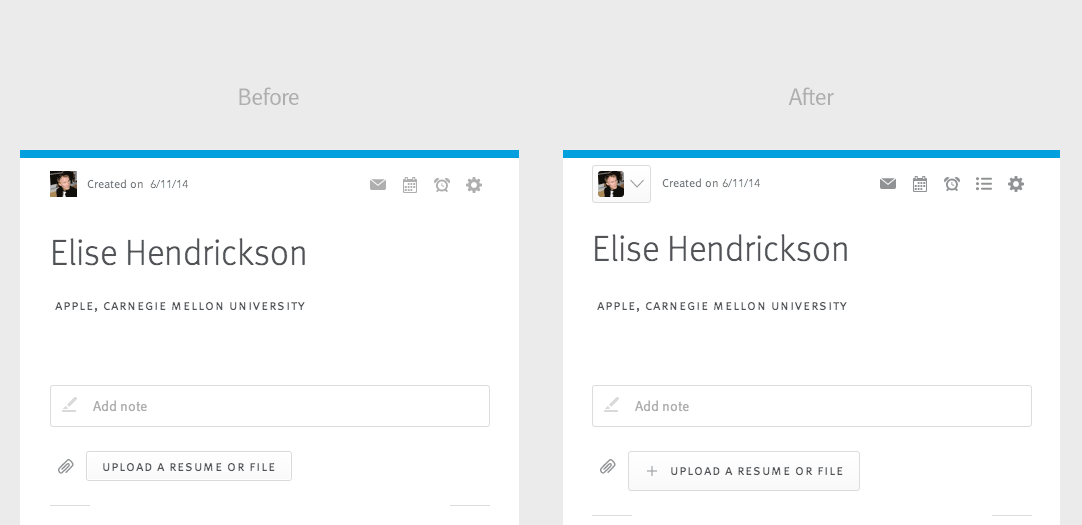 Introducing Workspaces and Drafts
You can now do all your scheduling and emailing in a spacious workspace on top of the profile or list. This gives you lots of space to focus on the task at hand. But in case you need a break, just close the workspace and rest assured that your work is saved at every keystroke. You can always return to a task later by clicking on "Drafts."

For those of you who like to multi-task, you can have multiple workspaces open in a single tabbed view. It couldn't be easier to schedule an onsite interview and confirm with the candidate via email, side-by-side.

Simplifying how you discuss and share
@-mentioning is one of Lever's most popular features, so we've made some changes to make it easier for everyone to stay in the loop.
Co-workers can respond to notes in emails or in the app, and the full conversation is displayed in a single, 'threaded' note.

We've also unified all the ways you can share a candidate. Now, sharing several candidates at once works just like mentioning a colleague in a note.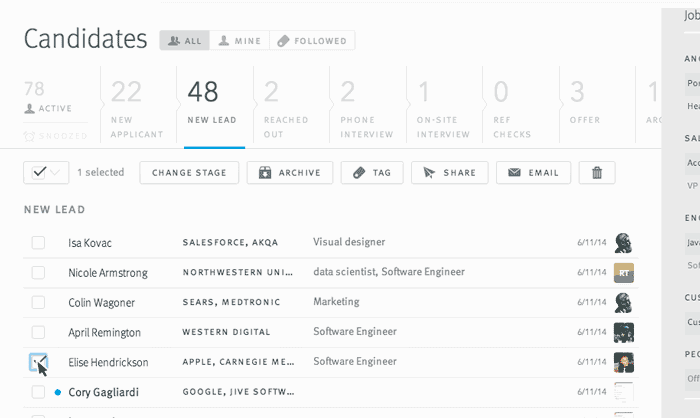 ("Inbox" has gone away for now, but we're thinking of ways for it to make a stronger comeback in the future.)
2-5x faster performance
This is so much more than a coat of paint – we've rebuilt the foundation. What this means in the short run is dramatically faster page loads, searches, and overall performance and stability. Of everything we've mentioned so far, this is likely have the biggest impact on your day-to-day. For instance, if your company has many candidates, you can expect load speeds that are up to five times faster!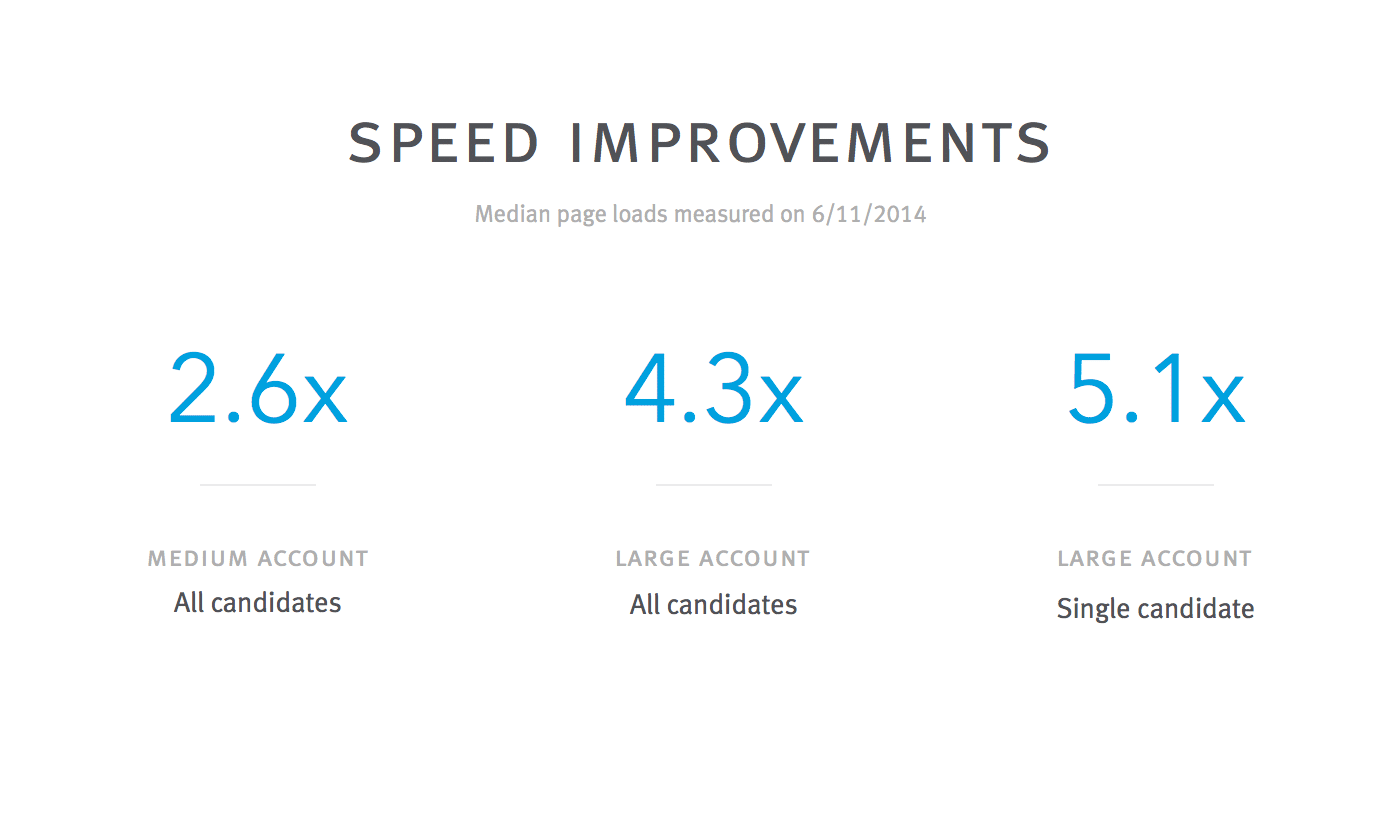 All the little details
We've also added infinite scroll to the list so you don't have to think of "navigating" – just find the candidates you're looking for.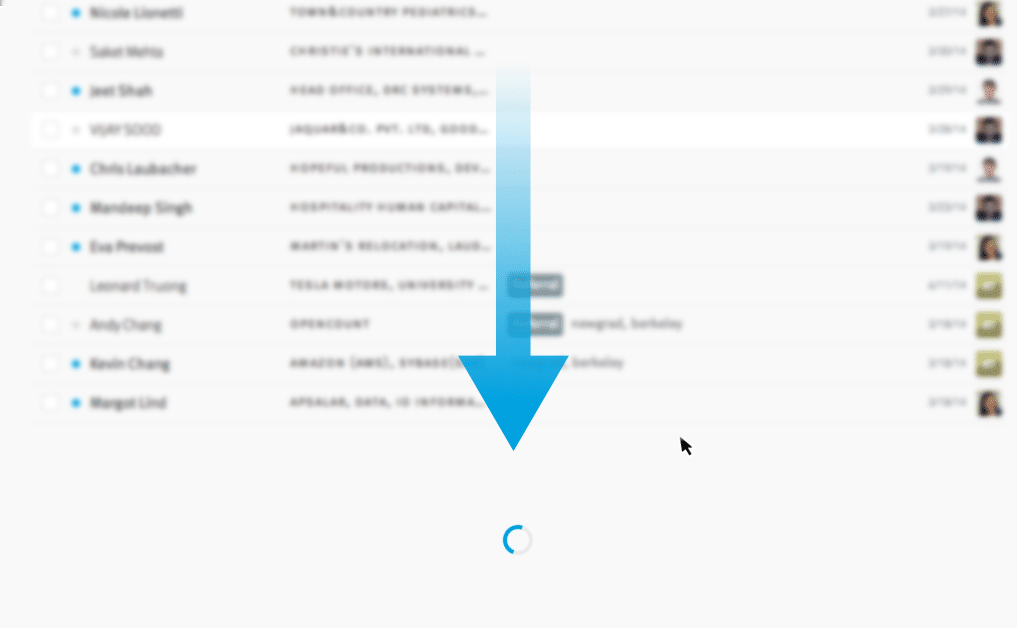 When scheduling interviews, Lever dedicates all the space to a single day, so you can clearly see your co-workers' schedules.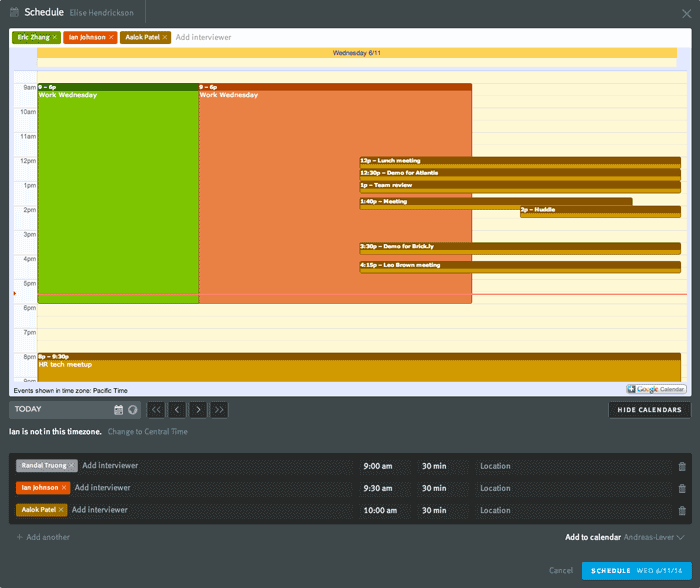 The smaller feature improvements and bug fixes are too numerous to discuss in detail, so here is a short list.
@mention colleagues in a reply, and they'll be added to the conversation.
Easier to snooze candidates
Better display and filtering of snoozed candidates
'Team member – limited' users have a 'Mine' list for candidates they add or source
Improved room picker in scheduling
Confirmation messages tells you if an action was successfully completed
'Add candidate' button is more prominent
Faster auto-suggest in the top right search bar
'/' shortcut key focuses into the top search field
… and many other small UI improvements and bug fixes.
We're very excited about these new features, but we think that the real value will come as we expand and improve on them in the coming weeks.
Let us know what you think! Tweet us at @lever, or email support@lever.co, or leave a comment below.