Last week, we spoke with Matrix Partners General Partner David Skok on "How Startups Can Build a Recruiting Machine." David, one of the foremost thinkers on talent in the VC community, shared a goldmine of recruiting advice – from specific tactics to broader insights and industry trends.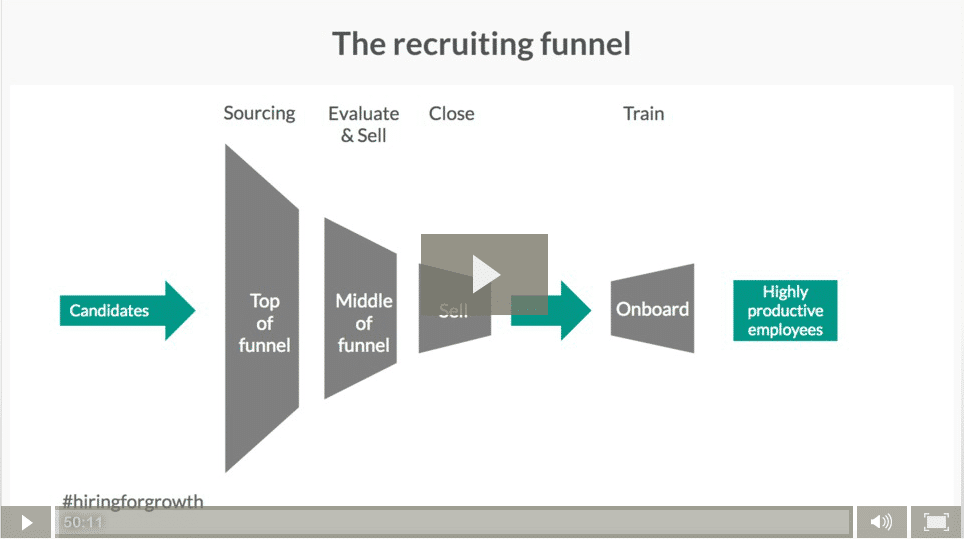 Here are some of the key takeaways:
1. Recruiting is the 3rd essential startup skill
David kicked off the webinar with a discussion about a recent and dramatic shift in what it takes for startups to be successful. Previously, David and his colleagues had identified two crucial skills: great product market fit, and building a sales and marketing machine.
Now, there's a third crucial skill: building a recruiting machine. David says this shift has come about due to changes in the environment, like an explosion of startups, the relatively slower growth in skilled workers, and huge demand for developers.
3. Recruiting has gone through a revolution
The explosion of startups, the relatively slower growth in skilled workers, and huge demand for developers all add up to this: demand for great people significantly outstrips the supply, and the hires that most impact your company's performance aren't looking for a job.
As a result, recruiting has gone through a revolution. It used to be that you would post a job, see a flood of resumes, and the recruiter's job would be to identify which resumes were worth hiring. Today, it's all about sourcing and selling.
4. Sourcing and selling are the key new recruiting skills
Previously, the key skills in recruiting were interviewing, reference checking, and facilitating candidates through the recruitment process. Now, David says the two key new skills are sourcing and selling, for two reasons. One, there's more demand than there is supply for the most highly valued people, so if you want them on your team, you need to recruit them when they're not looking for a job. And two, even when the very best candidates are actively looking for new opportunities, they get snapped up quickly, making your chances of finding them through traditional means like job boards slim.
5. Recruiting well takes the entire village
Hiring a recruiter isn't enough. David stresses that the entire company has to be involved in the recruiting mission, otherwise you won't be successful. That means from the CEO, all the way down.
6. Hire a recruiter as soon as post-Series A
In the past, David acknowledges you may have waited until you were around 30 or 50 employees to hire your first recruiter. Now, David says don't wait. Hire a recruiter right after you've raised a Series A round, even if that means you're still only two or three people. Recruiters will bring focus to your sourcing efforts, sell your company better than an outsourced recruiter would, and build out a terrific candidate experience.
7. Senior execs should spend 60-80 percent of their time on recruiting
The amount of time senior execs should spend on recruiting will vary depending on your organization's needs, but during periods of high growth, David (as well as our last webinar guest, the VP of People at Lyft, Ron Storn) recommends 60 to 80 percent.
We asked our audience the same question, and got the following results, with only two percent of participants responding with 61 to 80 percent: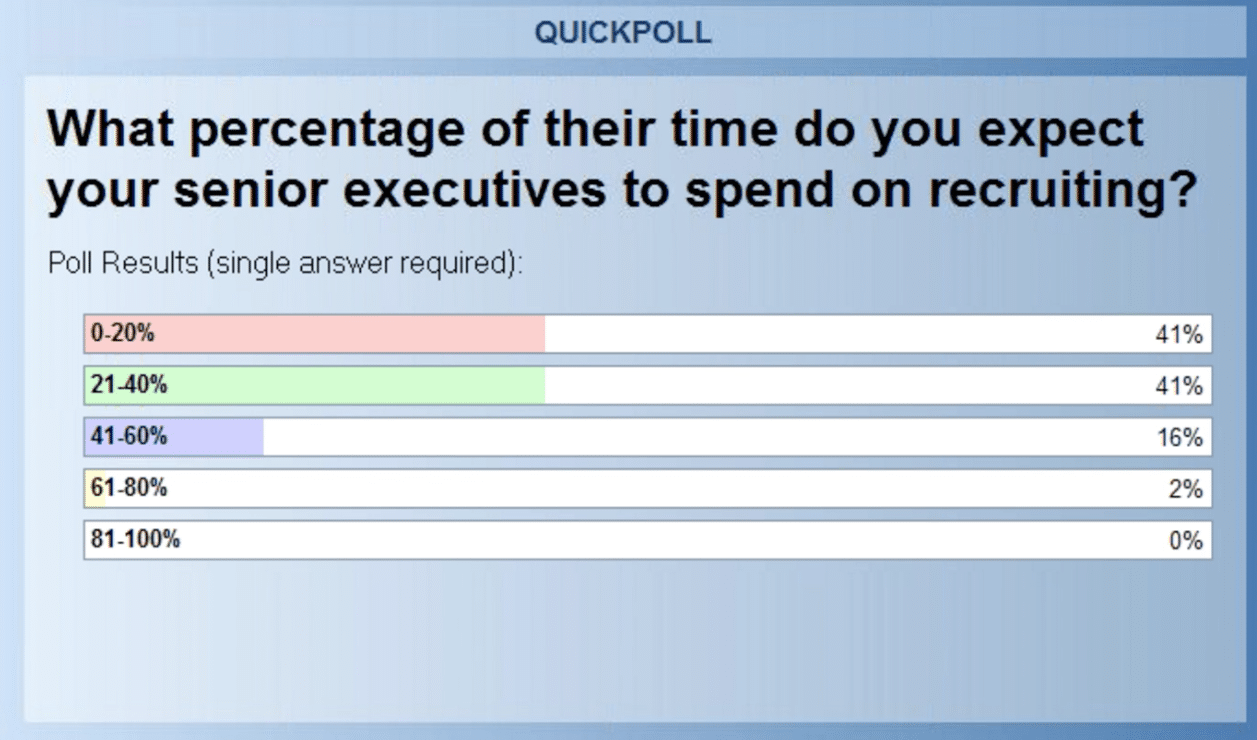 David says the number shocks people, but it just shows the nature of how hard it has become to hire.
8. Let your talent brand do the work for you
Companies with a strong talent brand have a 43 percent lower cost of hire and 20 percent faster rate of hire than ones that don't. To help articulate your brand, consider what makes you different or special, and what motivates your target talent.
9. Engineers cannot be recruited
The following advice comes from one of David's portfolio companies, who realized that engineers are overwhelmed by LinkedIn messages and calls, and can't be recruited. Instead of having their recruiter focus on recruiting engineers, the portfolio company has her focus on the company's technical brand through things like blogging and sending their engineers to community events and Meetups.
10. Domain expertise is rarely a must have
David says that in very few cases is domain expertise a must have. More often, it's a nice to have. Making domain expertise a must have cuts down on your candidate pool. And while domain experts may get up to speed faster than, say a great athlete, says David, the stronger athlete will overtake the domain expert within a short period of time.
11. Nurture is a byproduct of the passive candidate age
When you source candidates, you'll often run into people who aren't ready to make a move now, but who may be ready six months or a year down the line. You need a way to nurture candidates, stay in touch, and keep your company top of mind. You need a system, like a CRM for a salesperson, that helps you keep track of them.
12. Understand conversion rates
Only when you understand your conversion rates can you effectively forecast your needs, understand what's working well (and what isn't) and tighten up your process. If, for example, you need to hire five salespeople and you know it takes about 40 sales candidates to reach one hire, you can set appropriate sourcing goals.
13. Asking "what would you do if you were in this role now?" is #1 rookie interviewing mistake
Asking questions like, "What would you do if you were in our marketing department now?" is one of the top mistakes David sees untrained interviewers make. It's too easy for a smart candidate to tell you what they think you want to hear, but that's not an indication they're capable of actually doing the job. David says the only way to understand if a candidate actually has the skills needed is to dig deep into what they've done in the past. Furthermore, these types of questions are typical for managers and executives, and rarely paint a good picture of what company leaders will actually do once hired [Read: Executive Interview Questions].
14. Base your decision 70 percent on references, 30 percent on interviews
You can be fooled in an interview, but then do a reference call and discover you were about to make a really bad decision. David relies 70 percent on references and 30 percent on interviews as way to evaluate candidates. He also tells clients not to rely on solely on references provided by the candidate. A good way to find a blind reference is to ask for an introduction to an old boss or coworker from one of the references the candidate has already given you.
You want to get the truth out of a reference call, so it's imporant not to let references drive the conversation – they'll rarely say anything negative. One tip for getting a reference to speak candidly is to ask, "Is this person in the top 5 percent of people you've worked with?" If they say no, you have an opening to ask, "What would this person need to have done to have been in your top 5 percent?" This creates an opening for the reference to expose a weakness without feeling like they are saying something too negative.
Click the link for more example reference check questions that will help you draw out information about a candidate's true caliber.
15. Lean on your VCs
Your VCs can be fantastic resources in every step of the hiring process, such as thinking through your org design, helping with executive job descriptions, determining compensation, sourcing candidates, tracking down backdoor references, providing interview support, and helping close the very best candidates. Use them!
---
To listen to the full conversation with David's recruiting advice and learn how to build a recruiting machine in the new age, listen to the entire webinar, here.