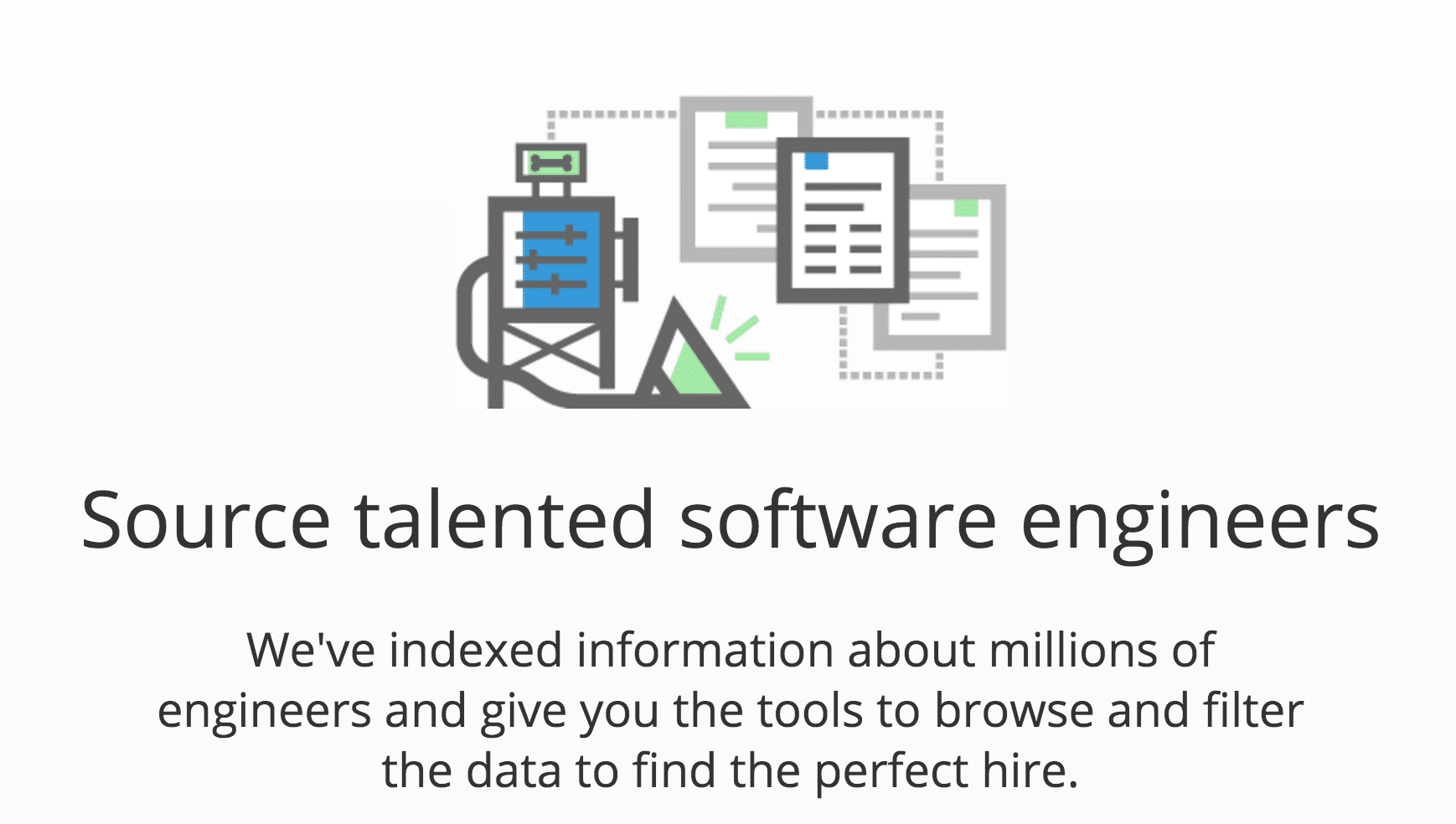 Recruiting software engineers is a challenge in today's competitive job market. There simply isn't enough qualified talent to fulfil the demand. As a result, high-quality engineering candidates are often bombarded by recruiting messages and have their pick of the litter when they want to consider a new opportunity. If you want to hire these coveted candidates, you have to stand out by diversifying your sourcing channels, utilizing employee referrals, and building a great candidate experience. Sourcing.io can help you do just that.
Sourcing.io is a paid sourcing tool that compiles public web data from sites like GitHub and StackOverflow to find software engineers, and uses an algorithm and filters to help you identify the best candidates for your company.
Diversifying your sourcing channels
When it comes to recruiting software engineers, it pays to go off the beaten path. Engineering candidates are becoming overwhelmed by the volume of inquiries they receive on popular sourcing tools, and many have stopped responding to recruiters on those platforms.
By sourcing candidates on Sourcing.io, strategic recruiters can find candidates that can't be found anywhere else, and drill down by skill, location, company, and open source contributions.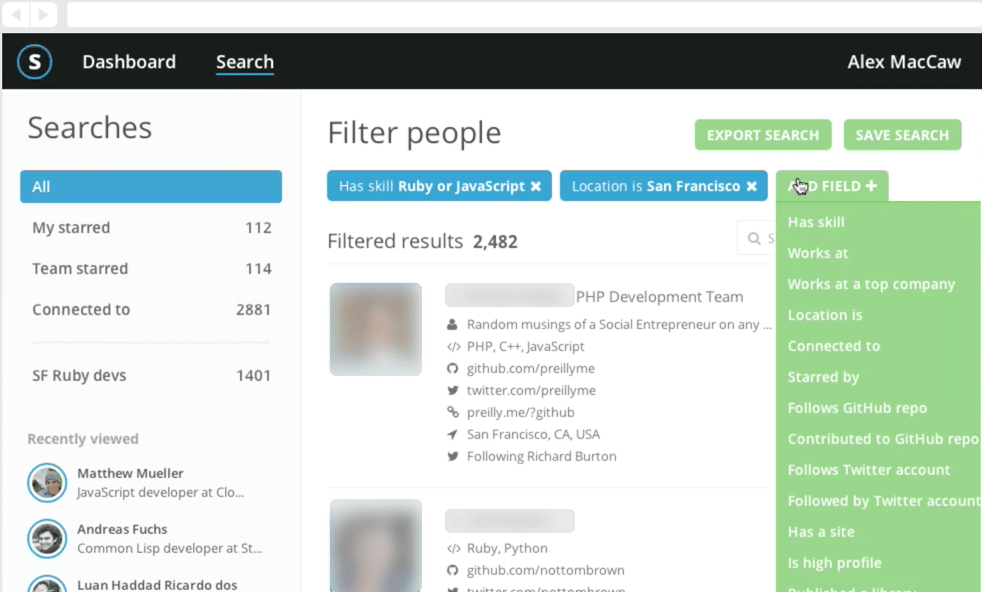 The result is a robust candidate profile that may include their blog URL, current employer, GitHub repositories, or published packages such as RubyGems.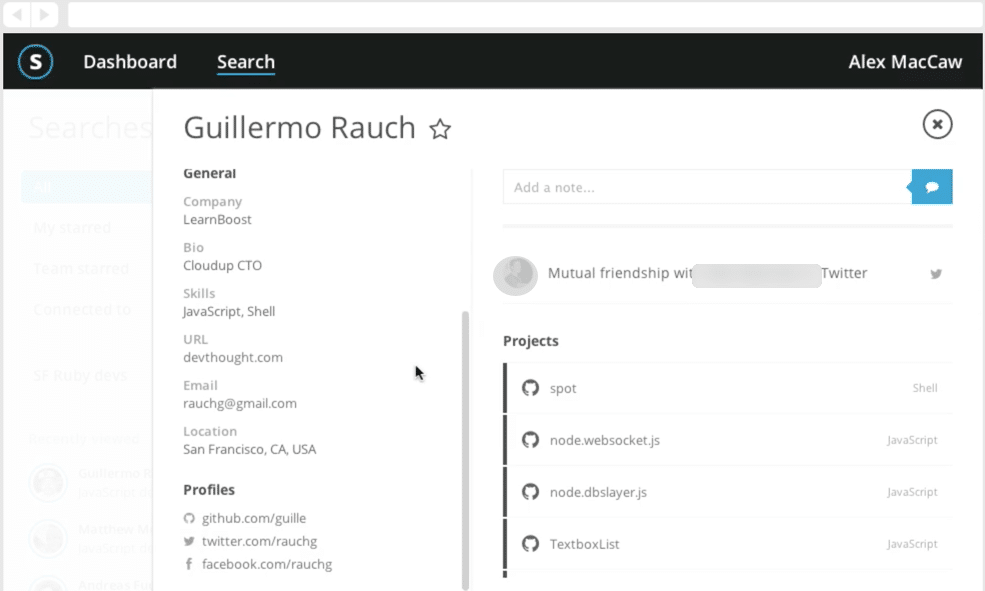 Once you've found the perfect candidates and reach out, you will likely see a higher response rate than you would on more popular sourcing platforms because there is less noise. Rather than being buried among other recruiting messages, your messages will stand out to the candidates.
Increasing employee referrals
According to LinkedIn, employee referrals are growing as a key source of quality hires, as they tend to have longer tenures and higher job performance. Sourcing.io allows your employees to connect their Twitter, GitHub and LinkedIn accounts, and highlights candidates that are already connected to your employees.
You can increase your candidate response rates further when a team member reaches out with a warm introduction, rather than sending a cold email. Your employees can shed light on the position, and why they like working at the company, to encourage their connections to schedule an exploratory meeting.
Crafting a great candidate experience
When you've found a great candidate, it's crucial that you provide a stellar candidate experience so that your sourcing effort doesn't go to waste. Active software engineering candidates likely won't be on the market for long – and you want them to choose your opportunity over any others they're considering.
Every touch point, from the first outreach to the offer, should be personalized to the candidate. Your first outreach should specify what about the candidate caught your eye, and how you think they could contribute to your organization. Your goal is to set up an exploratory meeting where you can learn more about the candidate's career motivations and show them how your organization could help them reach their career goals. Follow up with personalized messages on a regular basis to keep them engaged with your company as they move down your talent pipeline.
As you build meaningful relationships with your candidates, they'll learn more about your team and what it would be like to be part of it. Each candidate will feel more like a respected recruit than one of many faceless candidates – helping you stand out as a potential employer. Then, when it's time to make an offer, you will have the best candidates to choose from.
Conclusion
In today's job market, top-tier software engineers won't be falling into your lap any time soon – you have to compete against other companies for them. Hiring great software engineers requires you to stand out with a proactive, and personalized, approach to recruiting. It may seem counterintuitive to spend more time on fewer candidates, but focusing on the best talent means hiring the best talent. When top candidates have their choice of companies to work for, you have to be on your game if you want to win them for your team.
Next, learn how to source on the largest social network – Facebook.