With the possible exception of faltering unicorns, there probably isn't a hotter topic in technology right now than diversity and inclusion. Lever recently hosted talent leaders from a whole host of Bay Area companies, including Lyft, Twitch, Airbnb, Google, Dropbox, eBay, Uber, Thumbtack, Instacart, Linkedin, Netflix and many others, for a lively discussion on recruiting for diversity and how to move from talk to action.
Recruiting for Diversity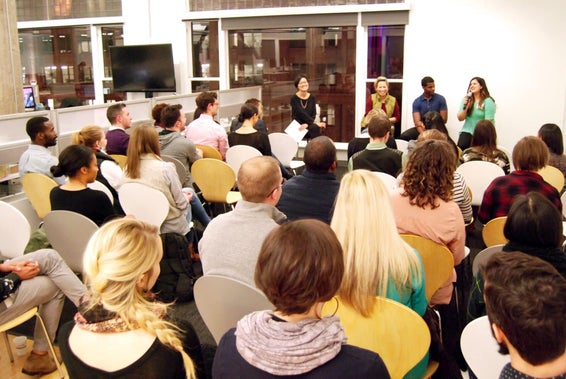 Moderated by Lever CEO Sarah Nahm, our panel – including Lisa Lee of Pandora, Jopwell founder Porter Braswell, and Nabeela Nirji of Yelp – gave candid answers to a series of important questions on the topic. Here are the top observations.


Recruiting for diversity means different things at different companies.
While companies most commonly focus on multiple underrepresented groups, Porter noted that every Jopwell client approaches diversity differently. At Yelp, Nabeela said employees take the lead in informing what diversity means at the company, and that they appoint champions in each office and department in accordance with that definition. Lisa commented that in order to really drive change, it pays to focus; at Pandora, the team takes a data-driven approach to defining the priorities and presenting the case to the executive team.


Even within a single company, diversity priorities differ.
Nabeela spoke to how various departments at Yelp are tackling different diversity opportunities. Regardless of where the gaps are, recruiting team buy-in is critical – and it could be more important than you think to have a diverse recruiting team.
"Culture fit" is an increasingly loaded term.
Lisa spoke about the need to think more deeply about the merits of the term 'culture fit'. While widely used, 'culture fit' can come down to surface judgments based on whether a candidate 'looks' like others on the team, giving rise to unconscious bias which obscures whether someone is actually the right hire for an opportunity. Lisa encouraged the audience to throw out 'culture fit', or at least consider whether the term adds any value within their organization.
Involve your company executives in a meaningful way.
Yelp's diversity council includes employees at different levels. While it can be daunting to speak up with top executives in the room, Nabeela underscored the importance of doing so: your execs want to hear from the frontlines, which helps them keep in touch with the realities of the company. Meanwhile, Lisa stated the importance of "going where the energy is" and where possible, appointing business leaders to sponsor initiatives for which they have a particular passion.
Curate success stories and celebrate small wins.
On the topic of 'how do you know you've had an impact?', Porter says he hears back from their candidates about how the Jopwell connection has opened doors for people. Nabeela said it's all about the small victories, and that part of the job entails writing those down to share with a broader audience. Likewise, Lisa lives for stories about how the needle is moving, and recognizes that to be focused on diversity is to be part of an ongoing movement that is gaining momentum every week.
To achieve a truly inclusive workforce, help your team to explore their differences.
Sarah mentioned that Lever has given the team certain tools to talk about differences, such as the Insights test which enables each employee to reflect on their own work style communication while understanding others' (often very different) approaches. At Pandora, one of the company's values is 'We are not the arbiter of cool'. To Lisa, inclusion is all about being really curious. Fittingly, one of the icebreaker questions for new employees is 'What's your favorite Pandora station?" which can shed a light on co-worker preferences.
Make sure your recruiting team walks the talk.
Nabeela talked about the value of teaching her talent acquisition team to read resumes so they don't fall prey to unconscious bias. Call out not only what's good in a resume, but also the potential biases that can creep in. Lisa goes further, refusing to put forth a candidate unless she has team buy-in on recruiting a diverse slate, and there is at least one diverse candidate.
---
Our sincere thanks to our friends from Jopwell, Pandora, and Yelp for providing their insights and inspiring us all to do a better job – not just in promoting diversity and inclusion, but also in 'walking the talk' and moving to action.
We donated the ticket sale fees to our favorite charity, Watsi, and look forward to hosting many more discussions that further diversity and inclusion in technology and beyond.