Recruiting developers is difficult in today's competitive job market. The best candidates on popular sourcing sites are inundated with recruiting messages, and often stop responding to them as a result. Smart recruiters are going off the beaten path, to sites like GitHub, to identify tech talent that can't be found elsewhere.
How to Recruit Developers on Github
GitHub is a hosting service where developers share open-source projects they're working on. Users set up a profile which contains their name, email address, location, employer, website, and their contributions to the site. Sourcing candidates on GitHub is free, and is particularly useful for identifying passive tech talent that is not on your competitors' radars yet.
Here's how to start recruiting developers on GitHub:
Search and filter talent
Go to GitHub Search (or the Advanced Search) and enter your search criteria. Search qualifiers include:
fullname
language
location
followers
repos (number of public repositories)

The above search query is sourcing for someone in San Francisco who has contributed to GitHub projects in CSS and HTML, and the search returns nearly 15,000 users. Fine-tune searches by adding additional criteria and sorting by best match, number of followers, number of repositories, or the date joined.
There are many strategies you can take with your filters. By filtering users with between 50-100 followers, for example, the original list of 15,000 users is whittled down to 431. These users have enough followers to be respected on GitHub, but not so many to indicate they may be unreachable. Another option is to sort by most recently joined. This shows candidates who have been on the site for a shorter amount of time, so they are less likely to have been worn down with recruiting messages, and therefore more likely to respond.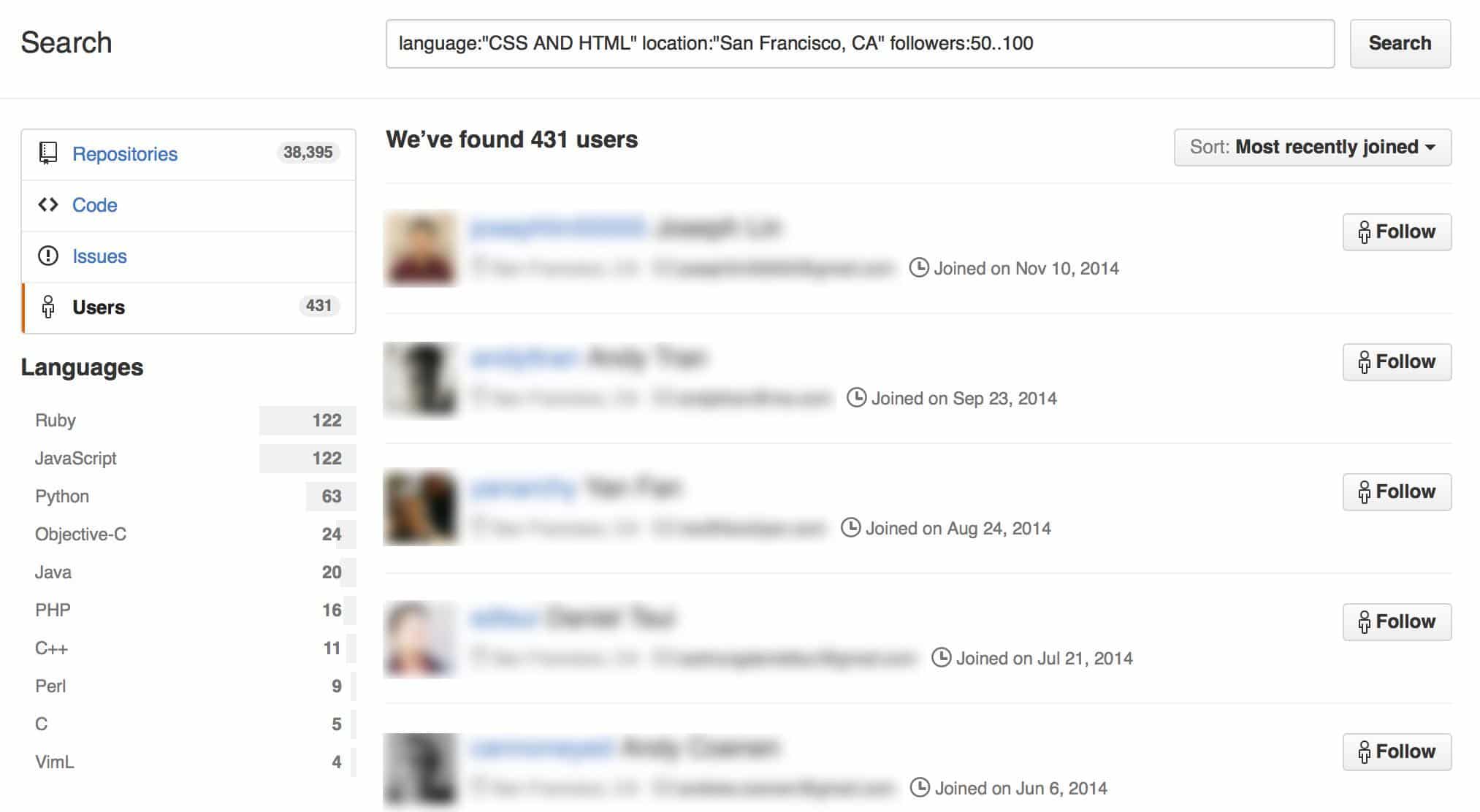 Next, review each user's profile to determine who could be a good fit for your role. Search repositories for relevant keywords, and dive into the projects that are similar to those your company needs to complete.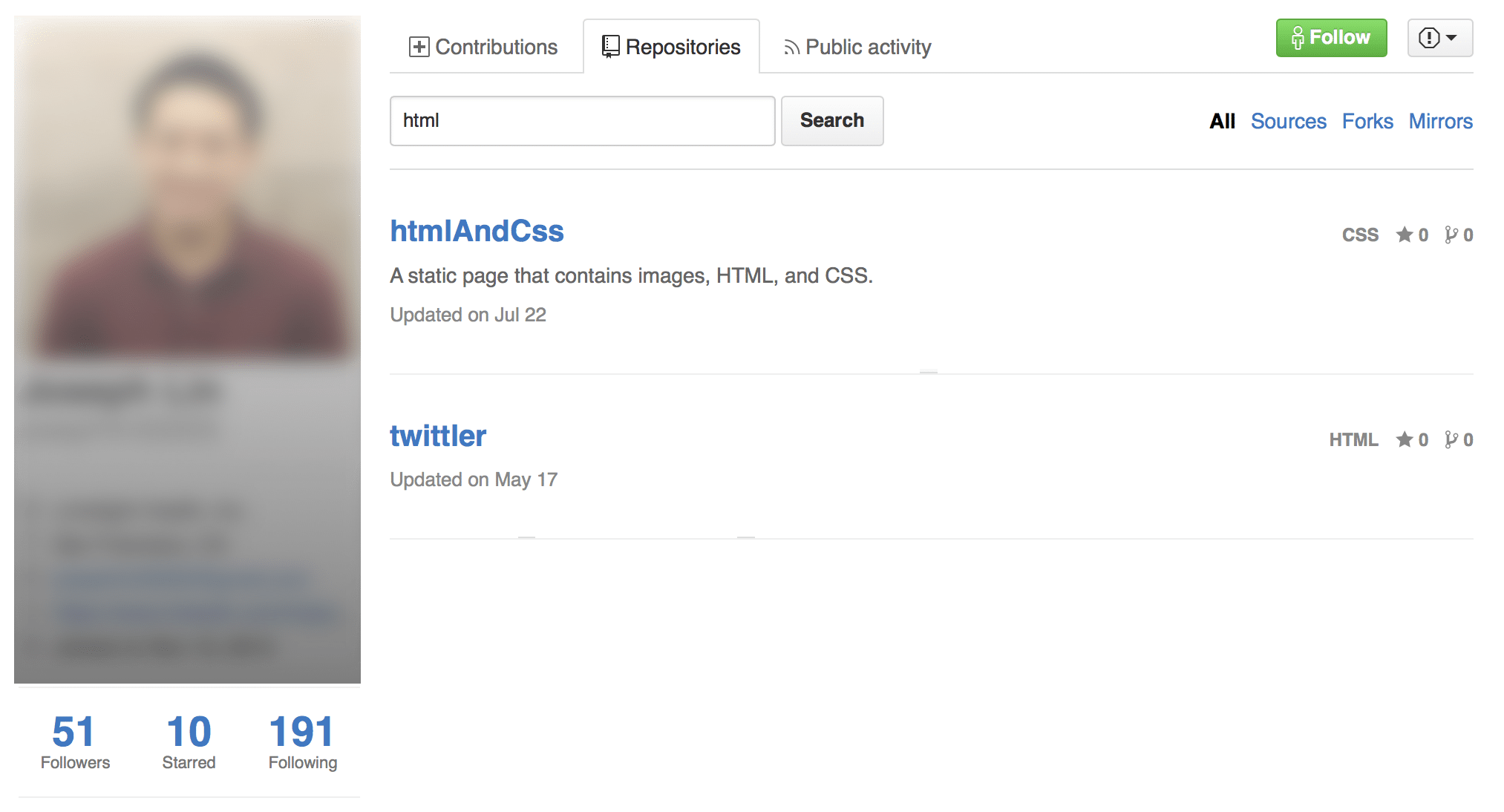 Contacting developers
Once you've identified a promising developer or engineer on GitHub, reach out with a compelling message. Most profiles contain the candidate's personal email address, but you'll have to stand out if you want the candidate to respond.
Personalize your outreach by explaining why their profile caught your eye, and engage them by showing interest in their career. Keep the early conversations exploratory and focus on the candidate's career motivations to engage both passive and active talent. Build a relationship with each candidate from the beginning, so that your company will stand out as a place they'd like to work. Even if the timing isn't right, you want top-tier developers to consider your company in the future – and speak highly of you to their network.
Conclusion
Strategically sourcing and engaging talent is the key to successfully recruiting developers in a competitive market. Less trafficked sites, like GitHub, allow you to tap into hidden talent pools to uncover talent that isn't on your competitor's radars yet. GitHub provides a wealth of information that can be used to engage the candidate in conversation, even if they're not actively looking for a new opportunity. Building relationships with top-tier candidates will keep your talent pipeline full for current and future opportunities.

For more best practices on how to source amazing candidates and build a high-quality pipeline, download our free sourcing e-book.