We've argued that the relationship between manager and report is the most important one in the workplace. We mean it. If you're a recruiter, your manager is likely the one who pushed you to follow up one more time with that unresponsive candidate, or who answered your panicked phone call about an offer letter at 1am. In the best kind of relationship, your manager is always team you.
Today is National Boss's Day. And in honor of those who dust us off when we fall and challenge us to do what scares us, we asked four recruiters to tell us how their managers empower them. After we heard tributes from Rose Gauthier, Alex Treister, Michael Gallagher, and Mike Lew, we were reminded of just how lucky we are to have you, bosses. Thank you for being our tireless advocates in the workplace today, and every day.
Tribute from: Rose Gauthier, Consultant and West Coast Lead for Undergraduate/Graduate Recruiting, OnPrem
To: Rachel Kelley, Senior Project Manager, OnPrem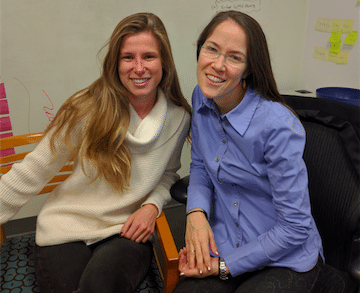 Rose on the left, Rachel on the right
You said that Rachel is essentially your first manager. Is your relationship with her what you expected?
Before I started here, my expectation was that my manager would always believe I could do the work. That they'd allow me to fail with the expectation that I wouldn't. But I also wanted them to be an expert communicator, to be good at checking in with me. With Rachel, I have this open line of communication where she gives me critical feedback, and I can give her feedback in return. In our weekly 30 minute check-in, we'll go on a walk or grab coffee and Rachel will not only ask me what I want to improve; she also prioritizes my feedback.
So many people have told me that I'm lucky to have Rachel as my first manager. Friends who are further along in their careers haven't had this same strong relationship yet. Rachel has shown me how important a manager is in your life – so much of my growth and daily happiness comes from her. And so much of my overall success.
"So much of my growth and daily happiness comes from her."
When friends ask you to describe Rachel, what do you tell them?
I admire Rachel as a leader. She always comes across as really intelligent and strong in meetings, and I've watched her develop great relationships with other leaders at our company. We actually have a lot of conversations about leadership because we're both passionate about strong female figures. When I got promoted, she got me a card with Ruth Bader Ginsburg on it that said "Congratulations on your supreme effort", and I thought it was so funny. I love leaders like Michelle Obama, Sheryl Sandberg, and Ginsburg, so that card meant a lot to me.
In my one year review, we were talking about the importance of company policies that allow women to have a successful career and family if they want. That's something Rachel herself is a amazing example of. She's a rockstar at work, and she does a great job of balancing her family with that. If her kids have a play or soccer game, she still prioritizes it. She's shown me that I can have both; I don't have to pick one.
Tribute from: Alex Treister, Technical Recruiting Lead, Lyft
To: Linsey Jackson, Head of Technical Recruiting, Lyft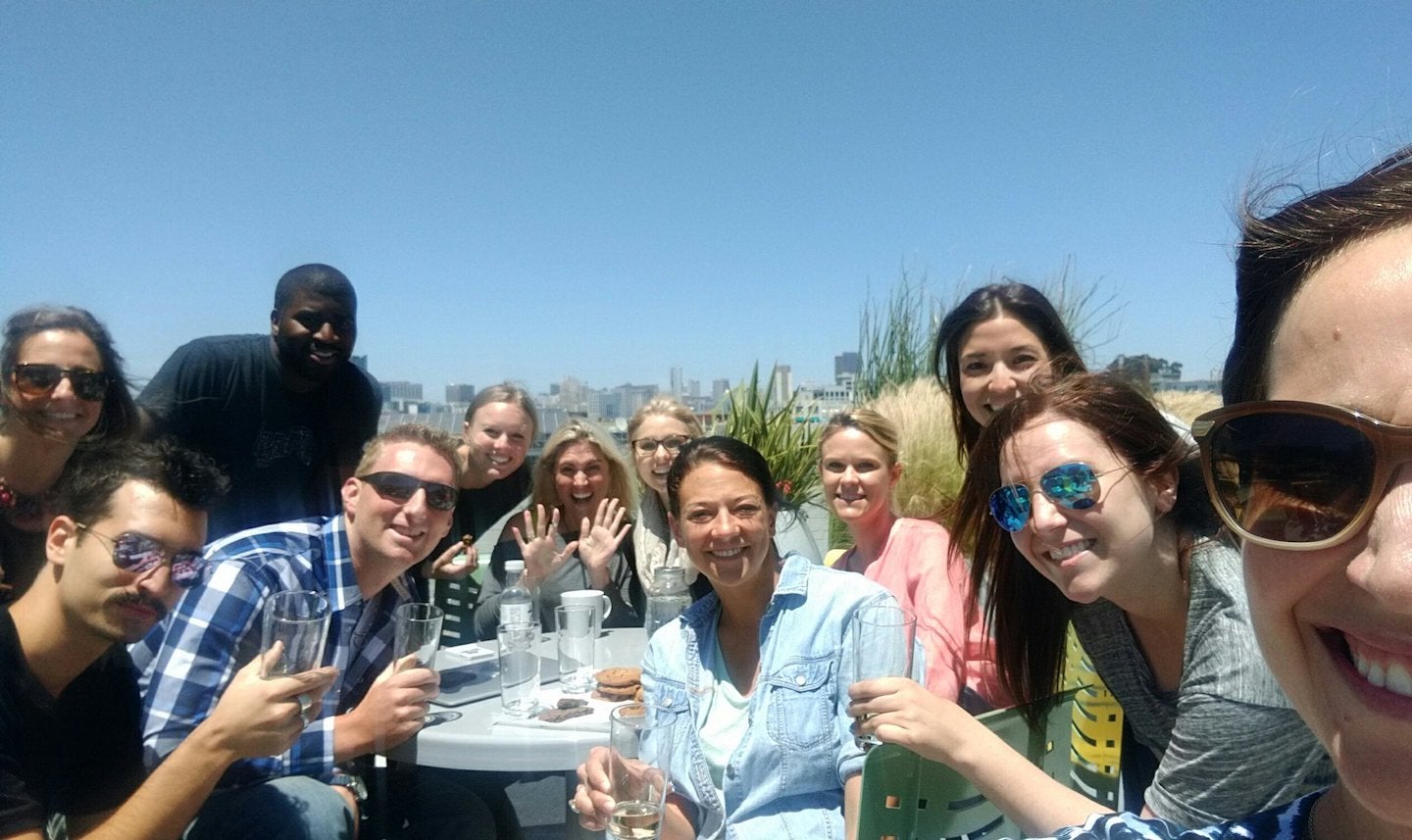 Alex pictured on the far left, Linsey on the far right
How does Linsey motivate your team to recruit better?
She always, always reinforces positivity. Once, I was having a bad day at work, and Linsey and I got in a Lyft together. The NPR speaker started talking about how you can train your brain to be positive. Linsey didn't even know I was having a bad day, but she started talking about positivity and how it's true, you can actually train yourself to be more optimistic. She just naturally understands what people are feeling, and has this ability to put a positive spin on everything.
She also finds these creative ways to excite and empower us. Right after she started, we had a meeting about upleveling ourselves as a recruiting org, and she made this acronym called Opindom (Operation Industry Domination). She said that if we hit a certain acceptance rate, we'd get Dom Perignon, as a play on the acronym. She recognized what was working on our team, and then thought about how she could get us excited about improving.
"She always, always reinforces positivity."
What qualities do you think are important in a manager, and how does Linsey embody those?
My ideal manager is trusting, empowering, and understanding. In order to feel empowered and trusted, you have to have the freedom to make your decisions. I'm a team lead, and Linsey always makes sure I'm the point person, that our team comes to me first instead of her. She purposefully establishes me as an authority.
Linsey's also very good at understanding people's strengths and playing to them, which I think is so important. She tailors her relationships around people's personalities. As a manager, you have to recognize the strengths of your team, then put them in positions to take advantage of them. She does that.
Tribute from: Michael Gallagher, Sales Recruiter, Lever
To: Amanda Bell, Head of Recruiting, Lever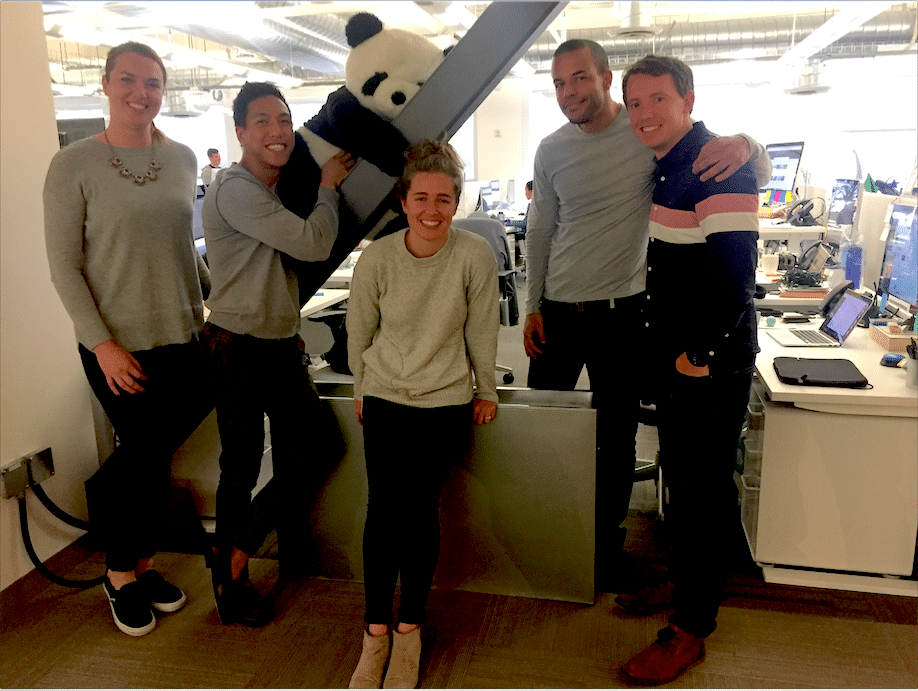 Michael pictured on the far right, Amanda in the center
When you become a manager, what do you want to bring to your team that Amanda has taught you?
I want to give them autonomy, but support when they need it. No matter what your level is, you need someone to go to. I want to be the person my team can laugh with, but also the one that pushes them and gives them feedback. Their colleague inside and friend outside.
From my first interaction with Amanda, I knew I could learn from her. Before I joined Lever, Amanda spoke at this presentation I went to. She talked about engineering recruiting, and I thought she was so assured, well-spoken, and confident. I was like "This person knows about recruiting; this is someone I could learn from and develop from." I had also heard that she was managing a team at a large company, and I knew I wanted to do the same thing one day.
It's crazy that Amanda is my manager now. She's always there, listening: whether I'm stopping by her desk with a question or sending her a text message at 8pm. At all times, she puts me first. I learned more in my first month with her than I had learned in the past year at my previous company. I came from a world focused on quantity of hire; here we focus on quality. She's pushed me to take on more responsibility, communicate more efficiently, and confidently present information to senior leadership.
"At all times, she puts me first."
How does Amanda bring your team together?
It could be 2 o'clock on a Monday when things are craziest, and Amanda will still turn around and joke with us. Even if we stop and talk for 30 minutes, she knows we'll get our job done no matter what. I think trust is how she unifies us. Trust, and encouraging team goofiness. When someone goes out of town even for one or two days, for example, we'll prank them and decorate their desk. Amanda's at the forefront of that. Our team also likes to walk and get chai tea when we want a break, and she almost always comes along. Amanda rarely says no to chai.
Tribute from: Mike Lew, Technical Recruiter, TUNE
To: Sabrina Oldham, Head of Recruiting, TUNE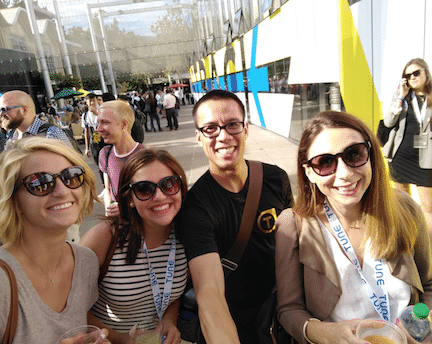 Mike pictured second from the right, Sabrina on the far right
How does Sabrina empower you to be a better recruiter?
Sabrina lets us own our projects, but she's also brought a ton of creative and innovative strategies to the team. We can always count on her to push with regard to our tools and systems. Her ability to network with the recruiting community outside of Tune is incredible, so she's learned a lot of processes that we've been able to "Tunify", and she's constantly driving new relationships to help us evolve.
Sabrina also leads by example – she's a tremendous recruiter. Right now, she's our Director of Recruiting, but she still does so much hands-on work. Sit me side by side with her today, and she'd get ten steps further in ten minutes than I would. What she can do in one day would take me three or four days. She's that employee who's great at production, so you move them into management, but they can always take a step back and still produce.
"She leads by example."
You said Sabrina has managed you for three years. How has your relationship grown over time?
At first, it was just me and Sabrina on the recruiting team here. It was like the Wild West in those days, and we made up a lot of the rules as we went along. Things here moved 1,000 miles a minute. But that time brought us closer because we always confided in each other and celebrated our successes together.
Now we're a team of four, and she's still the most genuine person I know. She wants to understand how to develop your career, and then she also knows when to lighten the mood. We laugh a lot. I remember that once, we went to this recruiting conference and we were sitting through a workshop when we caught a bad case of the giggles. The kind where the more you try and stop, the worse it gets. We were supposed to go through a worksheet as a group, but we had missed all of the directions because everything was so funny. The more serious I tried to be the worse Sabrina got. I'll never forget that.
More than anything though, trust between Sabrina and I has grown over time. She puts a lot of trust in what I do and what I want to do, and having known each other long enough, we've formed a partnership where she'll even come to me for advice.
—
If Sabrina, Linsey, Amanda, and Rachel are any indication, bosses are one special group that should be celebrated every single day. But today, we hope you give them a special shout-out.
Happy National Boss's Day!