Did you know that only 30 percent of candidates in a typical Applicant Tracking System (ATS) are in an active pipeline? We looked across our customers and found that the vast majority of candidates are actually in the "archives" and aren't being considered for current roles. This amounts to thousands, even hundreds of thousands, of candidates for some companies.
So who are these candidates and how did they get here? Most of these folks have come in through the application process, employee referrals, sourcing activities or other recruiting channels like work with third-party recruiting agencies. While many of these candidates didn't work out the first time around, a surprising number of them may have been a great fit but didn't match because of timing or compensation reasons, were close "silver medalists", or were a better fit for a different opportunity.
Your candidate database is a potential gold mine
Leading companies today recognize the value of their candidate database and use it as a starting point to find candidates for new opportunities. Especially for companies that recruit passive candidates through sourcing or referrals (after all, passive candidates are way more efficient to hire), your candidate database likely has a ton of great candidates who simply weren't ready to make a move the first time…but they might be open for new opportunities today.
Unfortunately, many ATS providers have non-existent or severely inadequate search capabilities. We hear from many recruiters that after they close out a requisition, they "lose their candidates" and can't find them again. They then have to start from scratch when that requisition reopens, wasting a lot of time to simply rediscover the same people over and over.
From the beginning, Lever was built as an ATS and a recruiting CRM (candidate relationship management system) empowering you to quickly build up your candidate database and find the right talent at the right time. With Lever, these aren't separate systems or simply "bolted on" afterwards — our ATS and CRM are completely integrated and operate as one holistic system, powering advanced search and nurturing capabilities in the process.
New search experience to rediscover candidates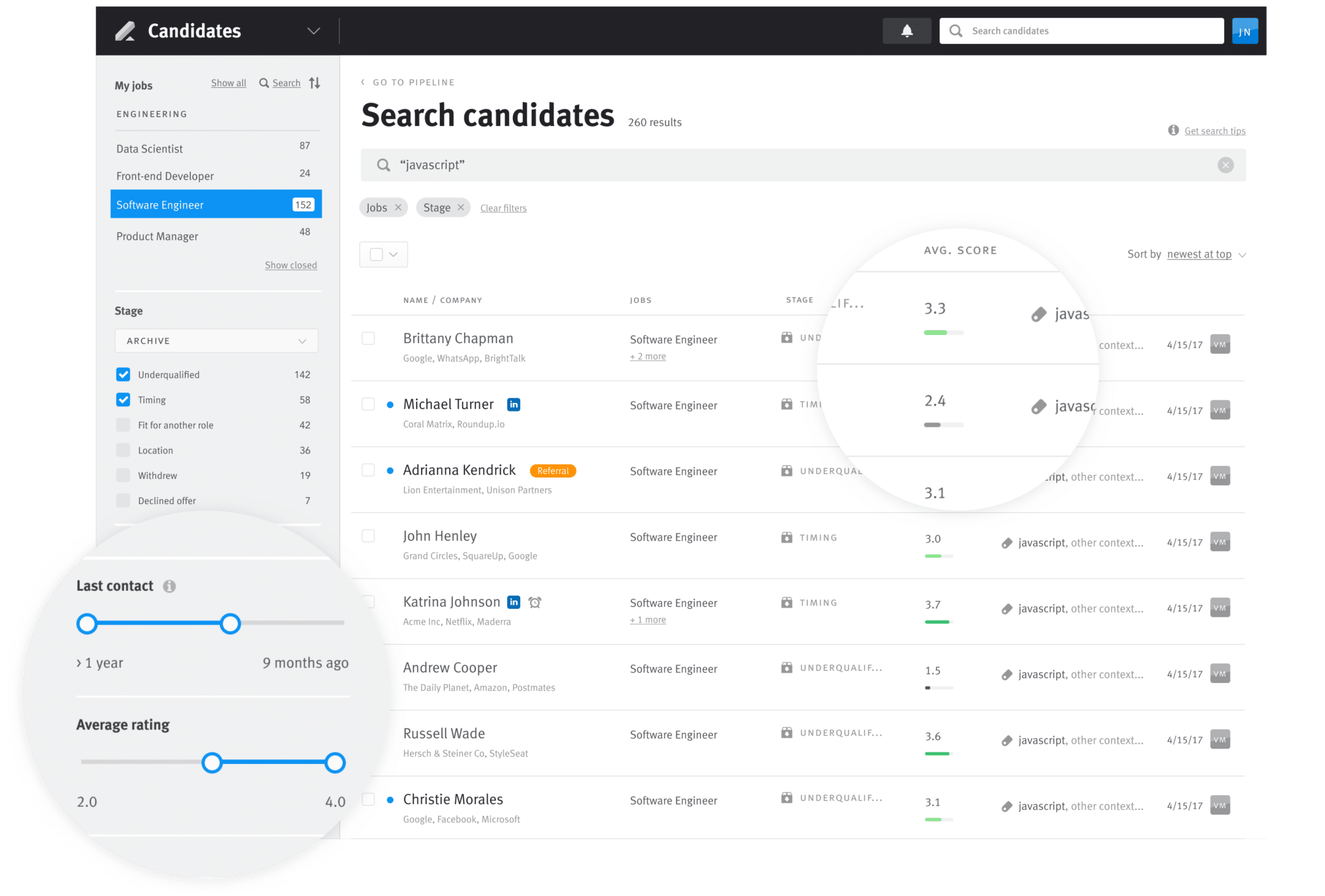 With all this great talent sitting in your ATS, mining your candidate database becomes even more critical to hit your hiring goals. You can already use boolean search queries in Lever to comb through all of your candidates and the information contained in their profile (like resumes, interview feedback, notes, etc.). Our latest innovation takes search even further.
Our new search capabilities help you rediscover the best candidates even faster. Get more clarity around search results to speed up scanning time and use additional filters to further refine your candidate search without having to master complex boolean queries.
Scan search results faster
A new, easy-to-read search results page provides more details when reviewing candidates. In addition to the candidate name, you can also quickly see:
Jobs they've applied to in the past
Last stage reached or archive reason
Average feedback score
LinkedIn profile
More context to better understand search results
Search results can often feel like a black box. To address this we added in the search phrase we matched to the location of that data source (eg., resumes, tags, notes) to show users why we're returning these results.
Powerful filters to narrow down your candidate list
We've all searched for something and gotten back way too many results. Filtering on top of your search helps you narrow down your list to find the best matches. You can now further refine your candidate search with the following new filters:
Average rating (e.g. show me just the candidates with scores of 3 and above)
Last stage reached or archive reason (e.g. show me candidates who reached an onsite interview)
Last contact date (we look at both email and LinkedIn InMails)
Early users of the new search experience appreciate the additional context and improved results. "I really like the average score showing up in my search so I can determine if these candidates are worth revisiting" said Sydney Busch, a Senior Engineering Recruiter at Netflix. Additionally, Jess Verbruggen, a Researcher (Technical Sourcer) at Shopify, commented, "It's surfacing some really great candidates and it's so much easier to use!"
From advanced search to smart recommendations
We're excited to bring these updates to you and will be rolling out new search capabilities to existing customers on a rolling basis starting this week. Our advanced search is just the latest in a series of updates we've made to make it easier and faster for customers to hire top talent. If you want to go beyond search, check out Lever Nurture which uses an intelligent recommendation engine to automatically resurface candidates for new roles.
Want to see more? Get a live demo today to to see how top companies from all industries and sizes are using Lever to accelerate their hiring.