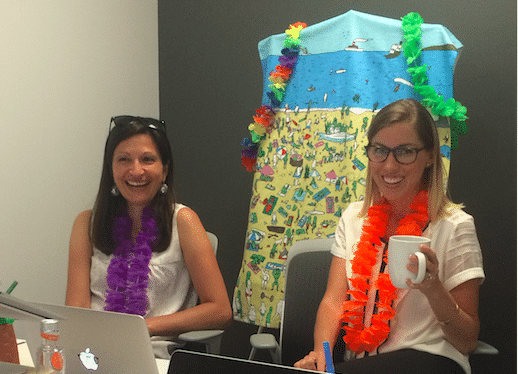 It's easy for us to revel in our successes. Our mistakes, not so much. Luckily, recruiting leaders like Stacy Donovan Zapar are willing to admit where their recruitment processes went wrong so that other industry professionals, both old and new, can avoid those same snafus.
Stacy began her career as a recruiting coordinator. 19 years later, she is a widely respected recruiting advisor and founder of Tenfold, a recruiting training and consulting firm. In a poolside chat with us a few weeks ago (no really, there were beach balls and floaties), Stacy walked us through a number of her biggest recruiting mistakes and corresponding learnings. We've summarized just three below, but she revealed many more mistakes in this webinar recording.
Mistake #1: When she missed a candidate's warning signs
It was the toughest requisition Stacy had ever recruited for, and she'd been trying to fill the role for several months. Finally, her team found the perfect candidate, and he accepted her offer. Then, on his third day at the company, he came into the VP of Finance's office and threw his badge down on his desk. "My wife won't move," he said, and he walked out of the job that day.
Stacy made sure her candidate was happy throughout his interview process, but in all of her excitement, she overlooked the signs that relocation was difficult for him. Had she asked the hard questions when she pre-closed him, she could have gathered that his family was struggling with the decision.
Learning: Now, Stacy constantly checks in with every single candidate. She lets them know that they'll never go a week without hearing from her, and they go into every weekend knowing exactly where they stand in the process. "Even when you're desperate to get a candidate in, don't ignore the warning signs," Stacy says. Ask the important questions to make sure they're ready to take on the role.
Mistake #2: When she didn't see her hiring manager as her partner
When Stacy first started working with hiring managers as an internal recruiter, she shied away from tough conversations. "I was a glorified order taker," says Stacy. "I would beat myself up and try to do these impossible tasks without pushing back." Rather than sitting across the table and saying, 'We're in this together', she felt like a 'yes' person.
Learning: Stacy eventually came to the realization that her hiring managers were her business partners, and she had to hold them accountable. She learned to ask questions like: "Are we sure that's the right decision? Do we need to talk more about this?", instead of automatically taking orders. Now, when Stacy has regular meetings with hiring managers, she expects them to prepare feedback and insights about the interview process. On her end, she agrees to bring six or seven new resumes to talk through together. "When you make your relationship with hiring managers a partnership, you can add so much more value as a recruiter," Stacy says.
Mistake #3: When she didn't train interviewers to sell candidates
Once, Stacy arranged a candidate's onsite interview with a few team members. He was a promising candidate, Stacy recalls, and she was eager to hear about his interview experience. But when Stacy excitedly asked about how everything went, he said that a few team members had complained about internal company issues throughout the interview. Stacy's team was unhappy with how leadership was treating them, and they projected that frustration onto the candidate.
Learning: Now, Stacy makes sure to prepare her interview team around both hard and soft skills. Often, she'll chat with them during a kickoff meeting before they launch a new role. "You can't always assume your team has their sales and interviewing hat on correctly," Stacy reminds us. "Sometimes they simply don't know what's appropriate to talk about during interviews." Candidates, especially those whom you proactively source, are evaluating you just as much as you're evaluating them. It's important to remind your team that they can't just sit back and wait for every candidate to impress them.
Conclusion

Whether you're brand new to recruiting or a veteran, it's more than okay to get things wrong. As Stacy showed us, the main thing is to learn from your mistakes and accrue expertise over time. To accelerate your learning while avoiding the same hiccups that Stacy has faced in her time, listen to the recording.
Our special thanks to Stacy for being such a good sport and generously sharing her experience!