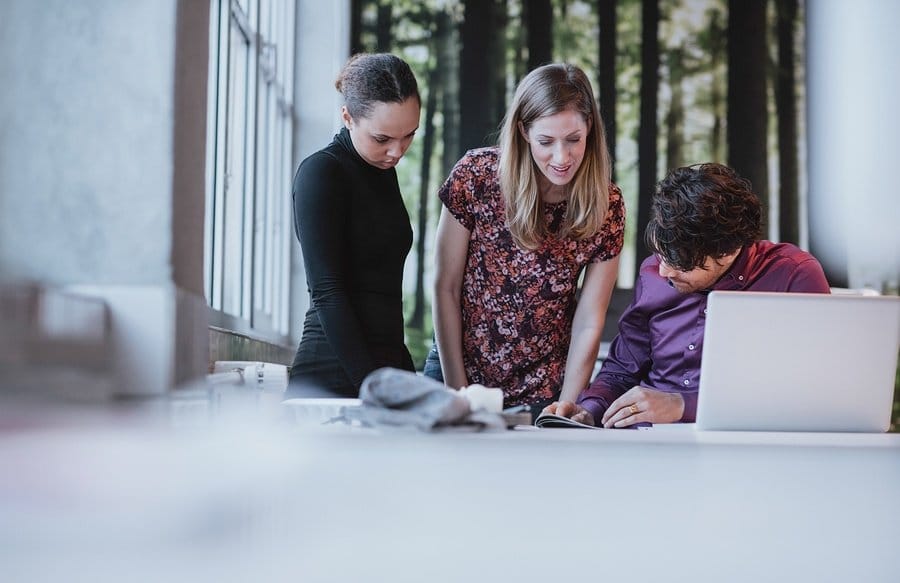 Where do millennials spend most of their time online? What motivates a millennial to open one message over another? How can I differentiate my company brand? If you're a recruiter, these are just a few questions you may pose to yourself as you vie for the attention of millennials.
In this week's segment of our How to Recruit Millennials in 2016 content series, we are exploring best practices for sourcing. To answer your burning questions, we compiled seven insights from Tune's technical recruiter Mike Lew, Paired Sourcing co-founder Jer Langhans, The Muse CEO Kathryn Minshew, and Lever's technical sourcer James Briggs.
1. Find out where millennials hang out
If you instinctively begin typing "linked…" when sourcing o'clock hits, you are not alone. Sites like LinkedIn and AngelList are rich with ready-made candidate profiles and insight into candidate networks. But have you ever thought about scrolling through Amazon book reviews? In your search for an engineer with JavaScript experience, consider that some of the most passionate JavaScript experts (particularly in the millennial community) may wax poetic about their favorite textbooks on forums like Amazon.
Mike Lew has observed that millennials connect in different places than previous generations. Reddit, with 36 million user accounts, is among them. When you channel your sourcing efforts into forums where connections are constantly being made, it is easier to establish them yourself. "Subreddits that are geared towards the expertise that you're looking for can be great candidate pools," Mike says, noting that they have been for Tune.
Looking for technologists? Jer Langhans suggests that you devote some time to Github, StackOverflow and Quora. Want to hire a designer? Give Dribbble a shot. He's also an advocate of simple, standard Boolean searches on Google. Sometimes, a straightforward Google search can be the best way to browse the different communities that candidates are a part of.
2. Next stop: experimentation station
As he tackles the daunting task of sourcing, Jer conducts his own research on how best to engage his target audience. Once he gathers this information, he can tweak his reach-outs accordingly. Recently, Jer found an online survey commissioned by Marketing Sherpa, a marketing research firm, on "How millennials (or adults 18-34) want to receive marketing messages on the go." In the survey, the firm found that millennials are more interested in receiving email on their smartphones (53%) than baby boomers are (21%). After learning this, Jer knew to target millennials with shorter emails that are optimized for smartphones, rather than with long emails that require endless scrolling.
Once you've poked around online, you have the context you need to organize your own experiment. Data that explains millennial response rates is informative, but your company brand and personality also impact your response rates. With that in mind, Jer suggests that you send 50 emails that are mobile optimized and 50 that are meant to be opened on your candidate's laptop, for example, and see which reach-outs have higher response rates. Supplement your own small experiments with online data, and you will be more equipped to find a sourcing strategy that works.
3. Connect with the person behind the candidate
Many millennials seek an environment where they feel valued as more than just an individual with a set of skills. What does this mean for your sourcing purposes? According to James Briggs, it means that your reach-outs will be more compelling if you appeal to their interests beyond the scope of their day-to-day job. When you want to build rapport or connect with a candidate, James recommends that you ask yourself: "What does this person care about most?", and if applicable, "What do I have in common with this person?".
Mike Lew is on Tune's recreational basketball team, and he's always looking for more players to join. If a candidate lists basketball as one of their extracurricular interests, he'll often tell them about his team. "Whenever possible, I take a different approach from 'I found your resume online and you look like a great fit.' I want to show candidates that I'm a human being, not a faceless person in the HR department," Mike says. There is a misconception that recruiters send out thousands of messages en masse, but Mike thinks that idea is outdated. These days, many recruiters spend more time on personalized reach-outs. If you come across as a genuine person who is excited about a candidate's interests, they are way more likely to listen.
4. Show candidates how you're different
Despite the common conception that millennials are less interested in pursuing information than those who grew up in the pre-digital age, researchers in the 2015 Media Insight Project found that millennials are perhaps the most socially aware and information-seeking generation yet.
Considering how hungrily they consume information, the key is to differentiate your company brand and the role you're hiring for. Jer likes to employ the "three whys to one what" strategy. "The first why is 'why do I care as a candidate', the second is 'why are you reaching out', and the third is 'why are you different'", Jer says. "The what is 'what is the actual job'". If you can't answer any of those questions for your candidates, then you are not ready to source. But if you can, you likely have the tools necessary to set your company apart.
According to Kathryn, a genuine, human-sounding message can be the best way to show candidates that your company is different and improve your sourcing metrics. Millennials have learned to tune out corporate jargon, so showing them that you are a human being who sincerely wants to get to know them can be the best formula for differentiation.
5. Leave no detail behind
Millennials are accustomed to finding information at the click of a button. If they want to feel fully informed about your opportunity, they'll crave more details than you can individually provide. Therefore, Kathryn recommends that you make additional information as accessible as possible. To accomplish this, include links to your career site or blog posts in your emails to candidates. That way, you can avoid being overly verbose, but you can still give them all the tools they need to get to know your company.
As we discussed in our last Lever blog post on employer branding, millennials crave insight into the day-to-day of their future role. Your initial reach-out to them is the perfect time to begin painting that picture. When you provide details like: "You will be the first point of contact for customers who request a product demo" or "You will manage our social media presence on Twitter and LinkedIn", you get them excited about the impact they can have at your company.
6. Leverage your team
If millennials are a part of your team, they can be the perfect people to help you engage the outside millennial community. In James's experience, the people on your team tend to understand what is appealing about your company to the candidates that are similar to them (in age, experience level, etc.). They once made the decision to join your company, and can reflect upon what was most meaningful to them if they reach out to potential candidates themselves.
Alternatively, you can gather insights like these from your teammates and include them in your messages. During his time as a sourcer, James has connected with his team and asked them what they like most about their role, their team, and the company (as well as what keeps them); and directly referred to these points in his outreach.
7. Engage the community around you
When you work to impact your environment, you open up opportunities for sourcing. Mike and his team at Tune are huge proponents of community engagement. One of his favorite initiatives is called Tune House. "We provide free housing in a collaborative environment for women studying Computer Science at the University of Washington." says Mike. "We make it a priority to invest in our environment." Tune House doesn't necessarily attract candidates, but it may spark the interest of candidates who hear about it and increase the likelihood that they attend one of your future events.
Jer believes that objectively, offline sourcing is likely better than online. Candidates are exposed to unrelenting noise online, and these days, they are more conscious of leaving breadcrumbs behind that recruiters can use for insight. Events are the perfect opportunity to show candidates what is remarkable about your company. If you are looking to grow your sales team, for example, consider hosting a panel that focuses on the highs and lows of tech sales. You can also make it a point to attend other company meet-ups. According to Jer, you should aim to both attend and host community events every month.
Conclusion
Ultimately, the tips above can inform your approach to sourcing most candidates (not just millennials). The majority of candidates will respond eagerly to personalized and transparent messages, for example. So even if you aren't looking to hire millennials in particular, we hope these tips help you bring top talent to your team.
Missed the last post in our series on recruiting millennials? Read our tips for crafting a stand-out employer brand for millennials here, and keep an eye out for next week's post on creating an incredible candidate experience.