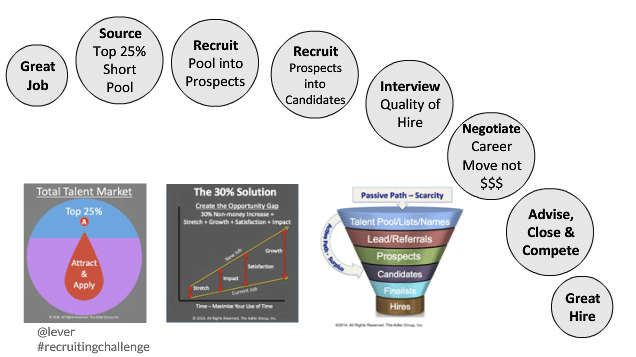 Lou Adler is a legend in the recruiting space. In preparation for our webinar with him last week, we catalogued the reasons behind his enduring popularity: his knack for storytelling, passion for recruiting, and quick-wittedness, to name a few. Now the CEO and founder of the Adler Group, Lou is a recruiting consultant and trainer who has drawn more than 20,000 recruiters and hiring managers to his workshops over the past 20 years. As you can imagine, we anticipated Lou would deliver an abundance of powerful insights during his webinar. He did not disappoint.
Before the webinar, we collected our audience's toughest recruiting challenges. Next, we chose a few challenges from three stages of the recruiting process- 1. Sourcing/Recruitment 2. Interviewing, and 3. Negotiating/Closing- and asked our audience to vote on their greatest challenge. Finally, like the recruiting visionary we all know and respect, Lou tackled the most voted upon challenges. Below, we've written a brief recap of some of the action, but you can find the full recording here.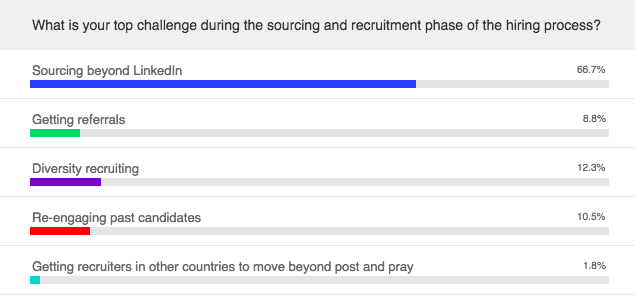 As you can see, 'sourcing beyond Linkedin' was by far and away our audience's toughest challenge, with 67 percent of the vote. According to Lou, "If you don't have a great job, it doesn't matter how you source." Before you even dive into your sourcing strategy, throw your job description away and focus on what people actually need to do in the role. "Create a list of six to seven performance objectives that define job success," advises Lou. "What does this person need to do to be successful? What will they do in the next 30 to 60 days?". If you don't talk to the hiring manager and develop a compelling employee value proposition, the most high-powered sourcing tactic in the recruiting world won't make a difference.
Want to hear about Lou's 40:40:20 sourcing plan? Give the full webinar a listen.

As Lou looked at our audience's pain points during the interview stage, he quickly became energized by the challenge of 'weeding out job hoppers'.
When working with candidates who have moved from Job A to Job B, Lou wants to find out whether or not they cared about the long term impact of Job B. "Did they think about the work they'd ultimately be doing? Or did they focus on what they'd get the day they start- things like money, location, and title?", asks Lou. "Day One thinking is indicative of job hopping syndrome." When you do a work history review, Lou advises you to make sure your candidate is not making short-term decisions. Ensure that they're motivated by future impact.
Lou also delved into the daunting challenge of 'assessing a candidate's fit for a given role' in our webinar. We'll leave the explaining to him.

Are you closing a candidate, but your job doesn't offer competitive compensation? Lou says that as long as you frame the role as a career move, pay isn't make or break. Don't negotiate compensation during the first phone call, he advises. Instead, tell your candidate about the "30 percent solution". If you can give them a 30 percent non-money increase through four factors – stretch, growth, satisfaction and impact – you can create an opportunity gap between their current job and the job you're offering. Ultimately, the importance of compensation will fade when you show them how your role advances their career.
Conclusion
We loved watching Lou take on a few of your toughest challenges and work his magic. Between sourcing outside of LinkedIn, gathering feedback from the team, and weeding out job hoppers, we know that you're juggling several priorities each day. Hopefully, Lou's advice makes those tasks a bit more manageable.
We weren't able to recap every question and solution here, but you guessed it: our webinar recording has the answers you seek.