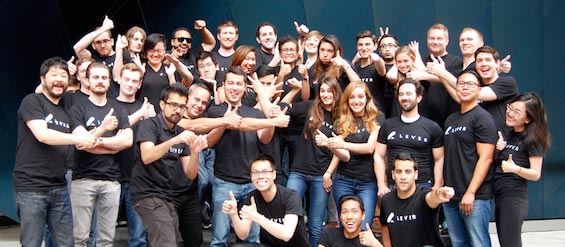 There's a lot of talk in tech about what it means to run a data-driven recruiting organization. But when most recruiters and hiring managers think of data in an ATS, they picture clunky UI, incomplete or confusing reports, and lack of data integrity. Most end up doing their own cumbersome tracking in spreadsheets, just to get results they can trust.
In contrast, Lever's reports are designed with the end user in mind to empower anyone in the company with the confidence to jump in. Our goal is to make hiring data an accessible and easily digestible resource, so that recruiters and hiring managers can make improvements based on insights from reports, instead of investing hours every week, month, and quarter just to assemble them. Reporting doesn't have to be daunting – in fact, reports is one of the highlights that gets recruiters and hiring managers most excited during training webinars run by our Customer Success team.
As we build our product, we're also using it internally to fuel our own hyper-growth. At Lever, absolutely everyone participates in hiring and we recently gave out "Recruiting Awards" to recognize this effort. Not only did we get to make fun use of our own recruiting reports feature, but it only took minutes to analyze the interviewer data.
Check out the awards below, and if you're an Admin in Lever, follow the links to run the same reports for your own team!
Speediest Feedback: Lowest average time to complete
Amateur league (<10 interviews): Maria, Account Executive
Pro league (≥10 interviews): Rachael, Product Engineer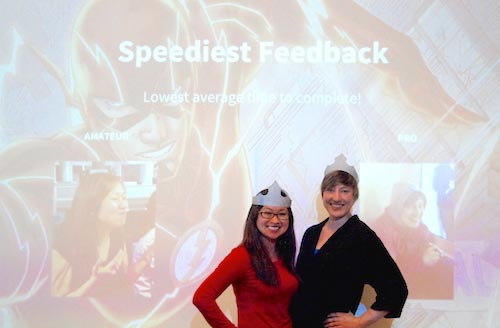 Time is of the essence when it comes to interviewing, so you can move fast to close top candidates. Our hiring managers in Sales and Engineering can always rely on Maria and Rachael to be decisive in recommending next steps after an interview. Run your own report: Interviewer Calibration
"Most Thoughtful" Feedback: Highest average time to complete
Amateur: Zeus, Product Engineer
Pro: Sarah, CEO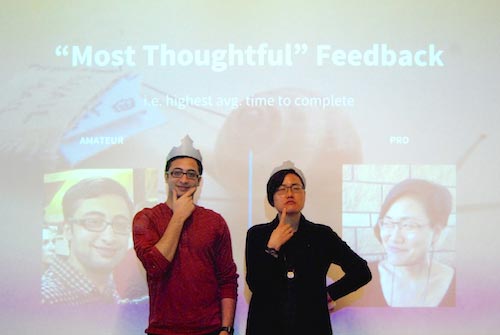 This is a category that you may not actually want to win. For Zeus, one of our newer engineers, his stats only came from the one interview he had all quarter. It also was not surprising that the three Founders had the highest average time to complete feedback – their commitment to hiring is undisputable, but they also have the broadest responsibilities and it can take them a while to actually sit down and write interview feedback. CEO Sarah just edged out CTO Nate's average time to complete for her "win." Run your own report: Interviewer Calibration
Most Generous: Highest % of positive feedback
Amateur: Ian, Platform Effectiveness Engineer
Pro: (tie!) Randal, Chief Product Officer & Anthony, Account Executive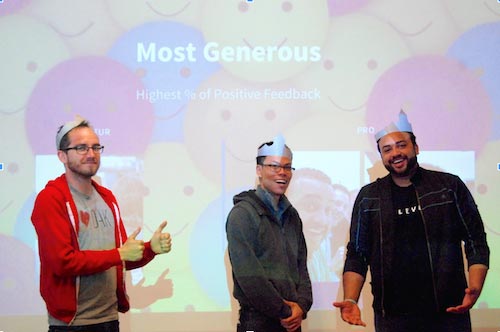 This category allowed us to compare calibration for interviewers focused on different stages of the process. For Ian and Anthony, they often come in the beginning stages for "selling" of passive, warm candidates, and their interviews are much less about evaluating skills. Chief Product Officer Randal, on the other hand, often interviews engineers near the end of the process after they've been thoroughly vetted by the rest of the team, leading to a high rate of positive feedback. Run your own report: Interviews Calibration
Highest Bar: Highest % of negative feedback
Tim, DevOps Engineer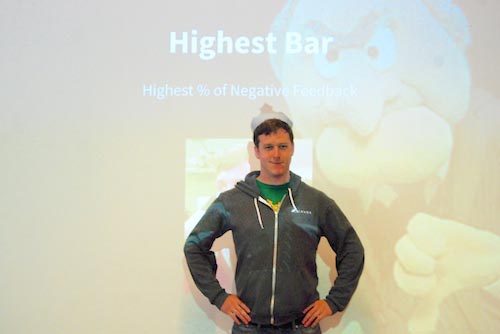 At Lever, we're proud of upholding an extremely high bar when it comes to evaluating candidates. Tim's win was no surprise to the engineering team – he's often the one pushing for the highest standards – not only for the technical skills, but also in evaluating soft skills like communication style, teamwork, and culture fit. Run your own report: Interviews Calibration
Most Extreme: Highest frequency of "4"s and "1"s on Lever's 4-point scale
Most use of "4 – Strong Yes": Justin, VP of Sales
Most use of "1 – Strong No" : Jen, Chief of Staff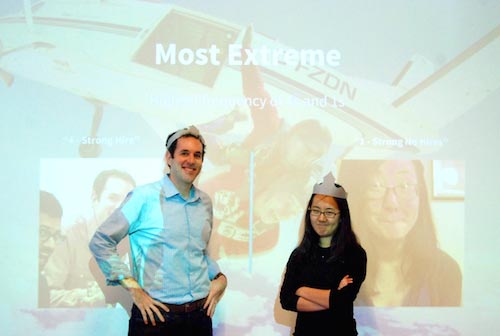 One of the most subtle signs of trouble is when a candidate has all 3s across many interviewers – we would much rather hire someone who has at least one strong supporter, even if some people disagree. Unanimity is not the goal when it comes to hiring decisions; we want to be excited about candidates, as opposed to an underwhelmed majority of "I guess I can see myself working with this person, let's hire them and see if it works out?" By recognizing Justin and Jen for being decisive with their interview feedback, we're signaling to our team that it's ok to have strong stances and to discourage giving "3 – Yes" when it just seems like the easiest thing to do. Run your own report: Interview calibration – Overview
Best Collaboration
Ciara and Jessica, Customer Success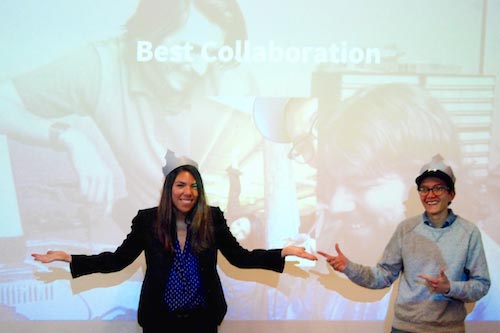 The biggest honor – think "Best Picture" of the Oscars – went to the CSM team for truly embodying collaborative hiring. Not only for their speedy feedback with (13 hours versus 43 average across all teams, according to the Interview calibration by team report), they're also known for using Lever creatively and having the most adorable @-mention notes. Your recruiting tool should integrate seamlessly into your workflows and allow for full expression of everyone's communication style.

Recruiting is a team sport at Lever, and through Recruiting Awards we got to formally recognize individuals for their efforts contributing to building our team. We try to practice what we preach to our customers through our product – that recruiting is the most important thing you do in a startup, and if you want your company to succeed, every single person must be bought into collaborative hiring.
How does your team uses data to improve recruiting processes and engage interviewers? Let us know in the comments!