On the heels of our announcement that Lever is joining forces with Employ, we have even more great news: Our latest feature release for Summer 2022 is here.
That means our customers can use the new additions and enhancements to our talent acquisition suite in their candidate relationship management strategies.
Here's everything that's new in our ATS + CRM solution.
3 new Hiring Manager dashboards for requisitions, pipeline, and postings
Visual Insights is now the default analytics experience for our customers, and we've already seen talent leaders, operations managers, and specialists make the most of the multitude of dashboards and data visualizations available in Visual Insights.
Now, we want to enable Hiring Managers to take a more data-driven approach to find talent.
This is why we created three new Hiring Manager dashboards, where TA teams can get a holistic view of their requisitions, job postings, and pipeline associated with both.
Hiring Managers can see the number of active opportunities for each open role, what stage each one is currently in, the average time in stage, how long postings have been live, and other key data points that help keep them in the know regarding the status of their reqs.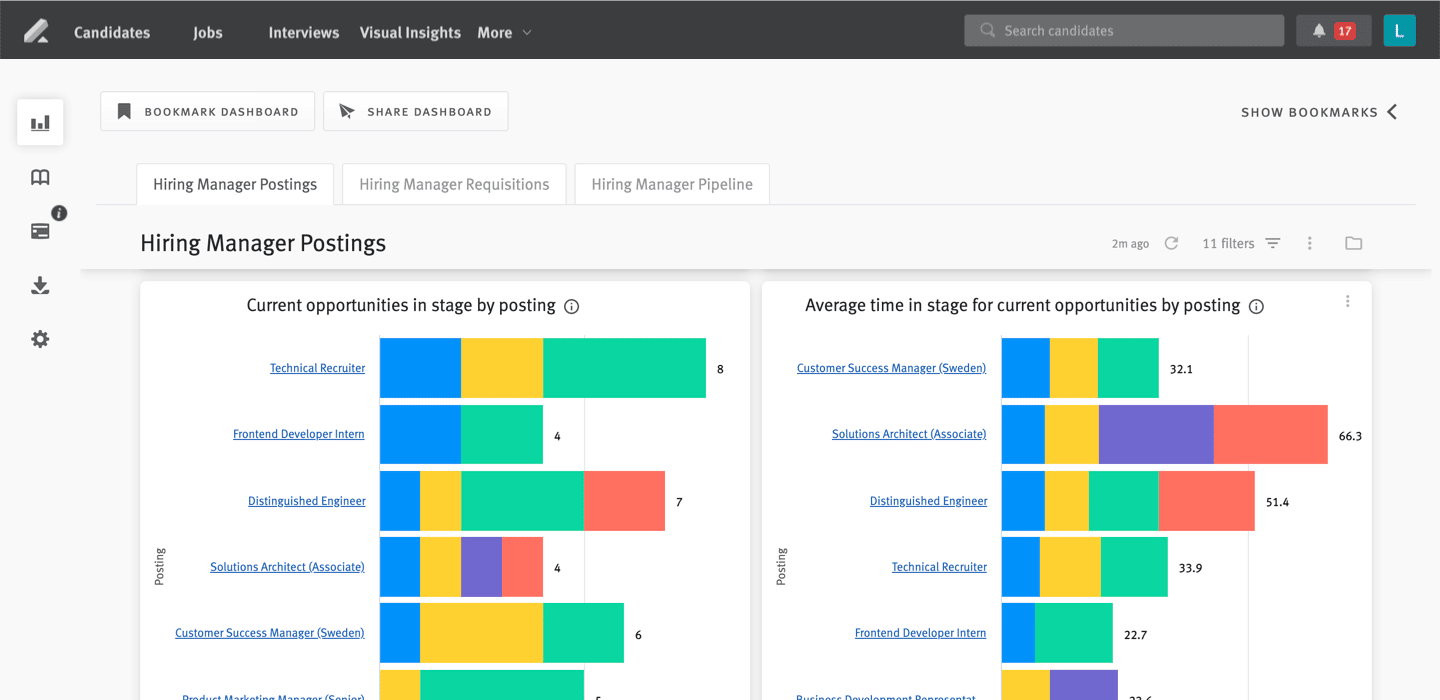 Editing form fields in multiple offer forms now easier than ever for LeverTRM admins
After releasing multiple offer forms with unique fields in our Spring 2022 release, we've made more upgrades to this feature for our customer base.
For starters, helper text has been added to our offer forms to enhance the user experience.
Moreover, changes made to specific fields within a given offer form are now reflected in previously created offer letter templates. This eliminates the need for admins to have to go into said templates to ensure they reflected the new/current state of their offer forms.
New communication workflow functionality in Automation Hub to dynamically email candidates
Our automation workflows already simplify critical tasks for our customers. Now, they can enhance yet another daily duty: communicating with active candidates.
Via our Automation Hub, Lever customers can now establish a set of dynamic recipients (e.g., external ones, like prospects, as well as internal ones, including posting owners and hiring managers) to streamline their email (triggered by an opportunity in their pipeline) to both candidates and hiring stakeholders.
Self-serve bulk candidate importer to make it simpler to upload prospect lists to Lever
It's essential for today's talent acquisition pros to quickly and easily upload new candidate lists to their recruitment database en masse to reduce the need for several manual uploads.
Our new self-serve bulk candidate importer makes this a reality for LeverTRM users.
It gives them more power over their own onboarding and continued maintenance of their candidate database in Lever and, in turn, ensures their talent pools feature the most applicable, highest-quality talent they've sourced via online and offline channels.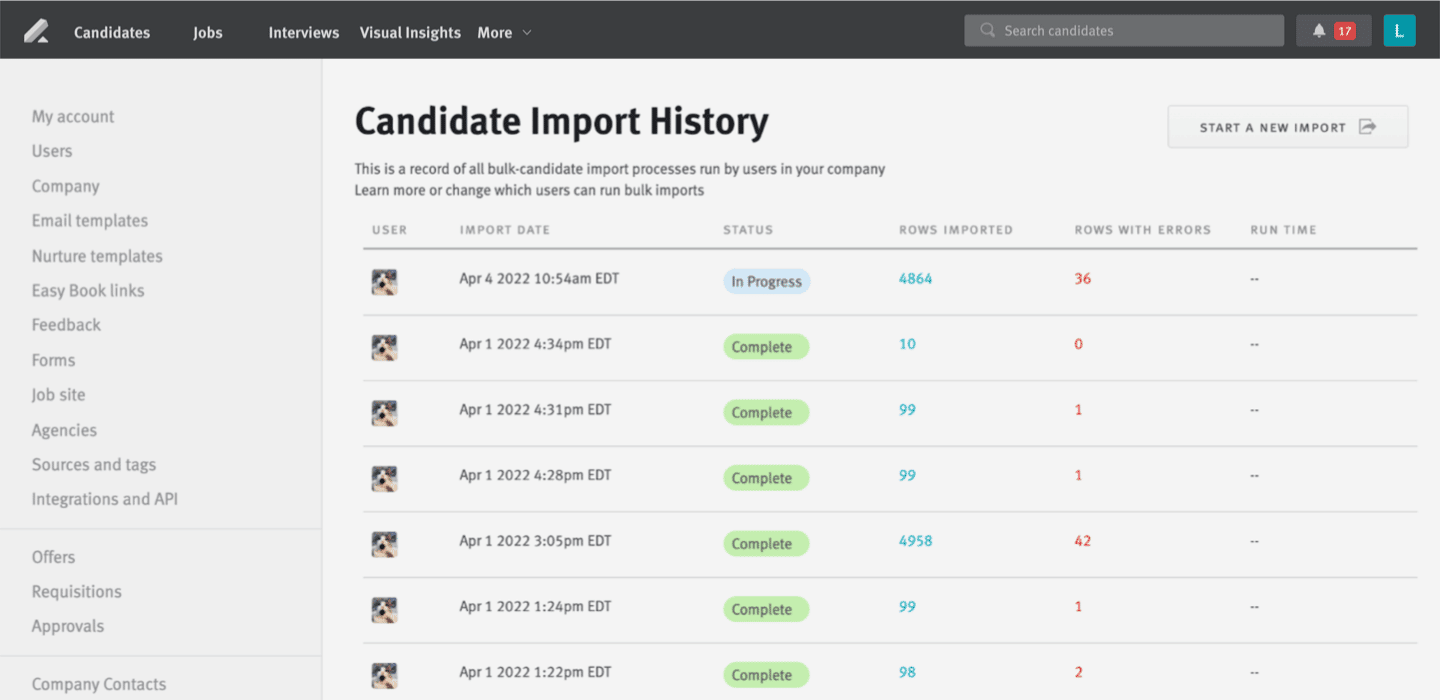 More control with configuring Lever to retain candidate data, comply with data regulations
We know Lever customers (specifically, their talent operations managers) are focused on abiding by various location-based consumer privacy measures and other regulations.
To make compliance easier for them, we've introduced new functionality that enables them to set custom data retention rules by country and months/years by country.
Time-to-fill configuration that allows customers to choose 'start' and 'end' events
We recently introduced the ability for Lever customers to create their own time-to-hire calculation in our solution. With our latest update, they can also now do so for time to fill.
The main benefit of this new functionality: Talent leaders can ensure they have a consistent basis for measuring time to fill and, thereby, their team's recruiting and hiring speed.

19 new integrations added to our already-expansive ecosystem, including Indeed Apply
What would a seasonal Lever feature release be without a number of new integration partners added to our sizable ecosystem? Some of the notable additions include:
Indeed Apply: An oft-requested integration from our customer base, Lever now directly connects to Indeed Apply, enabling recruiters who use our ATS + CRM solution to boost applications considerably and reach more than 250 million unique users.
cord: Integrating cord with Lever allows our joint customers to link open roles added to both platforms. Candidate CVs can then be delivered automatically to our talent acquisition suite, once a chat has begun between a hiring manager and candidate.
JOIN: Thanks to this new integration, job ads can be automatically developed, refreshed, or archived in JOIN, based active Lever postings. All listings are then published to 10+ free job boards, with newly sourced candidates sent right back to Lever.
The latest round of integration partners to enter Lever's comprehensive ecosystem brings our total number of direct platform integrations up to more than 200.
Get even more info on our Summer 2022 feature release as well as other CRM capabilities in our talent acquisition suite by scheduling a demo with the Lever team today.