We're honored and excited to announce that G2 Crowd has recognized Lever as the #1 Momentum Leader in the Applicant Tracking System category. This ranking means that Lever rates highest when it comes to a combination of customer satisfaction, employee growth, review growth, and more. Companies who strive for best-in-class talent management, like Cirque du Soleil, Netflix, and Atlassian, are increasingly turning to Lever to move into the future of talent acquisition.
In addition to being a Momentum Leader, G2 Crowd once again named us a Market Leader in the ATS category, recognized us as having the Best Relationships, and named us a High Performer in the Recruitment Marketing category. Here are some highlights from the G2 Crowd Winter 2019 report, as well as the individual reviews that went into it.
Customer satisfaction and market growth make Lever a Momentum and Market Leader
Lever has been committed to both customer excellence and flawless design from the start. As the Momentum leader, we're proud of our rapid growth and strong customer satisfaction. This recognition highlights Lever as the top trending applicant tracking system of choice for the most innovative, high-growth companies.
Our strong commitment to customer satisfaction is evidenced by our leading times for implementation and ongoing service to our accounts. We're excited and committed to leading the way for talent acquisition and people teams to grow and transform with ease in the years to come.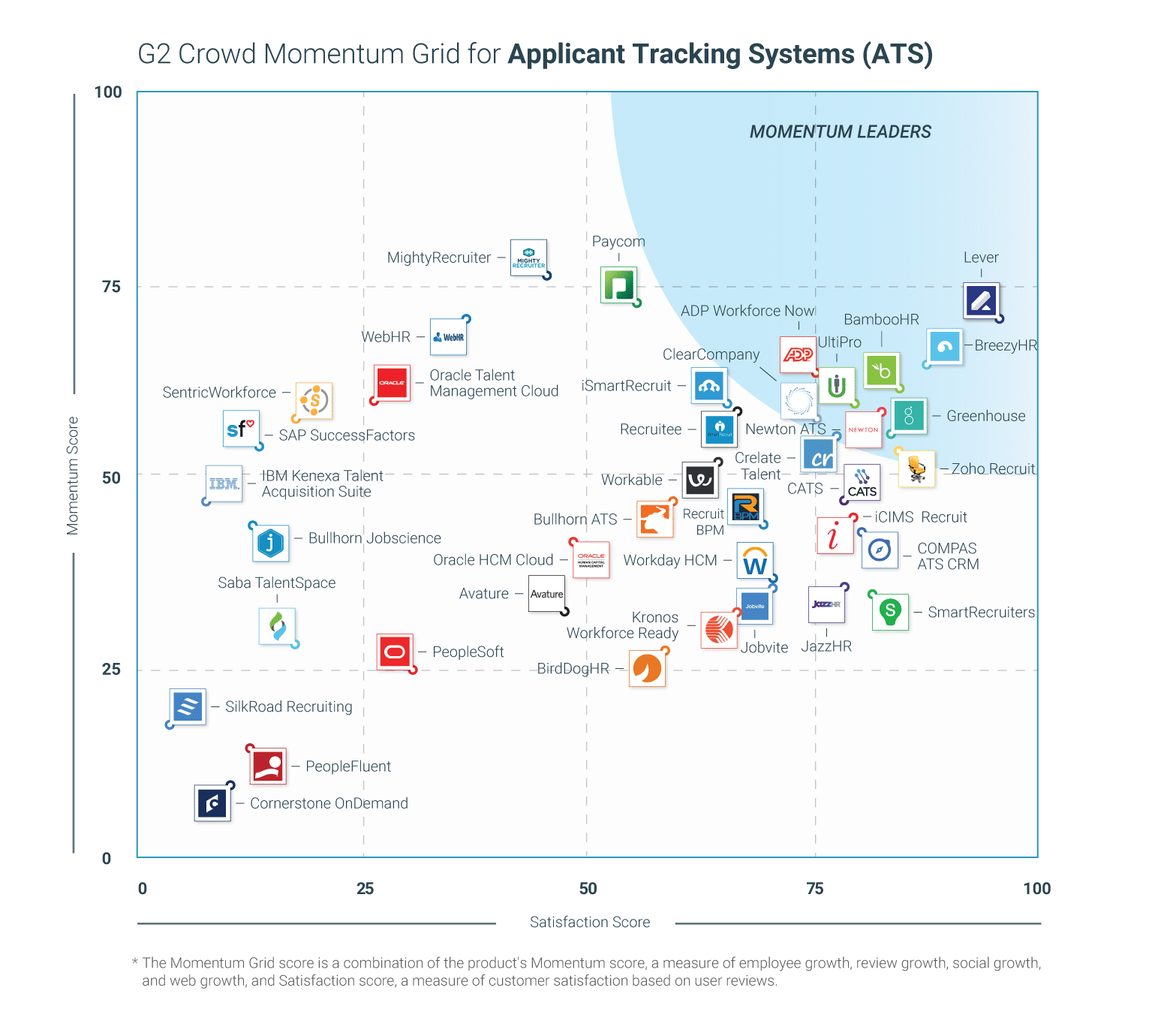 The market leader badge further validates our strides toward product and customer excellence. We're proud to be a market leader overall for small business and for mid-market, as well as a high-performer in the enterprise category. As our customer base grows beyond 2,000 customers, we're determined to build a platform that grows with all of the expanding businesses we serve.
Lever currently has customers spanning 51 countries and will be opening a new office in Toronto, Canada to serve global companies as we continue to gain momentum in the United States and beyond.
One customer shares, "Lever had everything that we needed in an ATS. Lever's ease of use, depth of features and integrations, and stellar sales and customer support were apparent from the very beginning… Another concern of ours was dealing with the hassle of switching our ATS, but our implementation manager made this extremely simple and straightforward. We were up and running with all of our old data seamlessly migrated within a matter of weeks."
Lever prides itself in not only being a platform that integrates and is easy for use from the start, but also provides best-in-class products to help serve companies built for high-growth.
Strong customer relationships matter
Building strong partnerships with our customers is one of our top priorities, and are so happy to be recognized as the #1 applicant tracking system in the relationship index. We received high marks for ease of business, likeliness to recommend, and the quality of our support.
One customer shares, "Lever definitely deserves 5 stars, customer service is superb and incomparable to their competition…. We love the product but we love the company even more. The Lever Team is extremely helpful and supportive. We learn from them how to treat our clients."
How nice is it to be able to reach someone when you need support? Our customer support teams and experts are on-hand at the times you need them most, with the information you need to hire and scale quickly.
Recognized for our Recruitment Marketing Solutions
To top it all off, Lever Nurture has been recognized as a high performer in the recruitment marketing category overall, as well as in the mid-market. It has felt gratifying to enable talent acquisition teams to wear a marketing hat and be equipped to source and reach the talent they need to hire quickly, without sacrificing quality.
As one customer states, "Nurture allows you to set up drip campaigns to send to candidates and can automatically archive them if they don't respond within a certain amount of time. [It] saves me so much time!"

Another customer adds, "My favorite part of Lever is actually Lever Nurture. As [the only recruiter] at a 70 person company, Nurture makes me feel like 3 recruiters in one! The Chrome extension makes it so easy to source candidates and add them to Lever and then you can even launch the campaigns right then and there. Instead of hacking together different systems and tools, I can just use Lever. Whew. I also love that you can 'send as' other people on your hiring team to make sure there are no bottlenecks."
Lever has been very intentional about aggregating crucial talent acquisition functionality into one platform, rather than let teams deal with the hassle of toggling between platforms. Customers have everything they need in one system, for reporting and automation ease across teams and functions.
Customers typically see a 41% response rate to Lever Nurture emails. In comparison, MailChimp is reporting a 19.3% open rate for recruiting and staffing companies. And Lever Nurture's badge in this category recognizes our commitment and dedication to helping talent teams leverage marketing techniques to source and nurture the best candidates, to help grow their businesses.
Acknowledgements
These awards are largely based on product reviews from our amazing customers, and we're so incredibly humbled and thankful for the time they took to share their feedback with us, and with the G2 Crowd community.
We'd also like to thank our incredible team of Leveroos, without whom none of this would be possible. Finally, thank you to G2 Crowd for their recognition as we continue to grow, and help our customers do the same.
If you'd like to learn how Lever can improve the talent acquisition function at your company, please reach out for a demo.