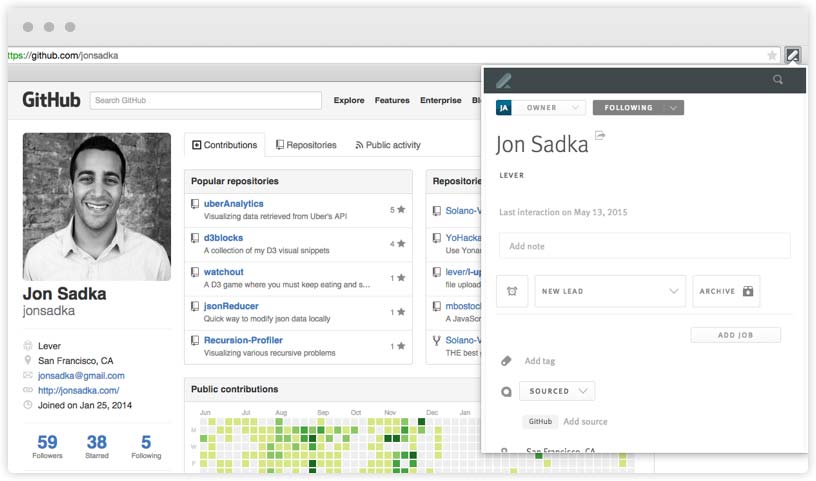 If you're like most companies, many of your best hires are employee referrals. For good reasons – talented people know other talented people, the interview process is usually faster, and the offer acceptance rate tends to be higher.
Currently, anyone in your company can refer candidates on the interview page. But today, we're adding that capability to the Lever extension as well. This makes it dramatically easier for your co-workers to refer candidates. So before you read on, you should probably send all your co-workers this link to the extension download page.
OK, with that out of the way, here's how referring via the extension works. On any page, interviewers can refer candidates with the "Refer candidate" button. Team members can both refer candidates and create new candidates (see image). Regardless of your role in the organization, referring candidates is now a click away. We think it will make a huge difference in the number of referrals you'll get.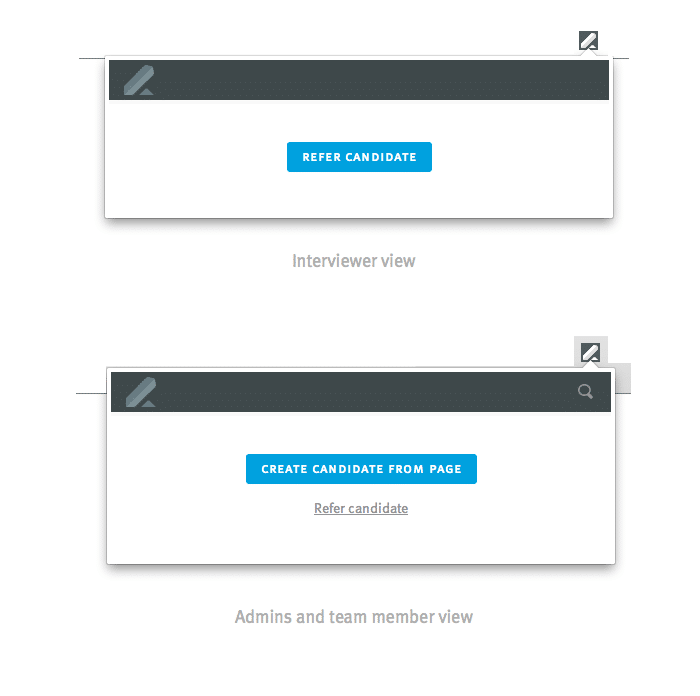 When you click "Refer candidate," you can quickly submit relevant information like email and a job recommendation. There are also additional fields for the referrer to explain their relationship with the candidate. (By the way, these fields are customizable. To ask referrers different questions, just contact us.)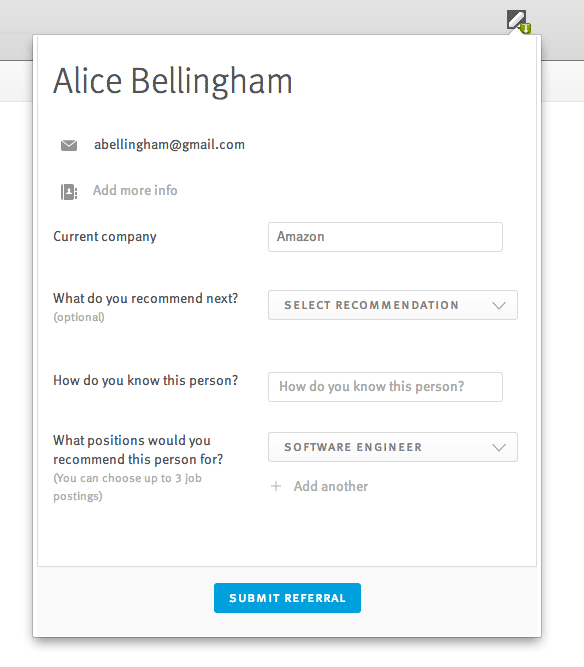 But wait, there's more!
We also added the ability to automatically import candidate information from Github. Just go to any Github profile, click "Import candidate," and any available data is added to the profile. (Just so you know, the extension button gets a green download icon when Lever can automatically import data from the page).

Preventing duplicates
Now, since you'll (hopefully) face a large increase in the number of referrals, you may also get more duplicate candidates. The extension helps you avoid duplicates in a few ways:
if the referrer enters the email address of an existing candidate, Lever adds the referral recommendation to that candidate's profile instead of creating a new one.
Team members and admins get some extra help to see duplicates:
if team members go to a LinkedIn page or a Github page that was already added to a candidate, the extension button shows a blue badge with a checkmark. (see image) . This means that there's a match, and when you click the extension icon, you're taken to the candidates profile, instead of the option to create a new candidate.
if the LinkedIn or Github profile page you're on has a name that's similar to an existing candidate, the Lever extension shows you the list of similar candidates. You can also link the current page to the candidate, so that this candidate appears as a "match" in the future.