As an organization scales, the process of sourcing, nurturing, interviewing, and hiring candidates gets more complex. This is especially true among companies navigating an increasingly fully or partially remote workforce, where traditional recruiting and hiring activities all take place through digital channels like email, phone calls, and video chats. Organizations that want to continue to deliver stellar candidate experiences need sophisticated technology to optimize those parts of the hiring lifecycle. Only then can they continue to innovate and stand out to the very best candidates.
Fortunately, a new generation of software has emerged that builds on the traditional applicant tracking system (ATS) function to facilitate important capabilities like automation, personalization, and control for large recruiting teams. The result is a next-generation talent relationship management (TRM) platform that provides a seamless experience for both candidates and recruiters — and creates a more effective and timely hiring process. 
Here's a look at why the traditional ATS is no longer sufficient for building real, personalized, and scalable relationships with prospective talent.
[Keep Reading: How Tech Industry Recruiters Are Preparing for What's Next]
What is an ATS?
An ATS is a database of job applicants and applications that captures and organizes candidate data for tracking and management throughout the recruitment process. At the time of invention, these programs introduced recruiters to an incredibly efficient way to organize candidate information, allowing them to carefully store and review candidate data all in one place.
But there's just one problem — recruiters using a simple ATS still have to go outside the program to search for, email, and schedule interviews with candidates. This continues to be a problem, especially as COVID-19 pushes the hiring process online for knowledge sector employees.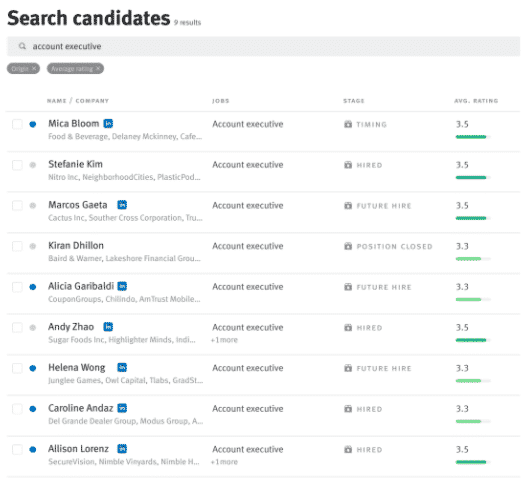 Image: Here's an example of a surface-level approach to ATS functionality, which Lever offers as a part of the full product suite
Even in the early stages of the application process, it's incredibly important to build relationships with candidates to stand out in a competitive market. As Gartner writes in a recent report, "… as the TA function in organizations has expanded to compete for talent, TA applications have evolved to cover a broader set of activities such as recruitment marketing, candidate relationship management (CRM) and onboarding."
[Keep Reading: What Is an ATS and Why Do You Need One?]
What is a TRM?
A TRM platform is a one-stop platform that offers complete pipeline coverage from source to hire.
This type of platform delivers unified insights into creating and strengthening the relationship with potential talent, like Lever's unique "rediscovery" feature that allows companies to revisit previous candidates with whom they have built relationships and who might be a good fit for new roles.
A TRM functions like an ATS combined with a customer relationship management (CRM) tool, extending beyond simply capturing candidate data. It contains all of the data, activity, and communication surrounding a candidate role in one space. This centralization helps large recruiting teams gain the oversight and transparency they need to deliver a seamless candidate experience that benefits both candidates and recruiters. 

Image: Here's an example of a full TRM ecosystem from Lever
Because the TRM unifies the robust functionality of an ATS and CRM, companies can scale and grow their people pipeline for active and passive roles, build authentic and long-lasting relationships, infuse their culture in their outreaches, and, more importantly, source and hire the right people.
Instead of using the candidate pipeline as a starting point and moving all of the meaningful touchpoints into individual inboxes and recruiter interactions, a TRM gathers all of this important data in one place instead of in fragmented systems. The full functionality of a TRM then allows the recruiting team to own the whole candidate experience and incorporate more advanced levels of personalization and automation by the candidate and by role. This is also important for implementing recruiting best practices for diversity and inclusion as you are able to view data at each stage of your hiring process in order to identify gaps and track progress.  
ATS vs TRM: How are these systems different?
The basic differences between an ATS and a TRM are clear: an ATS acts as a database for candidate information, while a TRM platform acts as a single source of truth for all interactions related to candidates and the roles they've applied for. But the biggest difference between an ATS and a TRM is the extent to which these tools empower a company's recruiting team to achieve its goals. 
Recruiters today face a lot of pressure to customize and personalize the candidate experience. With an ATS, the burden of delivering that experience falls on the bandwidth of individual recruiters, with little to no oversight. But with a TRM, automation empowers a recruiting team to deliver that personalization at scale while capturing important data in one place at the same time. 
Lever's recruiting lead Caitlyn Metteer explains it best: 
"The jump from an ATS to a TRM platform gives recruiters the ability to bring a whole new focus to the candidate experience. It takes the cognitive load of managing the individual pieces of the process off of the recruiter so they have more time and energy to invest in the personal side of remote relationship building. They're not checking boxes to push candidates into the right stage – they're automating those touchpoints and spending their time where it really matters: engaging and interacting with potential candidates."
[Keep Reading: Building Remote Candidate Relationships]
Better experience, better results with a TRM 
As companies around the world shift into a hybrid working model that incorporates both remote and onsite hiring practices, the difference in functionality between an ATS and a TRM will have an enormous impact on the quality of a company's candidate experience — and the results of the company's hiring process. 
Recruiters and hiring managers who use a TRM to successfully build and manage relationships with remote candidates will have everything they need to secure a warm pipeline of talent, manage that pipeline efficiently, and give candidates a positive interviewing and hiring experience.
Want to learn more about how customers succeed with Lever? Click here to read dozens of customer stories.