Since the early days of Lever, we recognized the uphill battle that talent leaders everywhere face in using reliable recruiting data to build a proactive talent strategy. Drawing meaningful insights based on your progress shouldn't be so difficult.
In recent months we've augmented our reporting suite by adding visual dashboards within Lever Hire to help recruiters and hiring managers alike view essential job posting metrics by role, all in one place. And, we even added a little predictive analytics to the mix.
Today, we are thrilled to further extend our Lever Analytics offerings in launching Lever Talent Intelligence. Powered by Tableau®, this advanced talent analytics module delivers robust reporting in an approachable, highly visual format to fuel strategic discussions with every member of your team.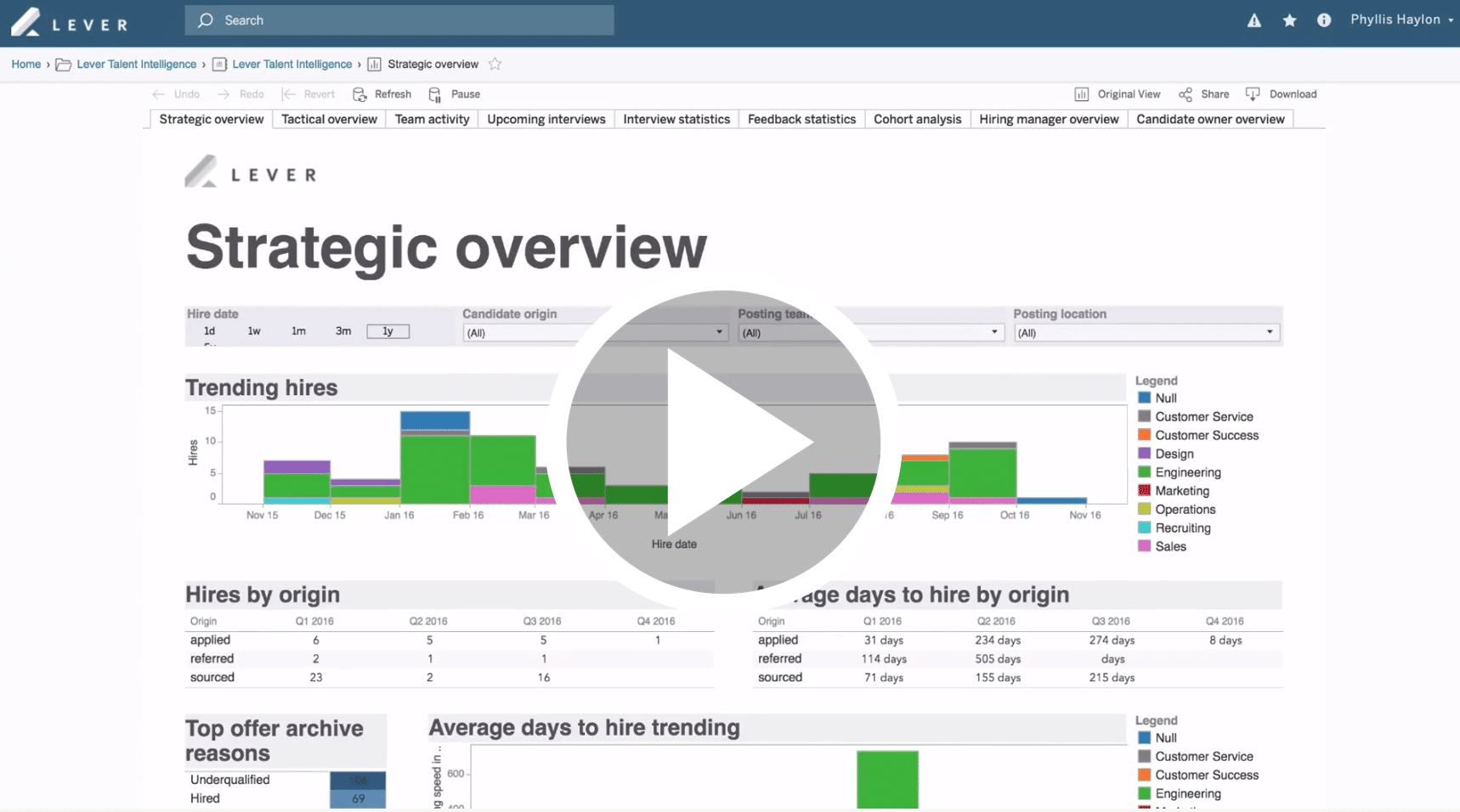 Approachable analytics for the entire team
We set out to empower every talent stakeholder with fast access to the information needed to effectively drive strategy. Like all Lever product releases, we designed Lever Talent Intelligence based on extensive research into the needs of our users. We talked to recruiters, hiring managers, and executives alike to understand what metrics keep them up at night and what strategic questions they're trying to answer within their data.
Lever Talent Intelligence comes with nine pre-built, highly visual dashboards that answer the most critical and common questions we heard from talent acquisition teams. Progressing from executive-level overviews to daily operational metrics, these dashboards provide instant value, regardless of your data analytics experience.
Here's a small sample of the types of question that you can now answer at a glance using Lever Talent Intelligence:
What sources drive the most hires and how has this changed over time?
What are the most common reasons why candidates either accept or decline an offer?
Is the recruiting workload evenly distributed across my team? Who's overloaded and falling behind on pipelining candidates?
Which teams submit feedback the fastest? How do average feedback scores compare across teams?

Do certain teams or locations have a faster time to hire than others?
Customizable reports to uncover limitless insight
Pre-built dashboards are just the start. Lever Talent Intelligence is a fully configurable reporting platform. You can slice and dice your data, build custom reports, and edit existing dashboards to answer unique recruiting questions that will drive your team's strategy forward.
In our user research, we frequently found that talent teams were looking for insights that extended beyond recruiting data. Questions like: "which interviewers best predict employee success?" or "which sources truly lead to the most quality hires?" require a combination of Lever data and HRIS metrics. With Lever Talent Intelligence, Tableau users can aggregate and analyze disparate data sources to unearth deeper insights with ease.
***
Lever Talent Intelligence empowers every user to share meaningful insights and elevate the conversation around recruiting metrics. By encouraging engagement in data-driven recruiting, you'll be able to take tangible steps towards improving talent acquisition performance within your organization.
Lever Talent Intelligence is available today to add onto a current Professional or Enterprise plan of Lever Hire. To learn more or for a guided walkthrough, contact us here, stop by booth 1651 at HR Tech in Chicago, or visit our kiosk in the Preferred Partner area at LinkedIn Talent Connect.