It's Christmas at Lever HQ.
Today we're unwrapping two-way Gmail syncing, a feature that will improve communication with candidates.
But first, a quick note on privacy – this is an opt-in feature. Lever only syncs email with your permission.
Many applicant tracking systems have some sort of email functionality. But the email features that recruiters want come usually comes at the price of awkward compromises:
Candidates get emails from robotic email addresses like mary-03291283@ATS-server.mail.com
Poor search and filtering
The ATS often starts a new thread for each email
With Lever's Gmail integration, we can get the best of both worlds – team visibility and templates in your ATS, and the search, storage, and organizational features in Gmail.
In practical terms, this means that the emails you send in Lever will come from your work email address (mary@company.com) and appear like to the candidate like you sent it from Gmail. The email appears in your Gmail 'Sent' folder, as well as in Lever.
Hiring usually involves many people in your team, and it can be hard to keep track of "who said what to whom." Candidates get the same information twice. Team members forget to tell candidates about a rescheduled interview. A recruiter sends the same email twice to a passive candidate. When you have a complete record of everyone's emails with a candidate, these mistakes becomes rare, and you and your team will quite literally be on the same page.
Giving permission
Again, Lever will not access your Gmail without your permission. To see emails from candidates in Lever, you need to give Lever the right permissions. Just tick the 'Gmail' permissions box on the 'settings' page. Once permissions have been set up, you're ready to receive emails from candidates.
How Gmail sync works
When you send an email from Lever, the label 'Lever' is added to the email thread. When a candidate replies, Lever knows to look at threads with this label for responses.
If you want to import older conversations you had with a candidate, go to the email tab on their candidate page, and click 'import email'. Lever will look for email threads with that candidate's email, and add the 'Lever' label to the conversations. Any subsequent replies to any emails will be automatically synced.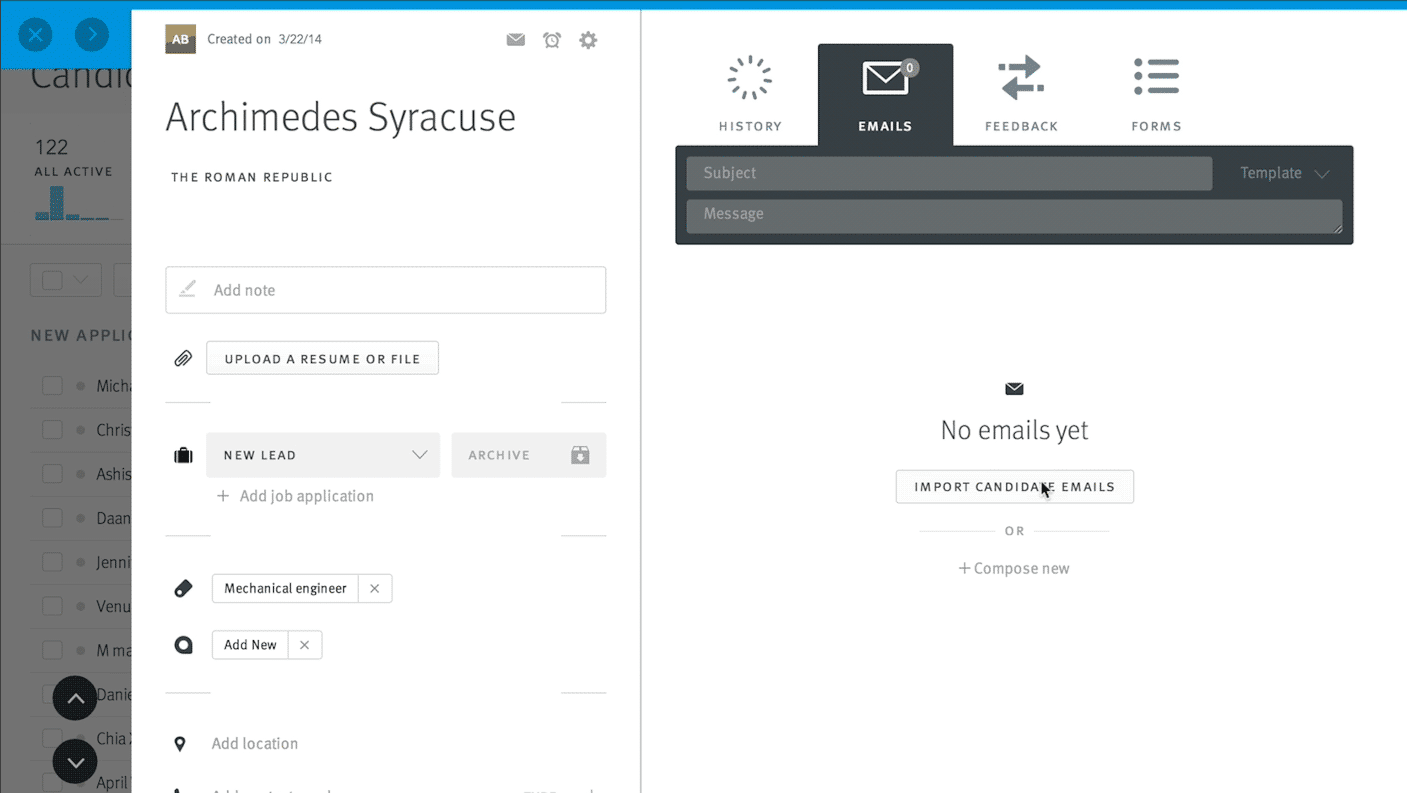 You can also add emails to Lever in Gmail. Just add the label 'Lever' and the email will appear in Lever.

Attachments
Lever also handles attachments. When a candidate sends you a file, the file is shown in the email thread, and the file is added to the candidate's profile.
We know that's there is more work to be done. But we think Gmail sync will greatly improve the experience of using Lever. Questions about the feature? See the Gmail sync help article.