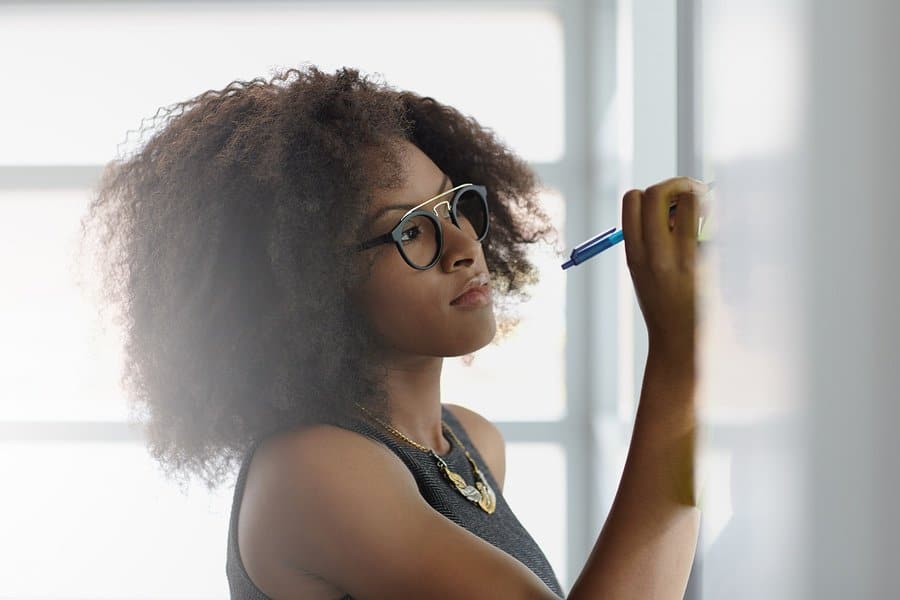 When you type "best interview questions" into Google Search, a whopping 75 million results pop up. Hundreds of hiring managers and recruiters want to master the art of asking great interview questions, yet different online sources and mentors provide different advice. How can one be expected to reconcile it all?
In our webinar with Recruiting Daily this week, we were lucky to learn interviewing strategies from three panelists who think constantly about how to provide candidates with the best interview processes possible. Below, you can find insights from recruiter Derek Zeller, employment branding expert Holland Dombeck, and CMO of Lever Leela Srinivasan. (You can check out the full recording here).
What questions do you always ask in interviews?  
Derek asks: 'What can I tell you about my company that you don't currently know?'
"I'll never forget one individual who pulled out a piece of paper with questions. In my interviews, I want to know: what do you know about us? Have you done your homework? Have you done your research? That tells me what expectations you have for your role."
Leela asks: 'Tell me about the last piece of constructive feedback you received, and what did you do with it?'
"People really think about that question and delve into feedback they've gotten. You learn how they reacted to it and what they learned from it. Also, if they are not humble, that question can sometimes give me a glimmer of a lack of humility, which is a characteristic that we really value at Lever."
Holland asks: 'What do you read? How do keep up to date with trends in the current market?'
"If they're interviewing for a certain role, I expect that they're reading blogs and articles that relate to it. If they don't have any examples of knowledge they're pursuing, it doesn't show me the personal vested interest that I'm looking for."
What are a few examples of "bad" interview questions?
In Derek's experience, questions like "What problem have you had to overcome, and how did you overcome it?" can lead to over-sharing. Instead, he encourages you to ask questions like "What is your stress reliever?", or "How do you blow off steam?".  This will give you a better understanding of the candidate and show that you actually care about them as a person.
"I hate the question 'Tell me about yourself'", says Holland. "It's vague and it paralyzes the person you're interviewing. As a recruiter or hiring manager, you need to be mindful of each candidate's time. You have their resume in front of you, so there's an obligation on your behalf to dig deeper into their resume and ask them pointed questions."
What are you doing today to coach hiring managers to implement positive experiences at your organization?
According to Leela, it is shocking how little is done to train hiring managers at the average company. "Here at Lever, we run design thinking workshops that train all of our employees to interview better. We want to ask questions that get to root causes and help us understand the 'why' behind responses," Leela told us. "I think that's where a lot of interviewing falls short today. You get confident responses from candidates, but you don't grasp what was happening beneath the surface in a given situation."
When asked for a quick tip along these lines, Leela encouraged recruiters and hiring managers to look across the entire slate of interviews and make sure their panel's questions are complementary. A candidate does not want to be asked the same question five times by five different interviewers, and so it's important that different interviewers pursue different information. When you have complementary questions flowing across your interview process, you can both glean more information and deliver a better experience for your candidate.
As a recruiter, you likely know when to put your selling hat on. But your hiring manager may not. "Let your hiring manager know that if they like the candidate as the interview progresses, they should begin selling the position," Derek advises. "They should tell the candidate what they'll be doing that first day, first week, and first month so they get excited about the position. This will help you close at the end of the day."
Here is Derek's quick tip: "Never allow the candidate to sit by themselves. If the hiring manager is running late, the recruiter should sit and chat with them to relieve their nerves. Make sure the candidate has water, that they feel comfortable in the room. Remember the small details."
What metrics should practitioners be tracking when they interview?
When you think about metrics, your mind may jump to conversion rates. While those numbers are important to track, Holland stresses that there's also an obligation to track candidate correspondence. How quickly are you following up with them? What is the length of time between their first interview and that final conversion? No candidate should be waiting for weeks on end to know whether or not they're a fit for your organization.
Leela believes that metrics come to life when you take the discussion and bring it down to the level of people. "Say you have 27 applicants, bring four on-site, and then none are brought to offer. That becomes meaningful only when you click on who those four are," Leela explains. "When you look at the actual candidates and see why they didn't make it through, that forces you to rethink your interviewing process or tactics so that you can focus on the right talent."
How do interview questions impact your employer brand and company culture?
Holland reiterates her aversion to questions like 'Tell me about yourself.' "As a candidate, that kind of question signals to me that you didn't do your homework to understand me. Interviews should be a two-way dialogue," Holland says, "In order for that dialogue to take place, the hiring manager and recruiter need to do their homework as well. A bad interview won't tarnish your brand, but if there is a trend of bad interviews that's not addressed through coaching or metrics, you can hurt your employer brand."
In order to create a stand-out culture, Leela emphasizes that talent has to be a top priority. "Each person you bring into the mix somehow contributes to your culture," Leela reminds us. "If you get hiring wrong, it's going to detract from your culture. Ask the right types of questions to make sure your candidate is aligned with your culture and can contribute in a meaningful way."
Conclusion
As an interviewer, you play a key role in shaping your company's success and values. Whether you are a new recruiter or a seasoned hiring manager, reassessing your interview strategy can benefit both your fellow employees and candidates. We hope the tips above encourage you to do just that.
If you'd like more insights from our three panelists, including budget tips for how to incorporate these interview strategies, listen to the full Q&A here.