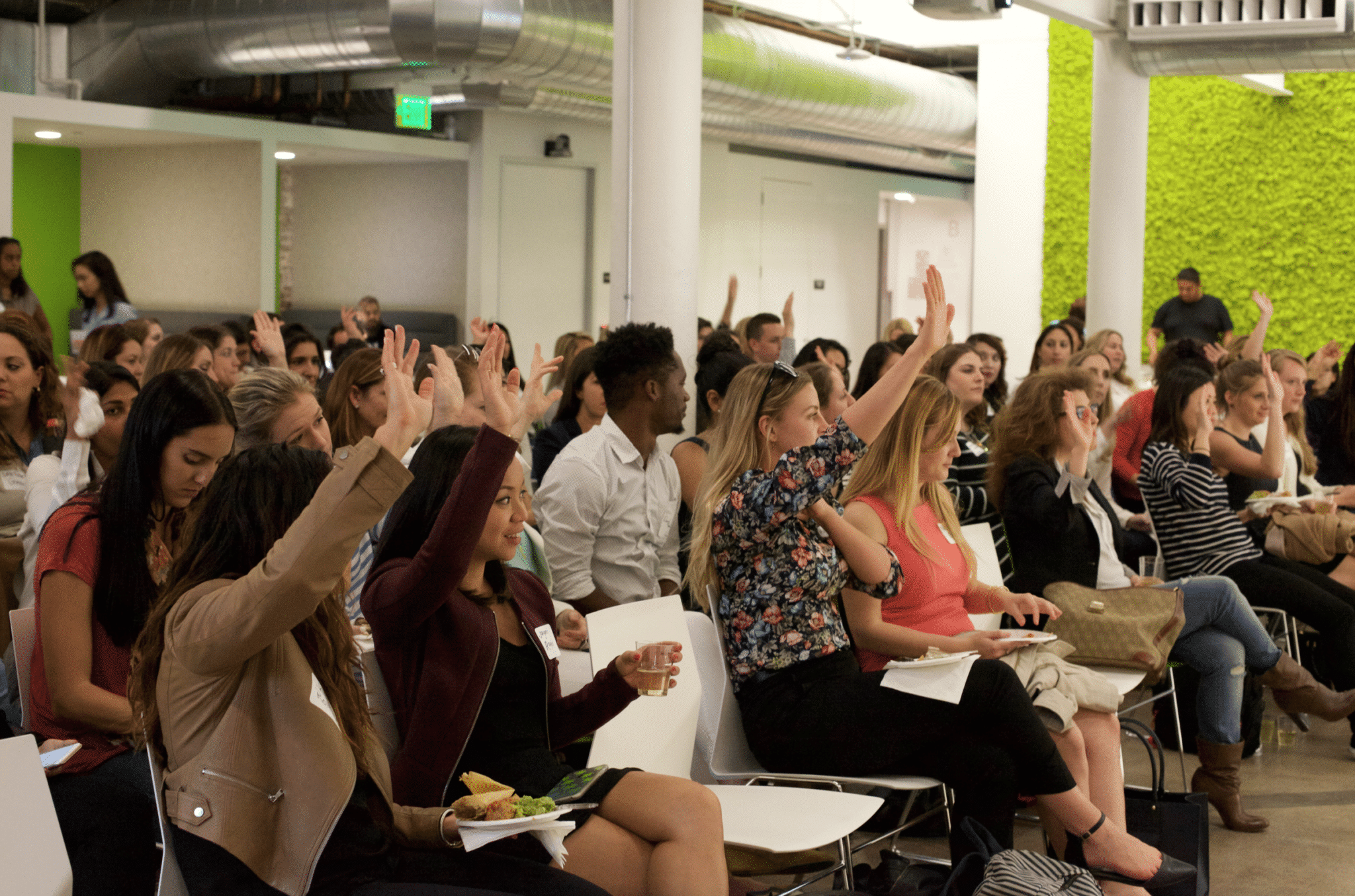 Imagine that in the midst of your job search, you attend a fascinating talk called " The Changing Landscape of SaaS Sales." As you chat with the host company's recruiter afterwards, she gushes: "I actually saw on your LinkedIn that you did Teach for America in Colorado! I also did Teach for America almost 9 years ago now. This company was the perfect next step for me because…" Now, imagine that a recruiter sends you that same message on LinkedIn. Which conversation are you more interested in continuing?
When you send a candidate a personalized online message about an open role, you can pique their interest. But when your face lights up, your voice rises an octave, and you gesture excitedly as you tell them about an opportunity in person, they are even more likely to listen. Jessica Hayes, Talent Manager and HR Projects Lead at Lost My Name, has seen firsthand how much in-person interactions can mean to candidates. In our webinar last week, she talked to us about how to leverage events to recruit top talent.
Why plan events?
According to LinkedIn Talent Trends 2014, 85% of the workforce want to hear from you. Everyone is not actively looking, admits Jess, but 85% is interested in changing careers. With so many passive candidates who could be receptive to your reach-outs, your responsibility is to use every tool at your disposal to find them. Jess has a number of favorite online sourcing tools- Dribbble, Stack Overflow, Discover.ly, Reddit, and allmytweets.net, just to name a few- and she uses each consistently to engage top talent.
"But you don't have to go very far to see that candidates are constantly bombarded by online reach-outs," remarks Jess. "People are taking screenshots of bad reach-outs and talking about how fed up they are all the time." Considering that candidates are swamped with job offers and information about changing their careers, Jess knows how important it is to think of different, creative ways to connect with them.
Throughout her time as a recruiter, Jess has learned the key ingredients to a successful event. In order to make her tips more digestible, she broke her event planning strategy into three steps:
1) Pre-event communication
Event planning can be difficult, especially if you have a small recruiting team. Still, you likely have more resources than you think. "Event assistance and facilitation comes naturally to a lot of people," says Jess. "You can ask hiring managers to help you source a speaker, for example." Hiring managers want to grow their team just as much as you do, and they will be more comfortable planning an event than building an online pipeline. When you are nailing down the details of your event and marketing it to your target audience, don't be afraid to rally the troops.
Once you've solidified the logistics of your event and attendees can RSVP, send all successful registrants a confirmation email. The email should include their ticket to the event, the schedule for the day, and directions to the venue. In order to do this quickly and seamlessly, Jess crafts a template and sends the emails through Lever. Even if your event has reached capacity, it's important to send a follow-up email. When you send a message like "Thank you, but at the moment we are oversubscribed." or "We'll have to put you on a waitlist, but we will keep you updated!", you can continue the conversation with candidates and ask them to visit your careers page if they are interested in exploring further opportunities.
In Jess's experience, there is always a large drop-off of registered attendees right before each event. To avoid this, send a reminder email one to two days before the event with the final schedule and directions to the venue. You can even include topical blog posts or insights to get people more excited for the event.
2) Execution
The day of the event has arrived! First off, stick to the agenda you laid out in your prior communication with all attendees. If you stray from the original plan, you risk providing information to attendees that is not actually relevant to them. When it comes to structure, Jess recommends lining up a varied set of talks throughout the day.
In Jess's sample agenda, the event includes three different 15 minute talks, an open panel, and time for networking to close out the day. The goal of the three separate talks is to deliver diverse, concise content, while the panel is the audience's opportunity to bounce ideas off each other in a larger forum. When you end the day with devoted time to networking, you allow hiring managers to connect with promising candidates, and give candidates time to explore the office and assess their own cultural fit.
3) Event follow-up 
After your event, send a follow-up email to all attendees. Once you thank them for their time, you can send them the emails of hiring managers they may have met that evening, and encourage them to connect with your fellow employees on LinkedIn.
If you can, ask your hiring managers to email promising candidates directly after the event. When they send messages like "We really enjoyed meeting you last night! We have this role open right now, do you want to come in and meet the rest of the team?", they excite candidates with the possibility of getting to know the team even better. When Jess meets awesome candidates who aren't a perfect fit at the time, she archives them in Lever under the "high potential" category. That way, she can remember to invite them to future events, continue checking in on their job search, and keep them engaged.
Finally, make sure to thank your event speakers for their time and effort. When you build strong personal relationships with them, they are motivated to work with you again and may even encourage others to work with you as well. In the past, Jess has actually asked candidates (who weren't interested in joining her company at the time) to speak at future events. When you show them that you care about their experiences no matter what, they are eager to continue working with you.
Conclusion
Event planning doesn't have to be time-consuming, especially when you have the right steps and resources in place. Plus, they're more than worth the effort. When candidates can build meaningful relationships with your coworkers face-to-face, they develop clearer insight into your company's culture and values.
With this actionable advice from Jess now under your belt, we can't wait to see the creative events you come up with! To learn how to plan events specifically for technical talent and much much more, listen to her full webinar here.