Design thinking:
An iterative methodology that seeks understanding through empathy and creates solutions by prototyping, refining, and redesigning.
How to apply design thinking to talent acquisition: 
One reimagines the hiring stakeholders as customers of a shared experience. The main focus, therefore, is on building empathy with them in order to fulfill their needs.
Only 52 percent of business leaders believe that using analytics to measure and improve talent acquisition is important.
When we first discovered this, we were floored. What if we never received scores in school – how could we possibly have grasped the gaps in our knowledge? What if olympic runners didn't track how long it takes them to run a mile – how could they possibly run faster the next time?  In all disciplines, measurement is integral to improvement. Why don't all talent leaders think so?
Here's what we also learned: 13 percent of business leaders are effective at using analytics. Perhaps, then, the underlying problem is that talent acquisition professionals don't know which metrics to look at in their recruiting software, and how to look at them.
In our blog series on how to leverage design thinking in talent acquisition, we're unpacking the powerful role that design thinking can play in recruiting. Through applying design thinking to talent acquisition, teams can dramatically improve their recruiting success. 
In this first post of our series, we're reimagining the hiring manager as a customer, and taking an in-depth look at their needs. If you – the recruiter – learn which problems they face, you can better decide which analytics to focus on to level up your overall recruiting success. 
Below, we created five problem scenarios, accompanied by five recruiting metrics you can improve upon to enhance your hiring manager's experience. Our advice incorporates the first three of these design thinking steps: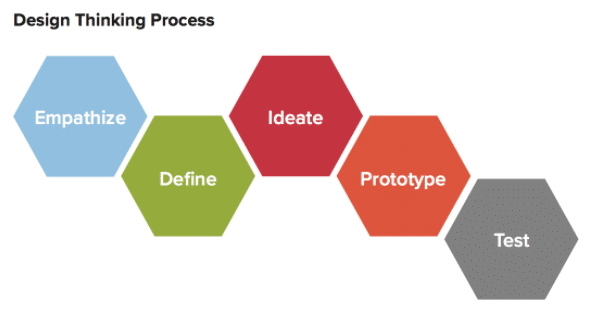 1) Time to fill
Problem to solve: Head of Customer Experience Hannah needs to hire twelve customer success reps in four months. Unfortunately, she doesn't know how long it's currently taking to fill a given customer success rep role, meaning she can't tell if they're on track to hit that goal.
How Design Thinking can help: Empathize

88 percent of teams with developed design thinking use time to fill to measure success, compared to 64 percent of teams without it. Time to fill is defined as 'the number of days between posting a requisition and officially filling it', and it's no surprise that teams with and without design thinking see the value in tracking it. To hit their hiring goals, teams have to keep tabs on how long each successful process takes. 
Overall though, you see that teams that employ design thinking in their processes pay more attention to time to fill. Through applying empathy, i.e. the first step of the design thinking process, perhaps they see how monitoring time to fill improves everyone's – including the hiring manager's – experience. In order to build new products or hit revenue goals, hiring managers need to build their teams efficiently.
We understand that reducing time to fill is difficult. To get started, we recommend digging into the two metrics in tip number 2.
2) Feedback completion and Time to complete feedback
Problem to solve: Tim, a new sales manager, has made decreasing time to fill for account executives one of his foremost priorities. But he doesn't know how to make it happen.
How Design Thinking can help: Empathize
Tim actually has the power to reduce time to fill – through encouraging his team to submit feedback more quickly. To best empower your hiring manager, monitor feedback along with them. Want to measure how long it takes for every interviewer to submit feedback? Dive into Lever's  interview calibration report. You can instantly see how many interviews their team has conducted, and how long it's taking them to provide feedback in the aftermath. Want to measure the overall feedback completion rate – i.e. what percentage of their team is sharing feedback? Compare the number of interview events to the number of feedback submissions.
We recently spoke with Nortal, a 600 employee company in Estonia, and a winning example of how more efficient feedback submission can reduce overall time to fill. Months ago, their Head of Engineering was able to interview 57 candidates and fill out 57 feedback forms in only nine days. Speedy submission just like that has helped them reduce their time to fill from 87 days to 30 in the past year.  
3) Conversion rate
The problem to solve: Director of Engineering Alicia isn't in the weeds of every interview process, but she can see that candidates are rarely progressing to the offer stage. She's desperate to fix the trend.
How Design Thinking can help: Empathize
As they juggle several responsibilities at once, remember that hiring managers can't dive deep into every interview process. Digging into conversion rate – i.e. how many candidates are progressing from one stage to another – is helpful because hiring managers want to know where candidates are getting caught. If they're not making it past the phone screen to the onsite interview, for example, the hiring manager may decide to reassess how demanding the technical phone screen is. Hiring managers can't experience every nuance of recruiting processes, but they are heavily invested in improving upon them.
Through examining conversion rates reports in Lever, you can also work with your hiring manager to better understand which candidate sources are most effective. Look at how the conversion rates of referred candidates in your pipeline compare with the conversion rate of sourced candidates, for example, to see which method is more effective. 
4) New hire satisfaction
The problem to solve: Director of Product Marketing Conor wants to gauge whether or not his new hires are satisfied on his team. First, however, he needs your help to ensure they're the right hires. 
How Design thinking can help: Define 

48 percent of teams with developed design thinking use new hire satisfaction to measure recruiting success, compared to 26 percent of teams without it. Our theory is that perhaps design thinking orgs more deeply consider how new hire satisfaction impacts the experience of stakeholders like the hiring manager.
Before beginning to measure "new hire satisfaction", we suggest engaging in the second step of the design thinking process – define. We define the concept as a combination of : "Tangible impact, cultural alignment, clear opportunities for professional growth, and feeling challenged". But it can be defined in lots of ways! 
As a talent leader, you have a hand in making that eventual "new hire satisfaction" a reality. First off, you can vet for cultural alignment during the interview process. If your candidate seeks a structured company but you're a fast-growing startup, for example, acknowledge that they may not be satisfied on your team. You can also convey their potential "tangible impact" in your job description – or, as we call it, impact description. This way, you're doing your best to ensure they'd be happy making that impact in their future role. 
To make sure you're doing your part, ask new hires how much their current employee experience aligns with their candidate experience. Create surveys with just a few clicks. Ask questions like: 'What do you wish you had known during the interview process?', 'What are you glad you discovered during the recruiting process?', and 'How could the interview team have painted a clearer picture of the overall employee experience?'. 
5) Hiring manager satisfaction  
The problem to solve: Director of Sales Andrew is feeling disengaged from the hiring process, and doesn't feel like he has an outlet for feedback.
How Design Thinking can help: Ideate
It's mindblowing that only 47 percent of all business leaders focus on hiring manager satisfaction to measure recruiting success. Examining this metric is one of the best ways to understand what their needs are.
To leverage your hiring manager as a happy partner, ideate – or brainstorm infinite ideas around – how you can better engage them. One of our designers here at Lever, Mikael, recommends that you play the popular improv game of "Yes, and…" during this stage, meaning that you never reject any idea. Also, engage in user research. To understand what your hiring managers want out of their interview process, go out and ask them which problems they want to solve. "Then, ask follow-up questions," says Mikael.
Here are some ideas we have to get you started: Can you arrange a hiring manager intake meeting before every process to look through several resumes together and discover the qualifications they are looking for? Can you schedule bi-weekly check-ins to reassess whether their hiring needs have changed? Really, the recruiting process is your oyster.
—
In this post, we explored how you can apply the first few steps of design thinking – empathize, define, and ideate – to zone in on the right recruiting metrics. We believe that improving upon the metrics above can significantly enhance your hiring manager's experience. 
In our next post, we'll discuss how you can leverage design thinking concepts to build sustainable pipelines. Subscribe to our blog to receive the post straight to your inbox!