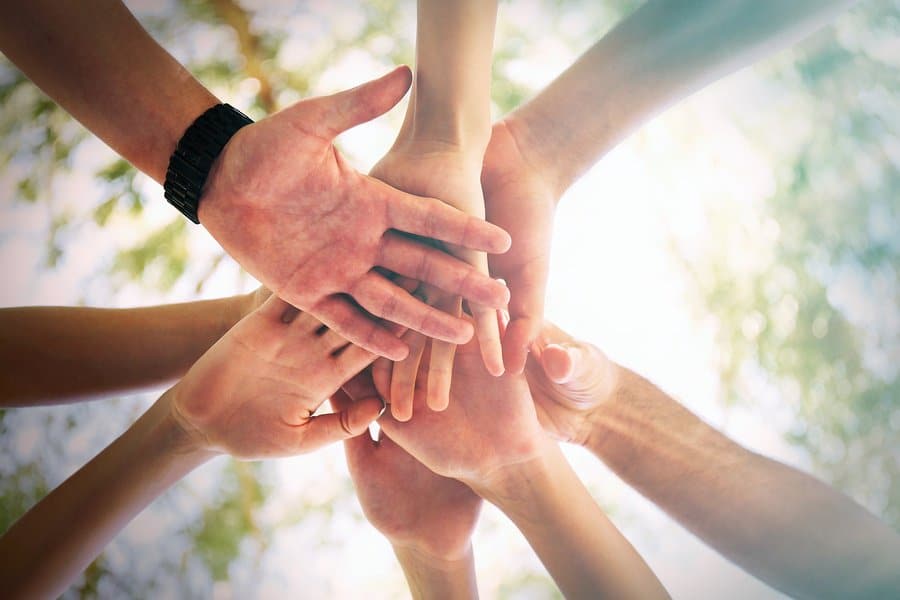 How many brands do you interact with on a daily basis? From the news source you skim on your morning commute to the websites you visit at work, you are likely exposed to hundreds in any given day. For employers, all that clutter makes it daunting to connect online with millennial candidates who have grown up scrolling through various websites and logos. 
With that in mind, in this week's edition of "How to Recruit Millennials in 2016" we are talking about how to cultivate an unforgettable employer brand. After chatting with The Muse CEO Kathryn Minshew, employer branding entrepreneur Jason Seiden of Brand Amper, and Yieldify's recruitment and talent brand expert Jessica Hayes, we compiled five sure-fire tips that will help you fortify your brand presence.
Show, don't tell
Your candidate's job search has likely taken them to countless career pages. In order to etch your career page into their memory, Kathryn recommends that you incorporate attention-grabbing features like videos and pictures wherever possible. When you provide candidates with captivating visuals, you equip them with the tools necessary to visualize their future day-to-day. Millennials are not only pioneers of digital media consumption; they are also pioneers of digital media production. This means that they'd rather see the dynamism of your culture than hear about it.
As Kathryn warns, however, you must be deliberate about the photos you choose. A picture is worth a thousand words, and candidates can formulate long-lasting perceptions of your company after one glance. "People trust people, they don't necessarily trust brands," says Kathryn. "Have your employees, not just your executives, share their stories. And make sure you're not just using stock photos to represent your culture."
Still, nothing matches the impact of face-to-face interactions. Photos and videos are second only to engaging with candidates in person. As often as possible, Kathryn encourages you to get out there in your community and show candidates why your company is the right fit. A candidate may not remember the moment they spent on your website, but they will remember the invigorating conversation they had with you. If your employees genuinely enjoy working at your company, they will jump at the opportunity to engage with candidates at meetups and industry events.
Harness the power of social media
Today, three quarters of millennials have at least one account on a social networking site. This means that when you promote your company brand on social media, you can access a large swath of the millennial population  (And not just millennials: 65% of all online adults use social media). When you talk about your culture or an upcoming company event on social media, the roommates and parents of your most coveted candidates may see the post and encourage them to apply.
To enhance your social media presence, you can begin with campaigns on Twitter and LinkedIn. When your company organizes, say, a movie screening, step back and snap photos of your favorite moments so that you can post them later. When you read an intriguing article that resonates with your company values, share it and explain why you connected with it.
Jessica Hayes thinks constantly about diversifying her social media content in order to attract a diverse range of candidates. While millennials may share certain motivations, their backgrounds, perspectives, and aspirations likely diverge in several ways. If your last post was targeted towards recent graduates, consider candidates who are contemplating a transition from the corporate to startup world in your next post. Your social media presence can significantly affect your success as a recruiter. According to Jessica, there is a 50% chance your candidate will respond to your email if they've interacted with your brand before.
Empower your employees to be brand ambassadors
The message you send candidates on your company page is important, but the voices of your individual employees can be much more impactful. Most companies have invested significant thought into the content of their home page, but ideally, they are not telling their employees how to talk about different roles. Jason advises that you shorten the distance between your employees and candidates. To accomplish this, highlight employee anecdotes on your website and make it easy for candidates to access their LinkedIn profiles. Jason is also an advocate for "profersonalism" in these anecdotes, or a mix of professional and personal. "Don't show me a foosball table", says Jason. "I want to know the people I'm going to work with. If people say that they like music in their bios, I know there's a creative vibe. Encourage your employees to share those parts of themselves. What do your employees like to do after hours?"
When it comes to motivating employees to serve as your brand ambassadors, Jason insists there is no such thing: " You make them fulfilled at work, and that's encouragement enough."  Jason sees companies incentivize their employees with bonuses and kudos.  "The biggest mistakes we see from companies is that they instantly gamify things. You cannot game a brand. Show your truth, because your candidate knows how to find out that you're lying. If I'm paying you to be an ambassador, you're not an honest ambassador. Everything needs to be genuine."
Emphasize impact in your job descriptions
In a market where millennials are bombarded by other recruiters with appealing opportunities, your job is to show them exactly how they can directly contribute to the success of your company. In Jessica's experience, the number one factor that drives a millennial's job search is impact. Candidates want to know if they possess the basic qualifications for the role, but they are more curious about what they can build. What problems can they solve, and when will they be expected to solve them? In the past, candidates may have cared most about security. Recently, Jessica has found that candidates are driven by individual impact.
Building a brand for millennials looks a lot like building a brand for executives, but at scale, Jason says. Millennials want the "real deal" in the same way that a senior-level executive seeks it. A candidate with a few years of experience may not have as much career capital as a seasoned executive, but they still expect insight into their future day-to-day. Your job description is the perfect introduction to that picture.
Be deliberate about how you build culture in the first place
It's one thing to have a happy hour because you see other companies do it. It's another thing entirely to serve wine as you discuss the most recent book club selection. It's one thing to have a happy hour because it's Friday. It's another to plan a happy hour that welcomes your new hires. Show millennials that you are the type of company that is purposeful about the perks it gives. These days, they are accustomed to hearing about companies that offer free lunches and ping pong tables. Show your candidates that you don't have perks for perks' sake.
When you build your culture, do not leave the heavy lifting to your office or community manager. It is imperative that you involve every employee in the process. Kathryn insists that your entire company champion your culture, from top to bottom. "Companies will hire a junior employee and say their job is create culture. But culture has to be lived and experienced by all members of the org," Kathryn says. In reality, it is everyone's responsibility to celebrate the positive facets of your company environment and change the negative ones. When every employee participates in culture-building activities, candidates take notice.
Conclusion
Your success in recruiting millennials is directly tied to the brand you cultivate. If you skip this essential first step, you may be forced to play catch-up throughout the rest of their interview process. We hope our post helps you stay one step ahead.
Missed the first post in our series? Take our quiz here, and see if you can do more to attract this sought-after talent.