Source job seekers from a single solution. Simplify and speed up the talent screening process. Review candidates' résumés and profiles quicker and more efficiently. Use real-time data to inform hiring decisions and onboard top talent. Scale the business in a predictable manner.
If your talent org is like most recruiting teams, these are all goals you want to achieve. (And sooner than later). There's one more goal, though, that's a big focus for talent acquisition teams today that's equally important to achieve:
How can your team achieve this goal (and, in turn, realizing greater operational efficiency)?
By investing in a complete, native talent acquisition suite that offers robust, out-of-the-box recruiting automation functionality, along with other critical features (more on those shortly), your TA org can use to streamline daily activities, including candidate engagement, through automated workflows and nurture campaigns.
Recruiting automation: The key to faster, more efficient hiring for today's talent teams
The pros of embracing recruiting automation software (e.g., ones that automates interview scheduling and critical workflows) and, thereby, reduces or even eliminates the need to conduct many manual tasks outright are many for talent acquisition teams today.
Some activities, like cleaning up your talent database (i.e., ensuring strong talent-data hygiene at all times) and providing feedback for each candidate following each of your interview stages, will admittedly remain ones your recruiters will conduct manually.
That said, talent orgs at companies of all sizes — from SMBs to Fortune 500 brands — reap the rewards when they invest in recruiting automation. For instance, they:
Boost the productivity of TA team members, who can allocate their attention to other duties (e.g., addressing unconscious bias in the interview process, improve impact job description copy)
Diminish dependency on agencies to handle critical tasks like tagging and screening candidates (something leading talent acquisition teams do today, as our Rise Awards recently showed)
Improve nurture messaging they automate to prospects regarding roles through regular testing
Deliver a great candidate experience, since said messaging is tailored to each person in the pipeline
Despite these benefits, just 27% of enterprises said they intended to automate more than half of their TA processes in 2020, according to a recent study from Aptitude Research.
Why? More often than not, because they lack of a solution with recruiting automation workflow capabilities. Without said solution (i.e., a TA suite with intuitive automation functionality baked in), recruiters can't:
Scale their promotion of active roles to candidates of interest. Structured, rules-based email nurture campaigns — and constant experimentation and optimization of these campaigns — are how today's top recruiting orgs move qualified talent through their funnel more seamlessly.
Apply 'if-this-then-that' logic to trigger essential workflows. Outside of nurturing, there are plenty of other activities recruiters and TA specialists can and should automation. For instance, providing candidate updates to relevant stakeholders to reminding interview panelists to share feedback.
Connect with HRIS and HCM solutions to sync talent data. Many LeverTRM users integrate their Lever instances with Workday. This helps them unify pre- and post-hire data. Moreover, it enables them to more easily and quickly analyze key insights around requisitions, referrals, retention, and many other metrics they need to monitor along with human resources.
Invest in a customizable automation hub that eliminates inefficiencies and centralizes candidate data, making relevant, TA-related insights accessible to not just recruiters and hiring managers, but also business leaders.
That's the first step talent teams must take to streamline their work and become best-in-class TA orgs. It's also tech seven in 10 TA leaders said is vital to long-term success.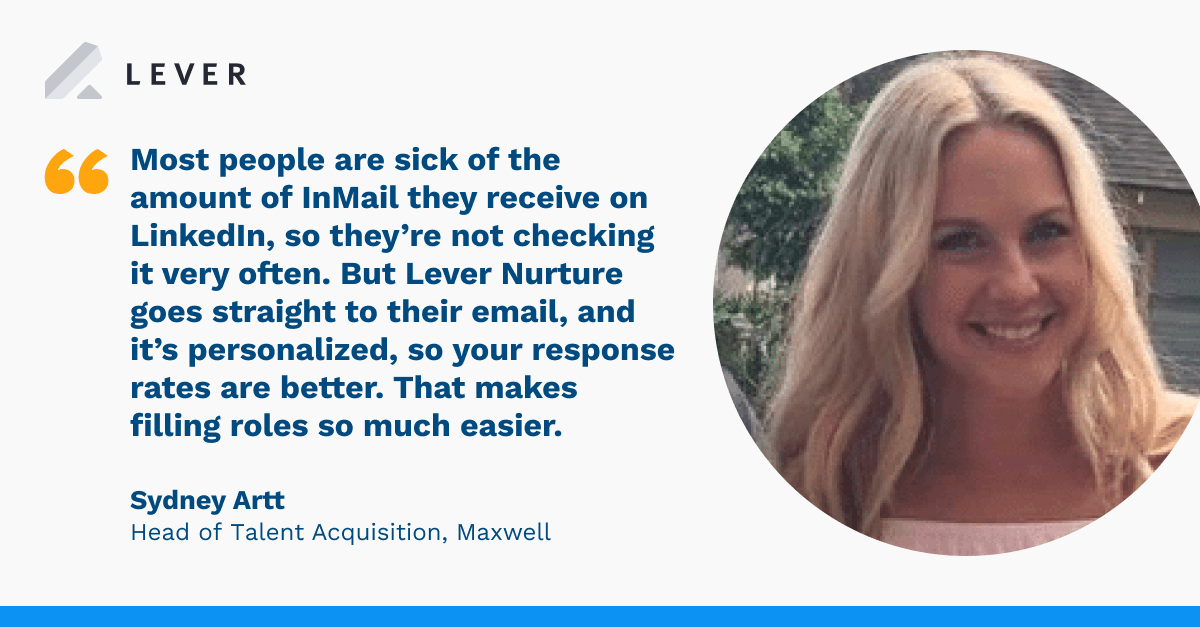 How one company automates critical recruiting tasks — and scales growth — with LeverTRM
Brands with sizable hiring goals — particularly those who prioritize high-volume hiring — can't afford to handle tasks like identifying top-tier candidates and conducting talent pool outreach solely through manual means.
Rather, they need to set up processes — and the right recruiting tech — to put crucial activities (e.g., filtering out unqualified prospects from qualified candidates, triggering automated CX surveys at the end of the interview cycle, archiving individuals who aren't hired for the initial roles for which they interviewed) on relative autopilot.
Consider mortgage technology company Maxwell.
The fast-growing business knew it needed to empower its TA org with a modern recruiting system (and a single source of truth for candidate data) to meet its lofty hiring goals.
More specifically, the business recognized a glaring need to:
Better ID qualified applicants and sourced candidates (external and internal) who are good fits
Develop a more equitable and inclusive hiring process that helped it hire a diverse array of talent
Nurture candidates with personalized, well-timed messaging to convert them into new hires
As our case study notes, Maxwell's talent leaders understood its legacy applicant tracking system couldn't help it realize these three aspirations. (And held its team back in general).
That meant the ATS in question needed to go. So, what did the company do?:
The Maxwell TA team concluded it needed a centralized system in which it could more efficiently natively source candidates, evaluate its pipeline, and nurture candidates through its recruiting funnel.
So, Maxwell Head of TA Sydney Artt turned to the talent software marketplace to find a solution with ATS and candidate relationship management capabilities baked right in. Enter LeverTRM.
After learning about LeverTRM's candidate-nurturing functionality, which enables automated and personalized prospect outreach using customizable templates and scheduling, Sydney was sold.
Add in our robust reporting capabilities, which help Sydney and Co. better track their DEI-hiring efforts and other key metrics, and our CRM and it was clear LeverTRM was the optimal platform.
With LeverTRM at the heart of its TA tech stack and connected with other integral human resources and recruiting software, Maxwell saw substantial ROI with its hiring program in 2021.
Specifically, the company experienced a 400% increase in headcount, 31% increase in offer acceptance, and 20% decrease in time to fill using our talent acquisition suite.
"We're able to automatically send nurture messages out through the Lever platform," Sydney noted. She added her team can easily track nurture engagement through Gmail, LinkedIn InMail, and other integrations with our native ATS + CRM platform.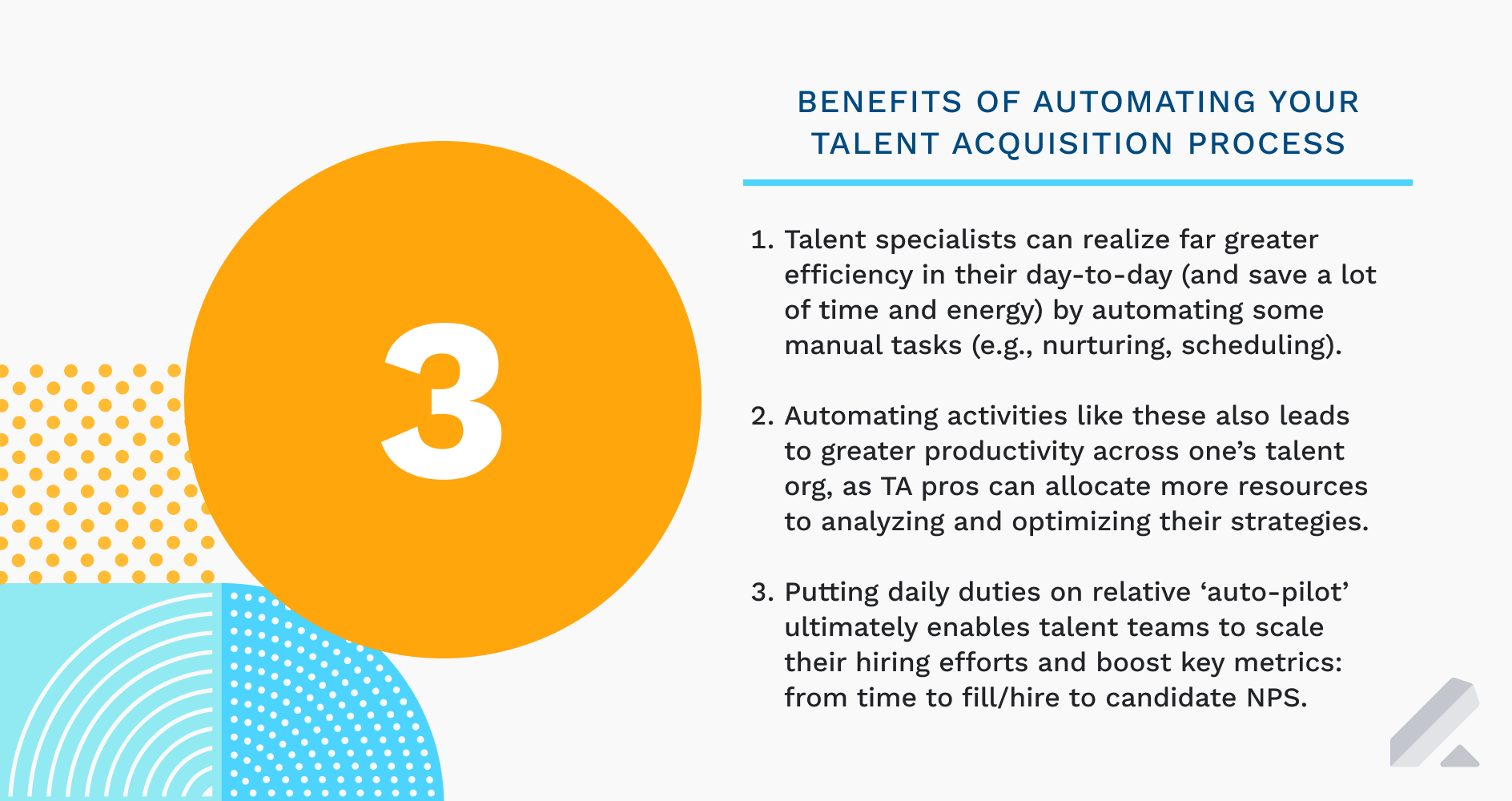 Modernizing your team's talent acquisition strategy with advanced recruiting automation
Maxwell's recruiting automation success story can be yours as well. All you need is a talent acquisition solution that empowers your team to work smarter. (Along with a modern TA mindset.)
That means you can no longer rely on a dated ATS that lacks advanced automation capabilities.
To succeed in the long run, your team can't execute (most) workflows and tasks manually. It's simply not a scalable and sustainable way for recruiters to work.
Only with a complete TA suite that connects with all your most important tools (e.g., background check solutions, e-signature software, HR tech) and channels (e.g., internal comms platforms, your careers site) can you scale your business in a smart, efficient fashion.
Consider Lever Director of Recruiting Caitlyn Metteer's expert advice. (One our customers heed.)
Caitlyn noted TA teams with recruiting automation don't check "boxes to push candidates into the right stage." Rather, "they're automating those touchpoints and spending their time where it really matters: engaging and interacting with potential candidates."
Download our eBook to learn how you can benefit from our recruiting automation capabilities, including Lever Nurture, to streamline core tasks and better engage your candidates.