In a semiannual survey conducted by the National Association of Business Economics (NABE), 98 percent of respondents forecasted a recession by the end of 2020 or 2021. A Bloomberg article, however, suggests that US recession chances have inched down to 26% within the next 12 months.
Regardless of which source you believe, another recession is likely inevitable at some point in the future, and having a contingency plan to address such a disruption is a business necessity.
Economic storms often spur immediate thoughts of recruitment cost cutting and resource reductions. However, rather than responding in a knee-jerk fashion, consider instead how you may capitalize on recession as an opportunity to double down on your performance initiatives. You can start by reinforcing the foundational pillars of your talent acquisition strategy.
Bill McCabe, National Manager, Talent Acquisition, Polyglass USA, Inc., a leading innovator in the roofing industry that has launched innovative and patented technologies, offers four foundational tips for recruiters to consider employing during a recession:
Tip 1. Don't take your eye off the ball.
Sharpening your focus on the goal at hand is imperative, perhaps even more so during an upended economy than when the economy is thriving. This is because budgets become leaner, and every decision is scrutinized a bit more closely. In this first tip, McCabe zeroes in on how to address the budget challenges without surrendering quality.
First, identify the "key performance indicator (KPI) that you always have designated as most critical," suggests McCabe. "If it's 'quality of hire,' (and I hope that's at the top or at least in your top three) pivot on that based on the general labor market's current state. Some may be tempted to make concessions and set the bar lower when the labor market is candidate-driven and then feel they can over-hire during a downturn. That's an approach destined to fail." 
How to Act on This Tip: "Quality of hire is defined as the value a new hire adds to your company. Specifically, how much a new hire contributes to your company's long term success," according to an article in Ideal. The same article identifies three key strategies you may employ to improve quality of hire:
Collect and illustrate a significant relationship between pre- and post-hire data;

e.g., scores on

psychometric assessments

(standard and scientific method used to measure individuals' capabilities and behavioral style); grades on resumes (pre-hire); manager's satisfaction ratings, days to full productivity (post-hire), etc.
Streamline recruiters' workflow.

Simplifying recruiters' workloads by streamlining workflow can slash time-to-fill by 70%. Speeding time to fill is important, because "the best qualified candidates tend to find jobs within 5 days," according to Jeff Furst, Founder, President and CEO of FurstPerson, in the article,

 

Quality of Hire and Recruiting Speed – How Do You Have Both?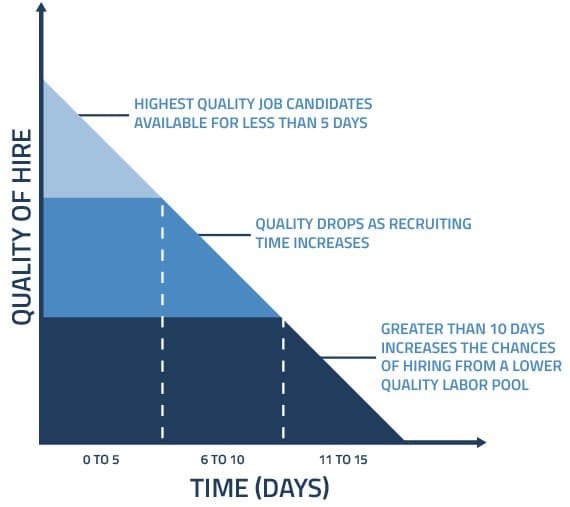 Align hiring managers.

Because a resume spends 37% of its time under review by a hiring manager, it's important to move the needle in this area to get hiring managers aligned. This can be done during the kickoff meeting, as well as by sharing best practices for interviewing.
Tip 2. Know that the needle doesn't move for "rock stars" based on market trends.    
Those needle-in-the-haystack employees remain just as challenging to attract, even when recession takes the wind out of the economic sails. 
"If you're searching for roles for STEM positions, R&D, highly specialized roles in highly competitive industries, do NOT factor in unemployment or general labor markets," asserts McCabe. "Great talent isn't easier to procure when labor markets are employer friendly. The upside is they aren't any harder to find during bullish economies."
How to Act on This Tip: With this knowledge in mind, consider what strategies you may implement to increase the odds of recruiting top candidates throughout any economic cycle. 
One company that does this well is technology-based Gojeck, who innovated a strategy to locate, and then refine their top-talent list into one that is uniquely suited for their organization. Because their rigorous selection process has been known to reject experienced candidates from top product companies, Gojek designed a twofold solution to locating top developers capable of succeeding in their recruitment process: 1. Discover 2. Nurture.


"As a first step, we pulled out profiles of engineers we hired from Lever (our Application Tracking Service) and found many of them to be active on code-related online digital platforms that reflect their passion for programming," says Atif Haider, Gojek recruiter, in Finding Needles in Haystacks. 
From there, Gojek targeted the most obvious platforms and created algorithms to pinpoint qualified candidates. This included looking "at various signals to check their passion for programming, and (if) they passed a certain pre-defined threshold, we would mark them as qualified," continues Haider. 
Once they shortlisted qualified candidates, Gojek began reaching out through personalized, nurture email campaigns. From there, interested candidates were contacted for conversations, and ultimately, several hires were made. By implementing this new process, Gojek exceeded their recruiting target by 300%. 
Tip 3. Shift your infielders.    
Agility is the name of the game in our ever-evolving, hypercompetitive global economy. This applies equally to the recruitment space, where dexterity amid the waves of disruption continually is tested.
McCabe's baseball reference helps to drive the point home: "In baseball, infielders shift positions to the far left or right side of the diamond to take advantage of a batter's tendency to pull the ball (consistently hitting to one side of the field). As a talent leader, your shift during recession-like times is to avoid downsizing your team in a knee-jerk reaction to a soft economy." 
How to Act on This Tip:  Continues McCabe, "Any leader in the talent acquisition space generates lists of to-do projects that will vet out tech solutions, automate, improve the candidate experience, train your hiring teams, etc. Delegate and shift your team to get engaged in this activity.  You'll avoid high burnout that recruiters often face during high-volume peak times, and you'll raise their engagement as they take on interesting tasks outside the transactional and repetitive pieces of the hiring lifecycle." 
Jeff Murphy, director of communications at SnackNation, extends on this idea in the article, 21 Freakishly Effective Ways to Motivate Employees, saying that switching gears can help your team members get out of a rut by challenging their brain to adapt. "Your brain is pretty good at changing, and it actually likes change. When you give it a novel task or problem, it gleefully rises to the challenge."
With this in mind, the innate challenges that a recession offers may not only abate recruiter burnout (as McCabe suggests) but also stimulate the recruiter brain with opportunities to innovate. 
Tip 4. Magnetize Your Brand Reputation.
"A winning employment value proposition will act like a magnet for top talent," asserts McCabe.  "Your story of why the best talent is drawn to your organization will serve you in good times, and in bad. Don't change what's worked but examine both your message and the vehicle for delivering it – course correcting only if/when necessary." 
How to Act on This Tip:  Methods to fine-tune your employer brand can be as simple as leveraging what appeals to an average person's sensitivities during a downturn.  For example, in 6 Ways Brands Can Respond in a Recession,  Derrick Daye, describes "optimism" as one of those areas of areas of sympathy.  He says that "during crisis, people learn to live with losses … and uncertainty, making them more sensitive to what really matters." 
So, as an employer, be a vessel that buoys hope. Continues Daye, "Being the beacon for optimism in a world of dim circumstances can prove a powerful differentiator."
Moreover, consider delving into your employee benefits and see where opportunities to elevate may be tapped. Glassdoor's chief economist, Andrew Chamberlain, in the article, How to Recession-proof Your Company's Reputation, suggests that, "Even if employers can't afford to provide wellness benefits like gym membership and healthy lunches, they can give employees the flexibility to work-from-home when they need to. Employees will feel valued, and it doesn't cost the company anything to implement the policy." 
— 
Contact Lever to help you improve processes that discover and nurture high-quality talent, enabling you to outwit and outperform the next recession.