A smooth-apply job application process enables companies to elevate their employer brand through increased candidate satisfaction and hiring success.
As a result of automating many of their recruiting processes through Lever, Medallia achieved a "whopping 33 percent increase" in their NPS®, the highest in their history, according to Molly Stark, Head of People Experience, Medallia. This liberated them to focus in on high-value initiatives such as building relationships and improving the candidate experience.
A Candidate Net Promoter Score, or NPS®, is a key metric that companies use to measure and improve their recruiting and work with strengthening their employer brand. 
Why Candidate Experience Matters
Why should employers be concerned about their brand in the eyes of job seekers? Perhaps because it "encompasses everything you do to position your organization as an employer or choice," according to Built In, an industry hub for tech professionals in their article, Understanding Employer Branding. "It's what job seekers and employees really think of you."
The value of candidate experience has been elevated in this employees' market where unemployment is extremely low and candidates are increasingly more selective. "In its most simple definition, (candidate experience) is how job seekers perceive your brand throughout the hiring process … from job description through final offer," according to Namely in the article, Why Candidate Experience Is More Important Than Ever. 
In other words, candidate experience and employer brand are intimately intertwined, co-dependent, if you will. The impact of the experiences you provide and the brand you exude flows from current candidates through to employees to future candidates. Social media channels amplify candidate experiences, both positive and negative, enabling in-demand candidates to draw toward or be repelled by your organization.
Smooth Experiences Through a Nurturing Approach
One way to improve candidate experience, and thus, employer brand is to consider the one-on-one interactions with each candidate. These touchpoints are an opportunity to build value and boost your reputation.
"Think about the totality of your firm's recruiting and retention efforts as a series of individual interactions. Every touchpoint leaves an impression with candidates and employees that shapes your employer brand and your ability to hire and retain great people. Without proper management, each one of those touchpoints can become a deal breaker, costing you candidates and employees," continues Built In. 
This is one of several areas where Lever technology shines by offering a plethora of customizable products. Within the Nurture product, for example, tailored templates enable you and your teammates to build in multiple candidate touchpoints, scheduled for optimal receptivity. 
With a customizable 'send for,' you can initiate emails from a diversity of stakeholders across different time-frames, while also controlling (calendaring) specific 'start' and 'end' dates for candidate campaigns.  The archive, snooze or no-action options follow the conclusion of the campaign. 
This ease in tailoring interactions with individual candidates, cements bonds with top talent. Rather than spraying candidates with generic and impersonal messaging, the recruiter or employer deepens the candidate experience through value-laden, nurturing communications.
This value-in-action recently was demonstrated when a VP-level candidate interviewing for a role with 15Five went through the Lever-bolstered recruitment and interviewing process. 15Five expressed, "Now that we are using Lever and leveraging the email templates with greater consistency, this is the experience that candidates can expect:
Overall, the entire process then, and now was incredibly humanistic. I never received any automated cold emails or calls. I feel bad for seeing other reviews here that described what appeared to be an uncommunicative and scattered process.
Even though I didn't get an offer, interviewing with 15Five really opened my eyes to how recruiting should be done and could be done. I'll be regularly checking any open roles as I would love the opportunity to join 15Five. Major kudos to the Head of Talent for leading such a great recruiting team!" Interview Review, dated 11/12/19. 
Bottom line is that your company's recruiters, hiring managers and interviewers are on the same page, employing a collaborative approach. They share one integrated platform on which they all communicate, updating emails, interactions with candidates, interview and follow-up status updates, etc., which leaves a more positive, smooth impression in the wake. 
Smooth Communications Through Impact Descriptions
"Businesses have never done as much hiring as they do today. They've never spent as much money doing it. And they've never done a worse job of it," according to Peter Capelli in the Harvard Business Review article, Your Approach to Hiring Is All Wrong. 
One suggestion Capelli made to improve a company's hiring approach includes designing jobs with realistic requirements versus being a company that "piled on job requirements, baked them into the applicant-tracking software that sorted resumes according to binary decisions (yes, it has the key word; no, it doesn't), and then found that virtually no applicants met all the criteria." 
Candidates are drawn more to position descriptions that are actionable, enabling them to mirror their achievements history with a company's bottom-line goals.
Lever's own job-description transformation, which fulfills this impact-focused ideal was spawned to "determine more broadly what it feels like to be recruited at Lever," according to Caitlyn Metteer, G&A Recruiter at Lever, in Goodbye Job Descriptions, Hello Impact Descriptions. "We wanted to ensure that people reading a job description would fully understand what it would feel like to be part of Lever, as well as that role over the course of the year. And through that process, impact descriptions were born." 
By reinventing position descriptions into impact descriptions so that they sell vision and goals supported by skill sets, companies may anticipate results that are not only more focused (securing more right-fit talent), but also more appealing to the savvy candidate. This draws top talent into your virtual doors versus repelling them. 
"I can tell you, time and time again, the reason someone decided to apply was really the impact description. Candidates find them to be incredibly thoughtful, they feel like they really understand the role coming into that initial call, and so people are taken aback by the level of thought and care that goes into these roles," says Metteer. 
Before: Traditional Position Description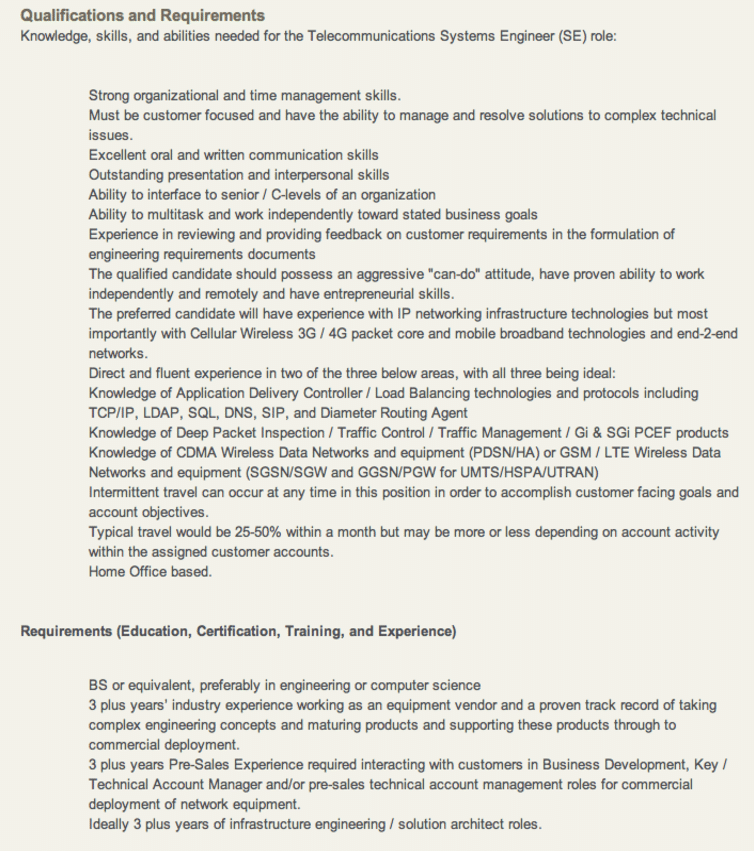 After: Impact Position Description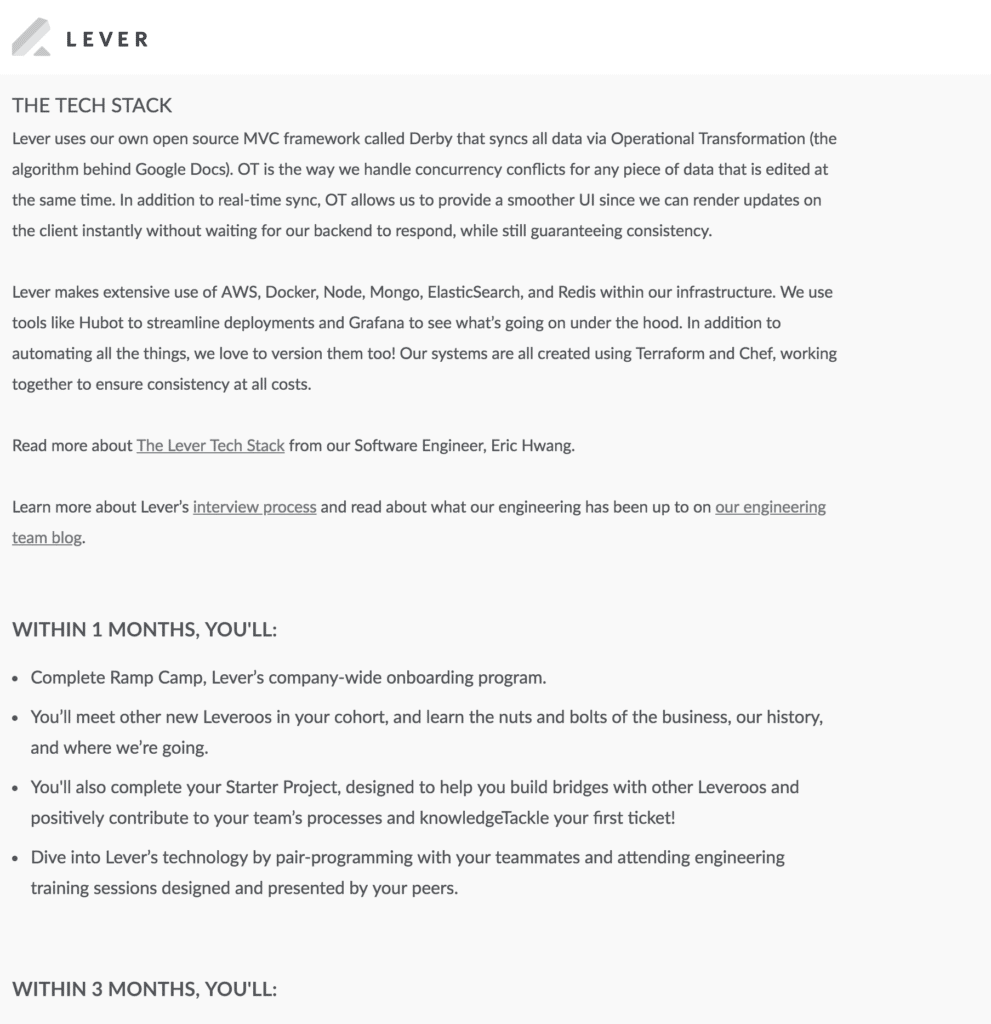 Smooth Interview Processes Through Modern Tools
The rise of remote work and mobile meetings creates an expectation to accommodate candidates' individual situations. Companies who leverage technology such as Zoom to connect with candidates will stand out. Lever's Zoom integration enables recruiters to schedule video interviews directly from their ATS. Not only does this simplify the recruiter's tasks, but it also smooths the hiring process for candidates including providing them the opportunity to deliver online presentations. 
When it is time to make the offer, a more streamlined process also enriches the candidate experience. An e-signature tool like DocuSign, which is integrated in Lever, empowers candidates to sign from where they are at (versus having to print, scan and manually sign a piece of paper). 
"A lot of what DocuSign aims to do is optimize the slow, paper-based processes that have historically distracted candidates and recruiters. By streamlining and automating a lot of the candidate and recruiter touchpoints, it lets you focus on the why," explains Elaine Stanfield, Senior Product Marketing Manager at DocuSign.
Bottom Line: Lever's Smooth Apply Process Are Enriched with Core Values
Lever has injected the values they respect—collaboration, engagement, and humanity—into their software and re-imagined how organizations can think about their talent strategy, with people and relationships at the center. Their smooth-apply, innovative process has enabled candidates to feel more respected and valued, while also invigorating them with next-generation application experiences.
By partnering with Lever, companies have access to bleeding-edge technology in addition to thought leadership underpinning these smooth-apply processes. Contact Lever for a demo, today.