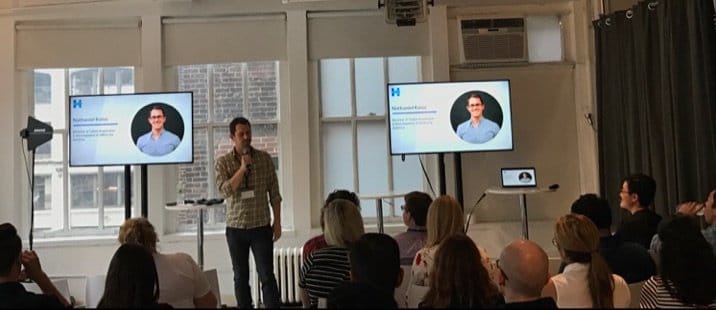 Last Thursday, Lever journeyed from San Francisco to New York for the second stop in our Talent Innovation Roadshow. We had a blast meeting customers, partners, and members of the recruiting community, sharing the latest news about Lever's Talent Acquisition Suite and recruiting benchmarks research, and hearing from an impressive lineup of speakers including Jonathan Kestenbaum of Talent Tech Labs, Stephanie Mardell from Button, Michelle Leirer from Animoto, and Hilary Gardner from Adaptly.  
In the day's keynote, we had the unique chance to hear from Hillary for America's Director of Talent Acquisition and Development, Nathaniel Koloc, on his top recruiting insights and the innovative ideas that drove the campaign's incredible results at massive scale. (We were asked not to share the exact numbers, but we're talking about managing workflows to completion for many tens of thousands of candidates in matters of months.)
Innovative idea number one? Hiring Nathaniel.
It turns out that hiring someone to oversee recruiting on a campaign is in itself an innovative move; no role like Nathaniel's had ever existed.  
Campaign technologies and analytics are more advanced than they've ever been, meaning campaigns need an ever-evolving pool of specialized employees who they often have to go head to head with the Googles, Apples, and Facebooks of the world to get. Meaning that leaving hiring up to fate can get…sticky.
In fact, hiring was an ongoing headache for the Obama campaign in 2012, whose COO told Nathaniel that she felt that hiring was one of the top things that could be improved in future campaign cycles.
The Clinton campaign took note. And so when they hired Nathaniel, he was not only in charge of the monumental task of designing the recruiting playbook for her campaign from scratch, he had to run it in real time.
How did he do it? Here are the four principles that guided how Nathaniel coordinated and scaled recruiting at HFA.
See the whole org as a system in motion.
Talent is a system, with the results of one part affecting the others. Not only does the system include hiring, but also employee onboarding, employee engagement, management, and even off-boarding. "Many organizations don't see the connection," says Nathaniel. "They talk about talent in a very mechanical way."
Practically speaking, what does this mean? Depending on your company's unique situation, it could mean putting one person in charge of seeing all talent programs holistically, or it could be as simple as making sure every appropriate team has open lines of communication and interfaces regularly.
Nathaniel, for example, knows the huge role managers play in employee satisfaction, and that employee development is an important deciding factor for candidates, so he implemented a series of workshops for management to hone their managerial skills. He also took a page from Laszlo Bock's (the former SVP of people operations at Google) book by creating a survey program where direct reports have the opportunity to provide upwards feedback to their managers. When you see what employees want, you can better recruit them and upgrade your company culture to better retain them.
Make the case for prioritizing recruiting and hiring ops.
Nathaniel is continually surprised by how people deprioritize talent, but not at all surprised that it always leads to headaches. "There are no silver bullets, but you have to have buy in order to iterate the whole system. It's the only way to move the needle," says Nathaniel. As a recruiting leader, you have to go to bat for your function to make sure it gets the dues it deserves.
At HFA, he encourages hiring managers to cover their hiring responsibilities early in their workdays, as opposed to as a last thought before they call it quits for the day. He also advocated for investing in a robust applicant tracking system.
When Nathaniel started, the campaign was using Salesforce to manage hiring, but by the time the general election was approaching, he'd successfully made the case for upgrading to Lever. The increases in hiring efficiency would pay dividends. "I needed a tool that would scale, and be intuitive enough that I could put it in the hands of our field teams with limited training," he says of choosing Lever. "Lever is hands down the best ATS I've used."
Prioritize diversity and inclusion
When it comes to putting diversity and inclusion first, Nathaniel's message is simple, "Do it, even though it's difficult."
Nathaniel wants to see companies go beyond the chatter and set real expectations for company diversity. He cites the Rooney Rule (interviewing at least one non-white person for every role) as one possible way to see success in diversity recruiting. He also recommends making your intentions known – simply let people know that you're committed to building a diverse team – so that the applicants and referrals come.
Nathaniel says HFA's impressive commitment to D&I largely stemmed from Bernard Coleman, the campaign's Chief Human Resources and Diversity Officer, and his plan for making sure hiring managers stayed on track.
Sell roles with career pathing in mind
You could say Nathaniel is a hiring realist, encouraging companies to move away from the notion that they're trying to retain people for as long as possible. Instead of focusing your recruiting conversations on culture, perks, and benefits, Nathaniel recommends acknowledging that candidates won't stay forever if they're hired, and helping them understand how a role at your company will fit into their career landscape. "The most under leveraged recruiting tool is positioning how your job is going to be the right step in a larger story," he says. This helps attract the right talent, while also helping you, the recruiter, understand a candidate's motivations and recruit truly driven people.
To make the conversation one around career pathing, Nathaniel says to start with your job descriptions. Focus on what differentiates your offering and on what the candidate would be expected to actually do on the job instead of a list of perks, benefits, and skills needed. You can even go so far as to say "This job will be perfect for [career arc]." The job description will then become a tool in helping the right people self-select in, and something recruiters can rely on as the process progresses.
Conclusion
With just under two weeks to go until the election, we bet Nathaniel is ready for some well-deserved R&R. We're excited to see where he takes his innovative approach to recruiting next.
For more from recruiting innovators, read our post from Nellie Peshkov's keynote for our Talent Innovation Summit back in May, on how Netflix creates a workplace of stunning colleagues.