Healthcare tech is slated to be the most profitable industry in 2016, with a 21.6% profit margin. Between 2010 and 2014, the number of healthcare venture funding deals grew a shocking 200%. Once thought to be bogged down by paperwork, bureaucracy, and interminable doctors visits, the healthcare industry today is brimming with innovative, high-growth start-ups.
But endless room for industry disruption doesn't translate to an endless pool of candidates. To hire the most sought-after talent, healthcare tech companies have to find creative ways to distinguish themselves from each other. Grand Rounds, a San Francisco-based company that connects patients with healthcare providers through their employers, is zoning in on a dazzling interview process that does just that. In our recent webinar in partnership with Glassdoor, Grand Rounds Head of Talent Alex Lebovic shared six ways that their team makes every single candidate feel special. 
1) They're telling candidates what their first 90 days will look like.
Starting with the careers page, Alex's team paints an authentic picture of life at Grand Rounds. Knowing candidates often form their first impression of a company through the job description, the recruiter and hiring manager for every given role will partner to outline future responsibilities in 30 day increments. This serves a dual purpose: the candidate has more information to evaluate the opportunity, and they have a clear onboarding plan once they join.
Cheers, Grand Rounds, we follow a very similar approach with our impact descriptions here at Lever!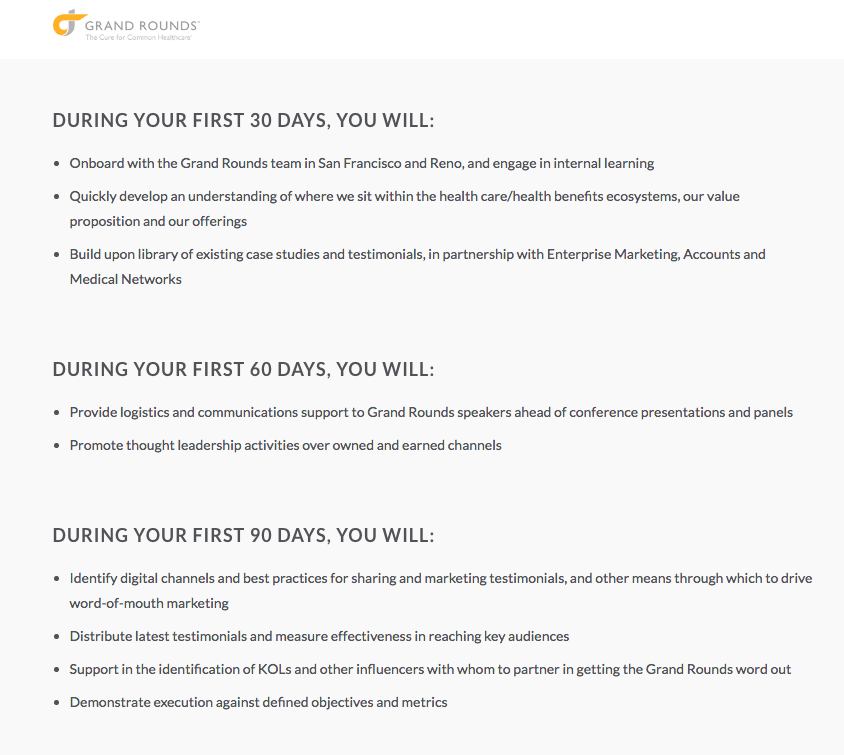 2) They're showing candidates they won't give up. 
Once they have first conversations with candidates, the Grand Rounds team has found that sourcing beats referrals in terms of best source of hire. According to Alex, this sourcing success rate has a lot to do with their follow-up. "We can automate multiple touchpoints over time with Lever Nurture, and that's been incredibly impactful," says Alex. "It's been a great time-save to have automated emailing – it creates high engagement with the people we're reaching out to."
3) They're putting a twist on those classic doctor's visit confirmations.
It's key to make sure candidates are prepared for onsite interviews, so Alex's team will send an email beforehand with important information for the visit.  But as a healthcare tech company, they like to format it just like the confirmation you get for a doctor's visit. Our hope, says Alex, is that it both shows our personality and values, and informs people about our interview process. "We want to be transparent about what we'll ask them," says Alex. "We outline our expectations for their visit."

4) They're rewarding strong candidates with a giant whiteboard check, on the spot. Sign us up!
The job search can be stressful, and Alex's team wants to alleviate that anxiety. What are they doing that, as a bonus, has actually created increased candidate engagement and more referrals? "If we get positive feedback from the team while the candidate is in the office, we have a giant whiteboard check that we walk into interview rooms with," says Alex.  "We'll say: 'We're really pumped about you, so we've got this giant check.'" Faced with an excited team and an enormous check to boot, the candidate knows that the team wants to make them an offer.
The added bonus is that this also motivates Alex's team. If interviewers don't get their feedback in right away, they can't present the check and get a leg up with a candidate they really want on the team. For that reason, the check has been a great way to drive engagement from the interview panel.

5) They're on a mission to make every interview experience positive.
What better way to solicit feedback than through brief, straightforward surveys? It's important that every single candidate has a positive experience with their brand, so Alex wants to hear feedback both from people they hire and those they don't. To make that happen, her team sends everyone a survey either two weeks into their role at Grand Rounds or two weeks after their process has finished. The survey will feature questions such as: "What went well with your recruiting process at Grand Rounds?", and  "Did you have any surprises about your experience?"

6) They're keeping a watchful eye on Glassdoor.
As a high-growth company that continuously redefines their processes, Grand Rounds also continuously monitors the feedback they get on Glassdoor. The comments help them think through questions like: 'Is our process taking too long compared to other companies? What do people think is fair and what are their expectations?'. Without a doubt, Glassdoor has made their process tighter and ultimately, has helped them convert more people to employees at Grand Rounds. But just as importantly, the feedback has helped them retain employees. "We know that losing people is one of the most expensive things that can happen," reflects Alex. " Now we're able to get proactive about how our employees are feeling and respond to their needs."
Conclusion
With giant checks and doctor's visit confirmations, the team at Grand Rounds is creating a refreshingly engaging interview experience for candidates. As you recruit in a crowded industry, think about which gestures you're making to differentiate your team. How can you make your candidates feel special, so much so that they gush excitedly about their experience to their loved ones? 
If you'd like to hear more about how Alex and the rest of her team are doing exactly that, give the full webinar a listen!