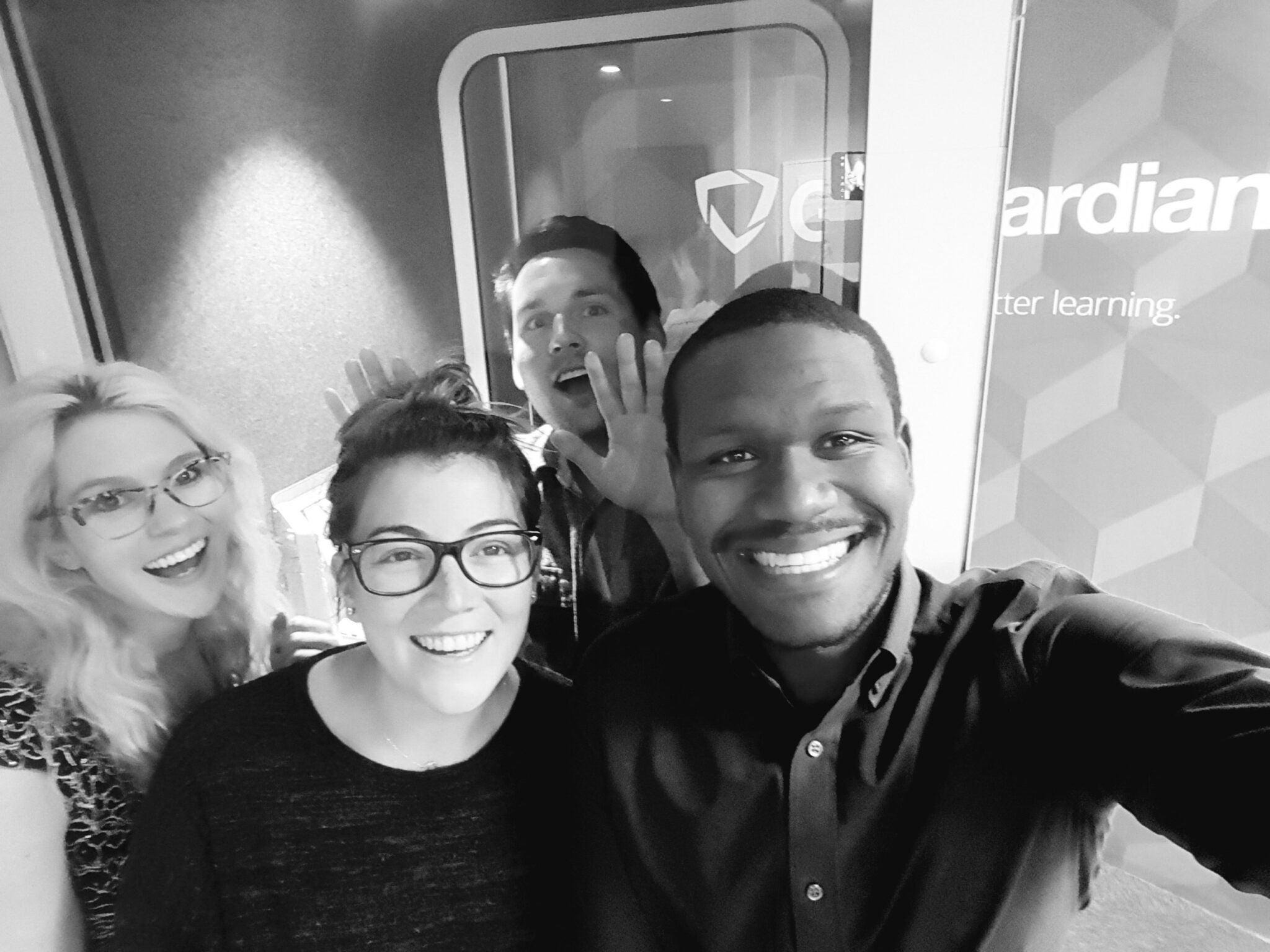 Recruiting experts often say it's key to transform your fellow employees into recruiters in order to attract top talent. Indeed, one of our goals here at Lever is to empower every employee to play an integral role in the recruiting process.
At GoGuardian, an education-focused software startup in Los Angeles, Tyler Bell and his 'talent squad', as he calls his team, are carrying out that vision. Since Tyler joined GoGuardian last August as Head of Talent, they have worked together to hire more than 35 employees. Last week, we talked to Tyler about how he leverages the power of his talent squad and the rest of his company to hire the best talent in the market.
What is the structure of your talent squad?
Right now, the team is really small. There's Mike, our Talent Manager, Mary, our Talent Coordinator, and Alaine, our Operations Coordinator. We coordinate everything that happens regarding talent. When I look at the bigger picture though, I know that every employee is a part of the recruiting team. Everyone here acknowledges that while it is my responsibility to make sure the process goes smoothly, we're all in this together. In the past year, we've been able to grow from 15 employees to almost 70.
How do you bring the talent squad together
?
I made sure that we were close from the beginning. We train together, we eat together, we watch webinars that Lever, for example, puts on together. Here's the craziest thing about our talent squad: None of us have a "traditional" recruiting background. But we are really hungry, and we really care about people. We want to make sure people have a place here at GoGuardian, and if they don't, we want to help them think about other opportunities.
What are some things you admire about your fellow talent squad members?
Mike: He just goes after it. You give him a task, a project, and he completes it right away. If he has questions, he's not afraid to ask. His thoroughness and willingness not to give up is admirable. For example, we were trying to source a candidate and we couldn't find their information. He was like: I'm going to find it, and he did. I think his background in the entertainment industry gives him a lot of hustle.
Alaine: She's my right hand woman in success. We counterbalance each other so well. I would challenge anyone leading a talent organization to find someone with a different perspective than their own. Alaine has an intelligence that allows her to see things I don't see on the surface. She also has a heart for the company. Some recruiters are just trying to fill roles; they don't think about whether it's best for the company. Not Alaine.
Mary: Even though we only have one-third of her time because she wears so many hats at GoGuardian, she is so hungry, organized, and reliable. She asks all the right questions, is aggressive, and never accepts no for an answer. She works incredibly long hours and really cares about the success of everyone who comes through our office, which candidates notice the second they meet her.
How does the talent squad keep track of all its interviews?
One day we had 19 on-site interviews. 19! Generally, I assign all engineering candidates to be courted by Mary. Mike works with our sales and marketing candidates, and then I fill in any gaps. On the day of 19, the entire company pitched in. We had so many meeting times, room schedules, interview slots. Mary and Mike planned the entire day out the night before. It was something else. Using the interview calendar in Lever's recruiting software to track where candidates should be at any given time was a huge help. And on the day of 19, collecting feedback would have been a nightmare without Lever. In the initial calendar invite, they have the link to Lever so they can go straight to the platform. We are also able to click 'remind to leave feedback' in Lever. It's so helpful because Lever is reminding our employees, not the talent squad. The day of 19 would not have been the day of 19 without, obviously our team, but also Lever. [Read more: Phone interview questions to ask]
Do other employees besides the talent squad help you interview candidates?
Definitely. Ideally, each candidate starts with a general phone screen with a member of the talent squad. We try to build a personality profile and understand how the candidate would mesh with our culture. What are their motivations? What do they care about? Why did they apply or respond to my email?
Then, a member of their future team will call them, dive deep into the role, and get their preliminary technical competencies. That's also when candidates ask what it's like to actually be in the role. In the last phone screen, we'll have a hiring manager talk to the candidate. Ultimately, you don't want to waste the hiring manager or candidate's time. By the time you bring a candidate on-site, you should be 80-90% sure that the candidate is a fit for the role.
How about on-site interviews?
Their first conversation is once again with a member of the talent squad so that we can prepare them for the rest of their day. Some people think that it's best when a candidate is nervous, but we know that when a candidate is comfortable, you get to see who they really are. To put them at ease, we show them who we are and provide them with an abundance of snacks.
Next, say you're a sales candidate. You'll talk to two members of our sales team and our VP of sales. When we were smaller, we tried to have every candidate eat lunch with the entire team. Now as we've gotten bigger, we make sure that candidates have lunch with their specific team. We'll talk to them about anything from xylophones to their passion for surfing if that's what is important to them. We want candidates to know that we care.
How do you encourage your broader team to help you recruit?
This quarter, we're using Lever's referral functionality more often. Talk to any recruiter, and they'll tell you that the best employees are often referrals. We currently incentivize referrals with a finder's fee, but that tactic hasn't yielded as much growth as we'd like. To truly capitalize on referrals, you need people to realize how many connections they have. Whenever I look through other employee's LinkedIn profiles, I realize how many people everyone knows and how much we can use their help.
Moving forward, we're going to make referrals more visible and top of mind by making a huge deal out of it when someone refers a candidate. As a start to our new referral campaign kickoff, we're going to present an oversized check to an employee whose referral just hit their 90th day of employment. Then, we'll send instructions to the rest of the company on how they can receive cash rewards for referrals as well.
Does your broader team ever help you close candidates?
Absolutely. If there's a special connection between a candidate and a person on the team, we'll have that team member reach out to them. If a candidate and team member graduated from the same university and bonded over that during the interview process, for example, that team member will be the one to help us close the candidate.
I actually think the CEO should be the biggest closer on your team. It's their company, so they're the lead recruiter at the end of the day. Our CEO knows that if there is an awesome candidate, we need him to talk to them. We've had our CEO sit down for dinner or lunch with candidates; we've had him fly to SF to close a candidate. If you're working with a tough, passive candidate, they get really excited about a reach-out from the CEO. That definitely factored into my decision to join this company, actually. My talk with Aza showed me how much GoGuardian genuinely cared.
Conclusion
Thank you Tyler and the rest of the talent squad for showing us how every employee can help build an amazing team. We love hearing about the unique experiences of our customers. If you'd like to be featured on the Lever blog, email us at marketing@lever.co.