The moment you press play, the sound of piercing violin washes over you. Suddenly, you're pulled into one mesmeric alternate reality after the other. Ten seconds in, you're already flying deep underwater with long cords that resemble jellyfish tentacles around you; next, you're coasting down a highway along the ocean as mountains loom majestically ahead. "Stunning live action, virtual reality, computer graphics content, and immersive experiences." That's how Rotor Studios, the Sydney, Australia-based company that created this video, articulates their work.
A self-described "new technology" company, Rotor Studios focuses on a hybrid of full-service production, CG (computer graphics) and software development. Yet as they constantly pursue new projects in all three sectors, their hiring needs shift unpredictably. How do they meet those changing demands? Through empowering everyone to recruit both collaboratively and flexibly. When their People and Culture Manager, Chloe Sesta Jacobs, visited our San Francisco office, she told us more about how the team aligns to hire efficiently and ultimately build ground-breaking technologies.
How do you help establish the recruiting process on your team?
I'm always the first voice the candidate hears, and I correspond with them the whole time through email updates. Also, if a candidate's on-site interview with other team members goes well, our General Manager Helen or I come in afterwards to learn about their values. Once interviews finish, I remind the team to submit feedback through automated reminders on Lever. I never have to worry about reminding them myself.
I also send a weekly recruiting email out to management, IT, and everyone else involved in the current recruiting process. I summarize the roles we're hiring for that week and the progress we've made in each process. At the bottom is my favorite part: a section with details about the people we've hired. We hire for lots of distinct roles, so that email gets everyone on the same page.
How does your industry affect your recruiting process?
Our industry is really small. Not many other Sydney companies are combining these three areas under one roof. But forecasting future recruiting needs is hard because we're constantly starting and finishing projects. Right now, we're hiring for three different types of developer, but we couldn't have necessarily predicted that months ago.It's hard for our current employees to juggle such demanding hiring with their current time-pressured projects, but the saving grace is that candidate information is more accessible through Lever. Now, they don't have to spend ages looking at new candidates before they interview them. They can more easily get involved in the new recruiting processes that are always popping up.
Recently, our Account Services Coordinator Codie started partnering with me to manage the constant shifts in hiring demands. She's already helped immensely as we try to hire multiple candidates at once. While I was away on vacation, she got going with Lever without my guidance. It's super user-friendly, so I've been able to delegate to other staff when I need support. It allows me to do my job more quickly, take a step back to focus on building out our processes, and loop others in to get their help.
How do you manage to build effective processes when hiring is always so hectic?
I do have a challenging role, don't get me wrong. But I have a supportive, adaptable, persevering team. All 55 of us are juggling several priorities, but every candidate experience is a team effort. We build things together. I'm working with a few others, for example, to reshape our entire org structure, outline our safety procedures, and build learning and development programs. We're all looking to create a culture that we're proud of as we recruit.
With the mission to create a great culture in mind, what do you look for in candidates when you recruit?
We want to find people who are both creative and passionate. It doesn't matter if you're the most skilled developer in Sydney; we're looking for you to add something special to our family. We're picky, and we will stop at nothing to find the right person.
I like to think of us as casual professionals. It's of course important to do amazing work, but we're also at work to have fun. I don't create a rigid process when I interview people. I take a relaxed, conversational approach because I don't even want them to feel like they're in a job interview.
What makes you excited to talk to candidates when you get to work every day?
In general, I think people in Sydney really want to get involved with something bigger and better. Everyone is looking for new possibilities, so candidates get excited about our mission to create something new. When we walk them around our studios, for example, it's always so fun because our technology always speaks for itself.
We have this one piece of technology called the configurator that we built for Toyota Australia, for example. It essentially looks like a giant iPad and sits in around 280 dealerships across Australia. Basically, customers can use it to build their ideal car. It's been a huge win for us in terms of pushing technology forward and promoting our brand to candidates. When they see it, they get a glimpse into what we're passionate about.
At the beginning of our conversation, you said you cried when your team finally purchased Lever. Did you really?  
Yes…I'd fallen in love with Lever ever since I started talking with my Account Manager, Kayla, about it. It was everything I needed. So after I finally found out it was approved- when I got the email from the partner saying that we could buy Lever – I literally started crying.
I was crying as I sent the pokemon GIF below to Kayla. My emotions were heightened and I was so overwhelmed because I knew how much easier Lever would make my life. I could see that it would be a huge step forward not only for what I was doing, but for the entire company. Lever is putting everything in one place; it's streamlining everything I touch.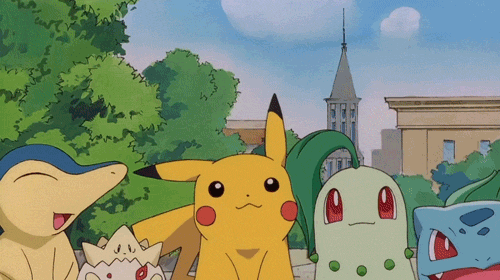 That GIF says it all, Chloe. We're just as excited as you are to continue working together. Thank you for coming to visit us in San Francisco! It was exhilarating to hear about how Rotor Studios is breaking new ground, and we can't wait to see your success continue.
To see how KPMG New Zealand, a team not too far away from Rotor Studios, is driving innovation in candidate experience with dramatic results, read our recent recruiting spotlight.