We're honored to announce that G2 has named Lever the Momentum Leader for Applicant Tracking Systems again this summer. These awards are primarily based on user reviews from our wonderful customers, and we are so humbled by their encouraging feedback.
We're also grateful for the generosity in taking time from busy schedules to complete the reviews and ratings, as well as to G2 for sharing them with us. We'd like to share with you a few of the highlights on what contributes to the continued success of our customers.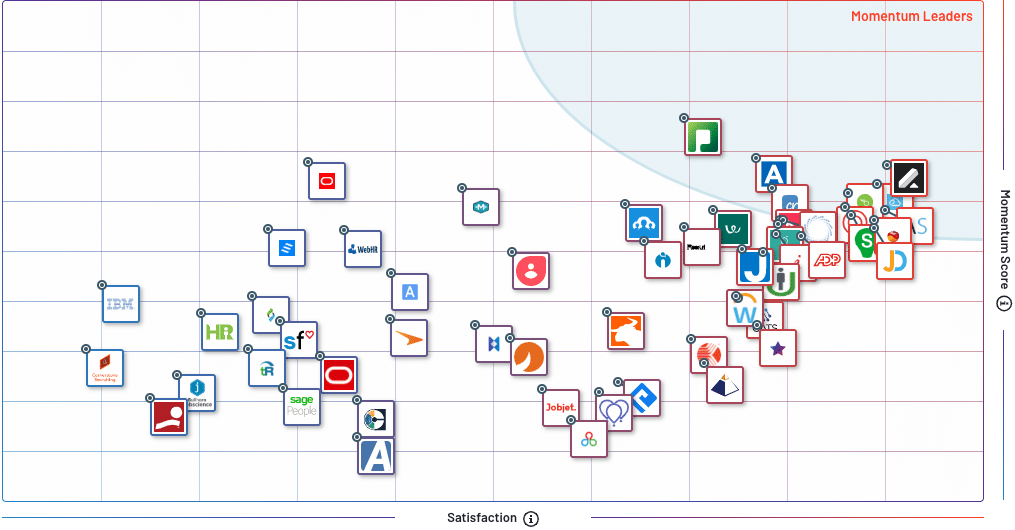 #1. We Continually Improve Our Product
At Lever, we're dedicated to equipping talent leaders with the best available solutions. Toward that end, we are constantly enhancing the Lever platform to ensure it remains the best-in-class recruiting platform.
In just the last couple months, Lever has built a seamless integration with Workday, expanded our DocuSign integration, added a way to track analytics for custom job sites, and empowered customers with an optimized internal recruiting process. Many more enhancements are in the pipeline (stay tuned for upcoming announcements).
Lever continues to prove instrumental in automating and streamlining the day-to-day tasks of the modern recruiter.
One reviewer who recently made the switch to Lever says, "I absolutely love the scheduling function. It saved us so much time when scheduling. The job posting automation (the intro, the closing, etc.) is great, too." Another reviewer cites the "integrations with Google calendar" as being a feature they like best, "as a talent leader juggling multiple calendars for team members, this makes things very easy to see who is free and move things around as needed."
At Lever, we also confidently pursue partnerships with the best and brightest companies in HR to ensure customers have the insights that they need across the entire employee lifecycle. Being able to source from the best talent pools, move quickly on tasks, and have in-depth reporting allow talent leaders to refine their strategies and prove value in the hard work that they do every day.
#2: We're Gaining Traction in the Recruitment Marketing Category
Our mission is to build a platform that supports the relationship with a candidate through the entire lifecycle of passive, active to rediscovery. 
One reviewer mentions, "for the everyday lifecycle of recruiting, Lever makes it easy. The platform itself is very intuitive and robust. I like that it is candidate-centric because it feels more like a one-stop shop. There's a ton of customization possibilities so that it can really lend itself to the needs of your business."
#3: Lever is Built for Every Size Company
The G2 Momentum Leader award is based on high customer satisfaction and market presence. Lever users rate us 93% in our ease of doing business with, 93% in the quality of support they receive, and 88% percent in meeting the requirements to do their job and do it well.
Additional satisfaction ratings included:
Ease of use: 92% (category average was 86%)

Ease of admin: 89% (category average was 85%)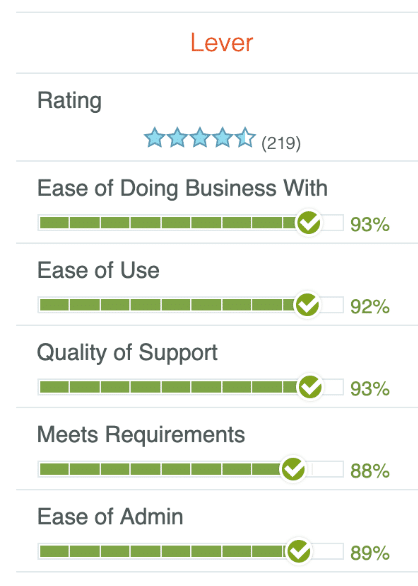 Lever is also built to help companies of every size, including some of the fastest-growing companies in the world like Netflix, Eventbrite, Medallia, and Shopify.
One reviewer mentions, "as a large corporate enterprise, we needed a system which would provide global oversight, but still allow many customisations for different teams and markets. We've implemented across 10+ countries handling different languages, data privacy restrictions, and team maturity levels. The best part of using Lever, in addition to the features, is the willingness of Lever's team to work with you to find a solution."
Final Thoughts
Lever is working hard to transform the way all companies hire. Lever's recruiting platform enables teams to hire the right talent, improve the recruiting process and build predictability into hiring.  We are committed to offering the best-in-class recruiting solution that delivers our customers and candidates a great experience. To learn more about how you can get better efficiencies in your recruiting processes and measure against industry benchmarks download our new Talent Benchmark Report 2019.