Future hiring trends are moving in the direction of traditional customer service.
Considering prospective hires' concerns, meeting their expectations, providing a memorable candidate experience, and — ultimately — building long-term relationships with them is now an integral part of every organization's recruiting process.
This is something talent professionals need to be ever mindful of, because dated/legacy applicant tracking systems likely don't have the right features and functionality to help you and your team flourish and consistently improve your recruiting and hiring efforts.
Did you know 49% of candidates will decline a job offer if they didn't have a satisfying recruitment experience? Candidates are also twice as likely never to apply or do business with your company again if they get no response from their interview process.
The competition to find top-tier talent is fierce. The good news is that, with the right talent relationship management (TRM) software, you can improve your hiring process, strengthen your talent pipeline, and help your business scale as desired.
Talent Relationship Management: Prepare for the Future of Hiring and Recruitment
When evaluating modern recruiting solutions, you need to factor in your TA org's processes, areas in which you want to improve, and what capabilities you need in software to be as successful is possible with your sourcing, nurturing, interviewing, and hiring.
Applicant tracking systems have been adequate solutions for most businesses in the past — but standalone ATS just doesn't meet many companies' current needs and processes today.
With that in mind, let's break how ATS differs from candidate relationship management (CRM) solutions — how both solutions help (or aim to help) recruiters and talent specialists and where the former falls short compared to more modern recruitment software.
ATS
An ATS is a tool that helps recruiters track applicants and sourced talent. It stores all candidate information accumulated during the recruitment cycle. More often than not, though, it doesn't enable TA teams to follow up with and proactively engage prospects.
To move to a more proactive method of relationship-building with candidates, you would need to integrate your ATS of choice with other talent-acquisition technologies.
These tools are helpful for teams who simply want to be able to keep prospect info and data organized in a single location. However, these systems were invented for a somewhat outdated (see: transactional, one-and-done) recruitment process.
Today, the most successful recruitment models not only entail data collection, but also the ability to interact with candidates based on up-to-date, accurate data so they can build long-term relationships with them — ideally using a single system.
CRM
Enter candidate relationship management software (like LeverCRM), which helps numerous talent organizations like yours develop ongoing relationships with candidates and connect with them at the right places and times with the right messaging.
Some companies used customer relationship management software with their ATS to nurture the recruitment process. But these disconnected systems tend to lead to inefficiencies for and poor collaboration among talent teams today.
Now, businesses of any size and across industries need talent relationship management (TRM) software (a form of a CRM) that enables them to better connect with candidates
LeverTRM is a type of CRM software, created specifically to help TA teams foster talent through their recruiting process. It still has the traditional functionality of old-school ATS, but also offers advanced nurture, analytics, and automation capabilities.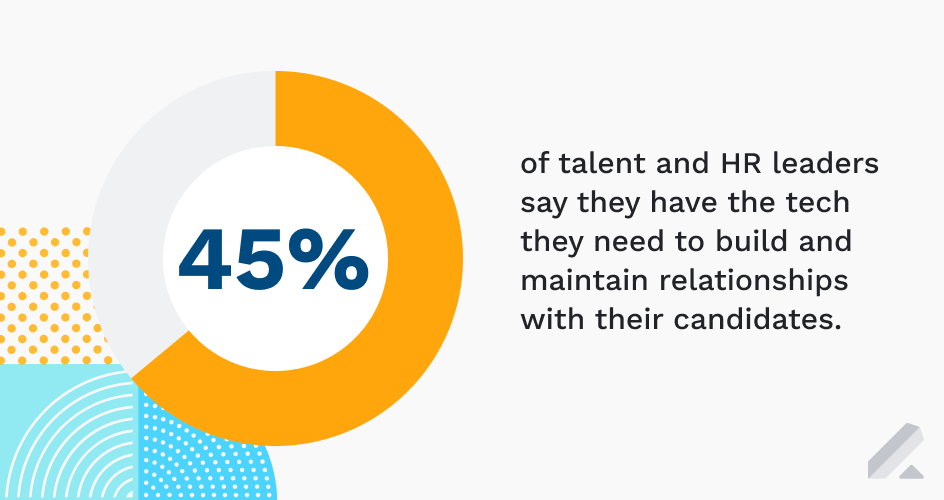 What Are the Benefits of TRM Software?
A pro of CRM/TRM software, when compared to legacy ATS, is it has more robust features and enables better communication and collaboration across one's organization.
Some of the benefits you can expect from leveraging TRM software include:
Improved Sourcing Process: Your TRM software goes beyond the typical capabilities of ATS to help you source the best candidates from your database and add net-new talent to your pipeline.
Advanced Nurture Capabilities: Your team can also leverage a TRM platform to nurtures every candidate in an individualized manner. Each TA pro charged with communicating with prospects can also analyze their nurture data to enhance outreach effectiveness (i.e., conversions) over time.
Organized Interview Processes: Candidates are interviewed by several people throughout the recruiting process. A TRM solution allows you to structure your interview workflow and processes based on your distinct team setup/needs so you can move talent through the recruiting cycle more quickly and efficiently.
Centralized Hiring Data: New-hire data is maintained to help with future recruitment. For instance, data about where employees were sourced can help inform future sourcing decisions.
In-Depth Analytics and Insights: A TRM platform can also help you assess individual recruiter and team performance as it pertains to a variety of tasks (sourcing, nurturing, interviewing) and metrics (pipeline growth, CX, DEI-hiring data).
Ability to Rediscover Previous Candidates: And candidates you 'archive' in your TRM can be revisited later if/when future positions open up that better fit their skill sets and/or qualifications.
Currently, we're in an environment where remote work has become a regular part of the employment process. This adds a new layer of sophistication to the recruitment process that TRM software is ideal to tackle.
With the right TRM software, you can personalize your approach to communicating with talent and internally so team members can tackle the process more effectively. Some capabilities include collaborative tools to help your internal personnel more effectively move recruits through the process.
You can also nurture candidates more effectively, even if they weren't right for the initial role they interviewed to fill (e.g., nurturing 'silver-medalist' candidates who made it to the final round of interviews but weren't hired).
Modern Recruitment Requires Robust TRM Software
Today's recruitment process is changing. Your team needs tools that help them nurture talent throughout the process and maintain an ongoing relationship with prospects who aren't fits for existing openings.
Many larger companies also need to manage internal communication on a large scale. Candidates aren't interviewed once. They're often interviewed by several people on your team or in different departments moving through the process.
Your TRM system allows you to keep a detailed record of every part of that process.
A best-in-class TRM solution gives your team full visibility into the entire recruiting process. You can automate key parts of the candidate journey, gather data on your prospects, and more confidently and capably fill current and future roles.
Our platform makes sourcing, recruiting, and hiring a simple and intuitive process for companies of any size. We scale to fit your business growth. Lever's TRM is the only solution that gives you the cross-functionality of both ATS and CRM in one place. You get one platform to streamline efficiency for your hiring managers and recruitment team.
With a more efficient process — and advanced tech your entire team can use together — you can concentrate on building real relationships that lead to smarter, more efficient hiring.
Download our talent relationship management guide to get in-depth insights that can help you and your TA team build (and continually optimize) your distinct TRM approach.