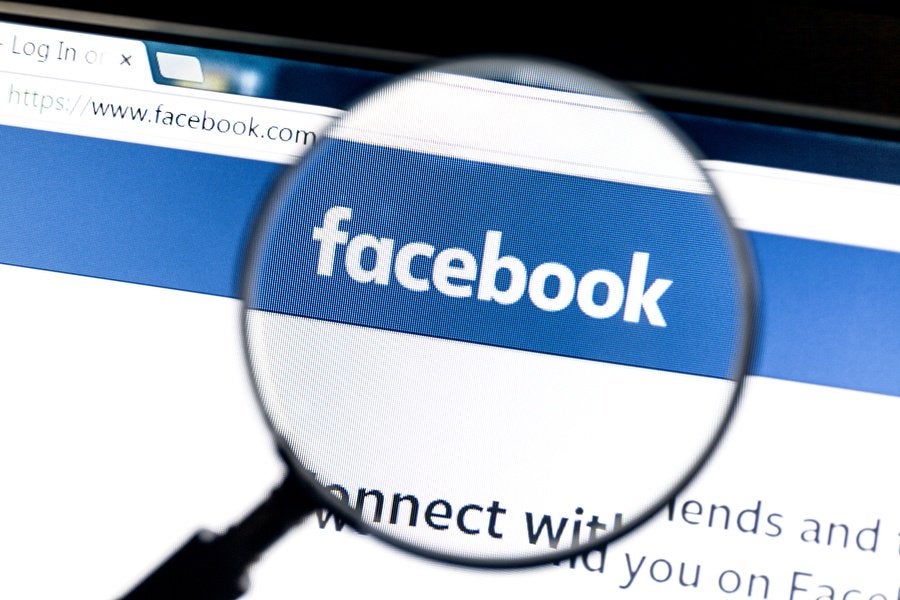 When it comes to candidate sourcing, most people think of LinkedIn, and with good reason. As the undisputed go-to sourcing resource, however, on LinkedIn you may find that competition for the same talent is high. What if we told you there was an underutilized network you could source from that had nearly 15 times as many active users as LinkedIn?
Facebook is the largest social network, clocking in at 1.55 billion active users who can be sourced through its powerful built-in search engine, called Graph Search. It's not well known, but the Facebook Graph Search helps you uncover candidates who have specific work experience and education information listed in their profiles, or who post content about topics you're interested in. Facebook recruitment can also be useful for sourcers who want to find people connected to their current employees, or who work for their competitors.
Here's how it works:
Typing in a search query
Go to Facebook, locate the search bar at the top, and type in a query.
Sample queries include:
People who work at [Competitor] and like [Job function]

People who like [programming language] and live near [Location]

[Title] who live near [Location]

[Title] At [Company] In [Location]

Female [Title] who live near [Location]

[Title] who live near [Location] and speak [Language]
The possibilities are nearly endless, so start broad and get creative to narrow your results.
Also consider running sourcing sessions with your teams – search results are based on your own unique Facebook Graph, and searching from other people's accounts will produce different results.
I searched for "account managers who live near san francisco, california" and was served the following results: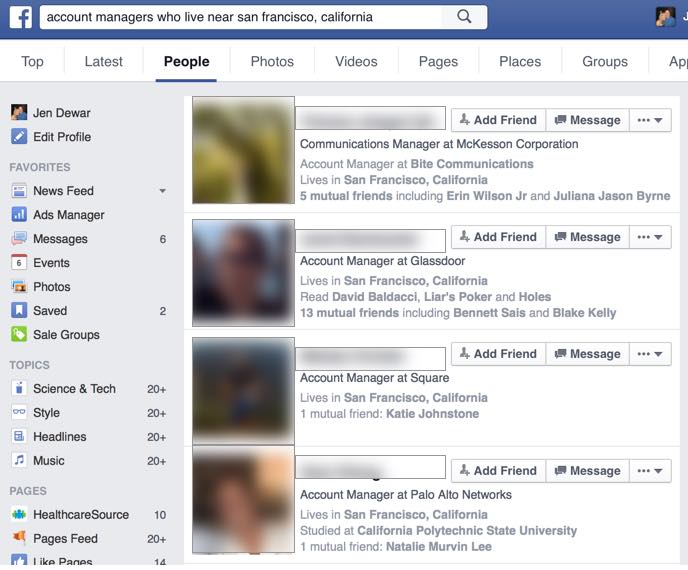 Reviewing candidate profiles
The four top results show me current (and one former) Account Managers who live in my area – as well as how I'm connected to them. I can then click into their profiles to see public information they share, and get a little more insight into their work experience, education, and interests.
Contacting candidates
The best way to contact candidates is to try to reach them off Facebook. There is a messaging option on Facebook, but messages from non-connections are routed to an alternate inbox that the candidate is unlikely to see.
The best way to reach the candidate is by sending a note to any mutual connections, asking for a warm introduction. This will immediately help you stand out to the candidate and help you get a better response rate. Candidates will trust their friends and family members, and extend that trust to those in their second degree network. If you determine that the candidate knows an employee at your company, ask them to make the connection for you.
If you don't have any mutual connections, try an old-fashioned Google search to find an alternate way to contact the candidate. You may find an email address, LinkedIn profile, or Twitter handle that you could use to reach out.
Conclusion
Facebook's Graph Search was not developed specifically for recruiting, and its users aren't on there expecting to be recruited, but its lack of recruiting focus makes it a talent pool worth looking into. There are potential job candidates on Facebook that you may not be able to find elsewhere, and there's a great chance you could receive a warm introduction to improve your response rates.
Find this post helpful? Check out more of our step-by-step sourcing guides.
A Step-by-Step Guide to Sourcing Untapped Talent on AngelList
Recruiting Developers on GitHub: A Step-by-Step Guide