Evaluating applicant tracking systems is similar to evaluating candidates. You want to go into the process with a clear understanding of what you're looking for, so that every applicant tracking system is evaluated on the same criteria. The recruitment process usually varies from company to company, and your applicant tracking system should complement and enhance that process. If your current applicant tracking system—or lack thereof—simply isn't cutting it, take a look at these tips to evaluate a new one.
Consider your ideal applicant tracking system features
First thing's first: think about what you want to see in an applicant tracking system. What are your goals? For example, you may want to scale your recruiting process, improve hiring collaboration, or become more data-driven. Consider the features and functionality you'd like to see to accomplish those goals. Use these insights to build a crystal clear picture of what your organization is looking for in an applicant tracking system.
3 tips for evaluating applicant tracking systems
Now, it's time to dig in to your evaluation process. Here are some tips you may find useful at this stage:
1. Prioritize the features you're most excited about: Consider key features and functionality that would help you reach your goals. Now it's time to prioritize them. Just as you would do when evaluating candidates, create a list of your "must-haves," and assign those a high priority. Then determine your "nice-to-haves," and assign those a medium or low priority. Take this list with you to each demo to keep track of where each applicant tracking system meets—or falls short of—your expectations. When all's said and done, consider which system delivers more of the high-priority features you care most about.
If you'd like to be more data-driven, for instance, ask the salesperson to pull specific reports you are interested in, and pay attention to the level of detail provided by each report. Many organizations are interested in candidate conversion rates to learn where they may be able to optimize their recruitment processes. A low onsite interview to offer conversion rate can signal that too many unqualified candidates are advancing, and that stronger screening practices are needed earlier in the process. You may also want to drill in to your data to understand things like how the conversion rates of referred candidates compares with those of applicants. If that's the level of insight you need to make more informed hiring decisions, make sure the system can provide it to you.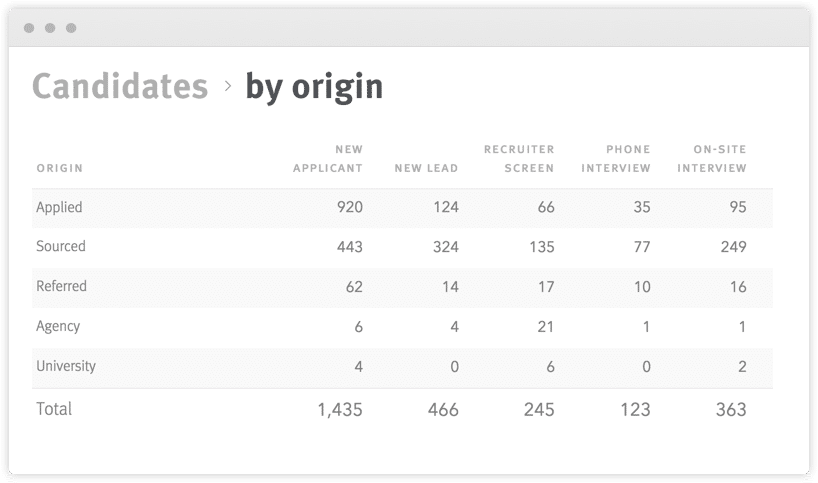 Whatever goals you have, and features you need to accomplish them, keep them at the forefront of your mind when evaluating applicant tracking systems.
2. Brief key stakeholders on demos: Other stakeholders may look at the system from different angles, and provide better insights to what will best fit your organization's needs. Your goal should be to find a solution that all stakeholders are comfortable with, so they will actually use it (and sign off!).
A hiring manager can help evaluate the features that will drive collaboration between talent acquisition and the interview team. Lever believes that hiring is a team sport, and has included many features to help in this area. For instance, interview kits can be prepared by the talent acquisition team and sent to each interviewer, so they know which questions to ask and how to evaluate each candidate.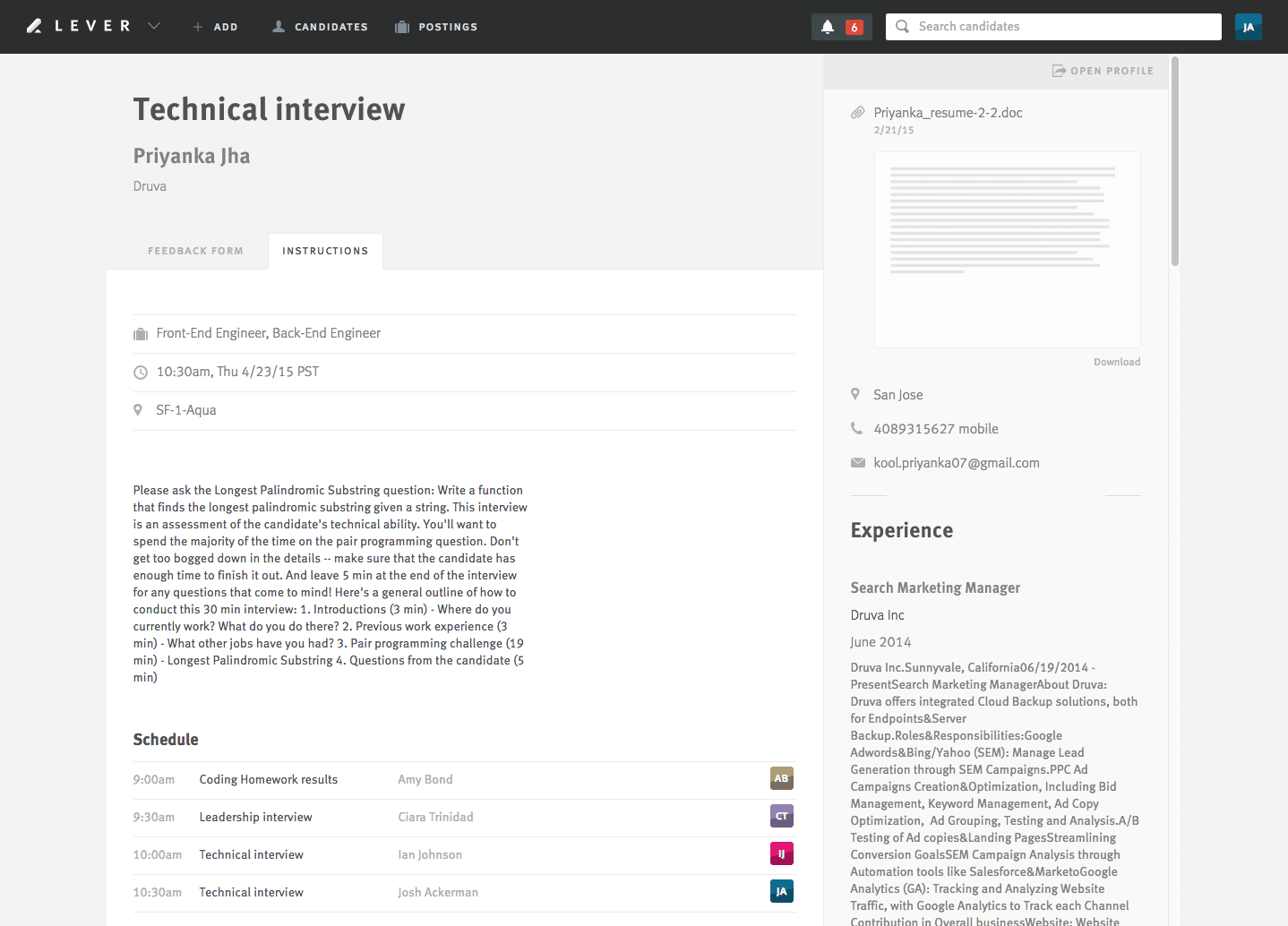 Or, a member from your IT team may have questions around the applicant tracking system implementation. After being involved with product implementations in other organizations and departments, they may want to discuss things like expected downtime and data migrations. Some vendors make this process easier than others, so it's important to consider that aspect during the vendor evaluation stage. IT will also care about system security, as your applicant tracking system stores quite a bit of personal and sensitive information. Look for SOC 2 compliance to keep your candidate data safe.
3. Ensure important features are included: Your demo should include a walk-through of your most common workflows and processes. Be specific about what you want to see. Features can vary widely by platform, even if they have the same name or look similar on the surface. Pay attention to the quality and ease of use for each feature, and whether they will meet your needs.
For example, start by sourcing a candidate on one of your preferred channels, and pay attention to how easy it is to add candidate data into the applicant tracking system. Features like sourcing integrations and a browser extension can make this process more efficient. Run the candidate by the hiring manager via the platform or Slack—whichever you'd prefer to use. Walk through communicating with candidates, scheduling interviews, and collecting interview feedback—modern platforms like Lever can help you streamline and automate many of these repetitive processes. It's so important to find a system that will integrate with the tools you're already using, or plan to use, as well as the workflows you've already established.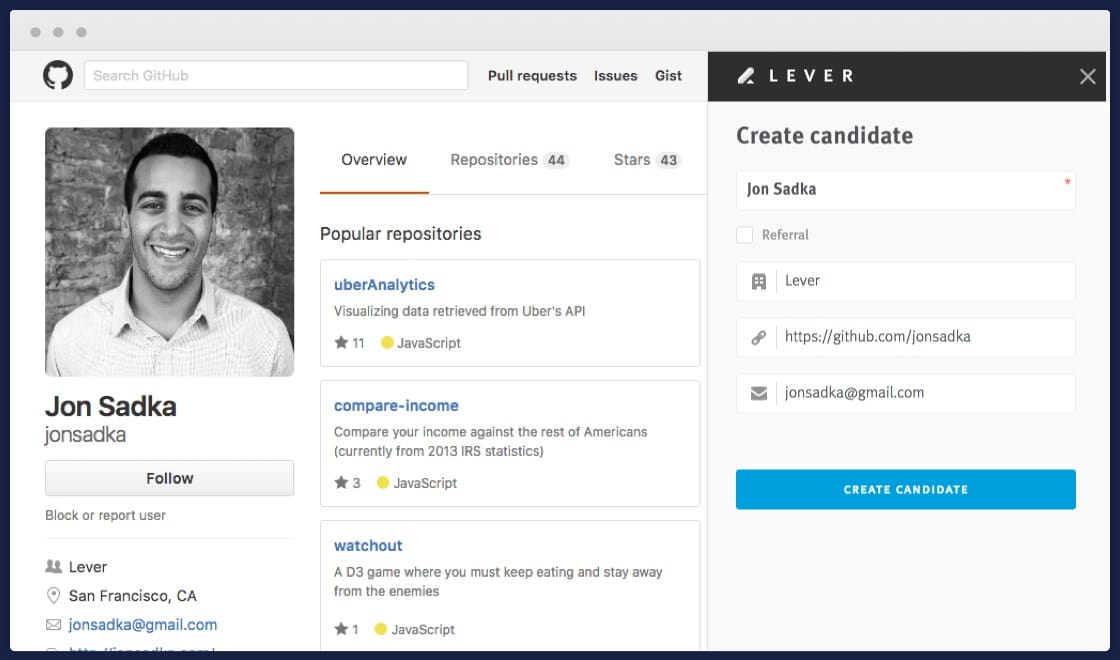 Final thoughts
Once the evaluation process is complete, you've ideally identified a winner. Congratulations! But don't sign that contract just yet. Just as with the hiring process, you may want to request to speak with a reference before making a final commitment. Ideally, the reference would be from a company similar to yours, with regard to size and hiring goals. Ask whether the system is everything they had hoped it would be, and where it may have fallen short. You may also ask more specific questions related to your goals. For instance, whether the system has helped the organization become more data-driven, and how each of your high priority features tie into that. If it all checks out, then it's time to get ready for an implementation.
Learn more about evaluating and implementing applicant tracking systems in our eBook: How to Choose the Best Applicant Tracking System.