Sourcing candidates and wondering how to actually get in touch with them? Unless someone has their email publicly listed on one of their online profiles, or you're using a paid tool, it'll take a little bit of extra sleuthing to find the email you need.
Luckily, the internet abounds with tools (ranging from free to affordable) that make running an email address search a breeze.
Rapportive
Cost: Free
The Rapportive "guess-and-check" trick has been making its rounds for years. Rapportive is a Chrome extension that pulls your contacts' information from LinkedIn and various social media platforms and displays them in a sidebar on the right hand side of your inbox. The trick is, you can guess at someone's email address by entering it in the "To" field of your compose window. When you guess the correct address, your Rapportive sidebar will populate, letting you know you've found the right person.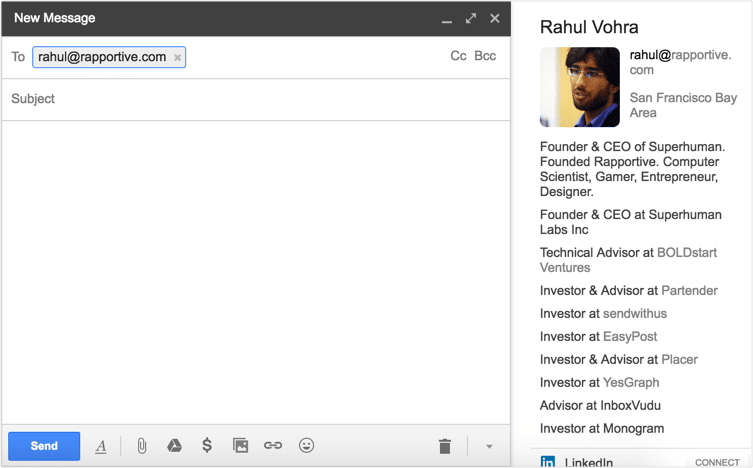 Pro tip: Email addresses usually follow one of several common patterns, like firstname@company.com or firstinitial+lastname@company.com. But if you're stumped, Distilled's Rob Ousbey put together a Google spreadsheet that generates numerous permutations based on a person's name and company domain name. Find the spreadsheet here.
Discoverly
Cost: Free
Discoverly is a Chrome extension that aggregates a person's social information across Gmail, Facebook, Twitter, and LinkedIn. On someone's LinkedIn profile, for example, you can use Discoverly to see what Facebook friends you have in common. When it comes to finding emails, Discoverly works in the same way as Rapportive. Enter a few likely email permutations and the correct one will auto-populate your Discoverly sidebar.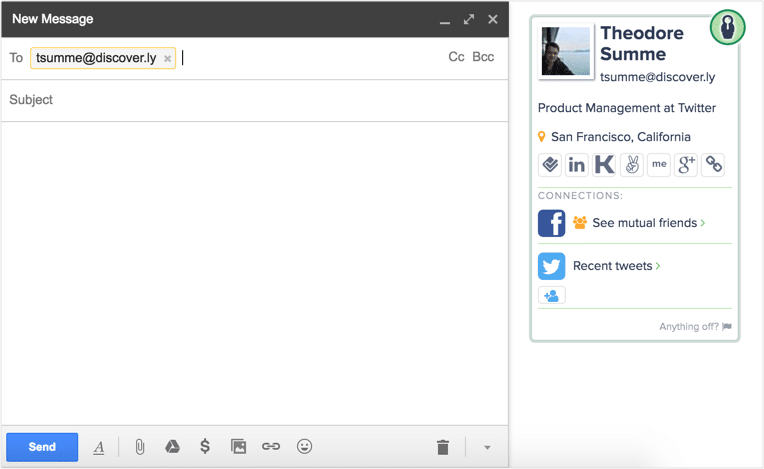 Hiretual
Cost: 15 contacts per month free, premium packages starting at $59 per month (billed annually)
Hiretual is a Chrome extension that works across popular sourcing sites (like LinkedIn, Facebook, and Twitter) built specifically for sourcers and recruiters. They profile unique information in their sidebar, like experience, seniority level, a compensation range based on various data sources, and of course, email address.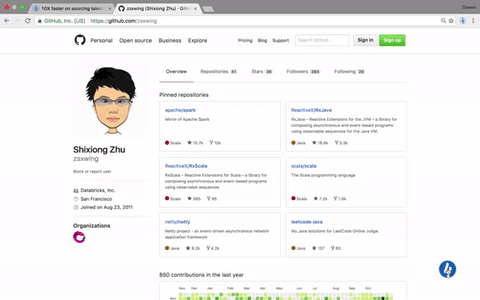 Clearbit Connect 
Cost: Find 40 emails per month free, see website for premium packages
Clearbit Connect is another Chrome extension that lets you search for a person's email address directly in Gmail's compose screen. (If you don't use Gmail, you can search for email addresses through Clearbit in a web browser as well). When you input an individual's company and name, a list of matches, along with their title, appears.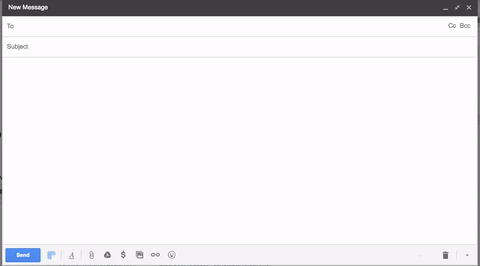 Hunter (Email Hunter)
Cost: 150 searches per month free, packages starting at $39 per month
To find an email address through the website, Hunter, you can either search by domain, or by specific names. In addition, you can run email addresses through an email verifier with – according to Hunter's website – 95 percent accuracy.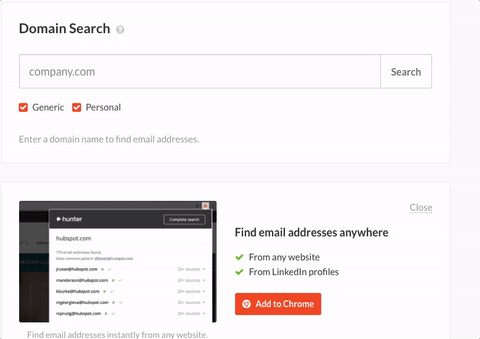 Connectifier Auto Search
Cost: Contact Connectifier
Connectifier Auto Search is a part of the larger Connectifier suite, which was acquired by LinkedIn in 2016. Their Auto Search is a web browser sidebar that automatically pops up when you view a profile on LinkedIn Recruiter and certain other websites. With it, users gain access to the email addresses of over 450 million candidate profiles.
Find That Email
Cost: 15 free email credits per month, paid plans starting at $29 per month
Find That Email calls itself the Yellow Pages of email and is big on data accuracy, saying they automatically remove false records and have a 90 percent delivery rate. Users can enter a person's name and company, and if Find That Email has an email in their records, they'll deliver it along with a confidence rating.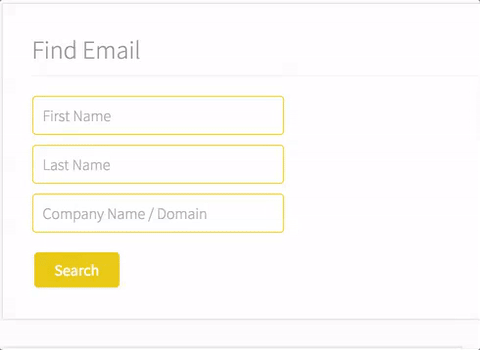 Conclusion
If your organization doesn't have budget to invest in an email-finding tool, the free tools above are solid bets (I personally use Rapportive, and I can't remember the last time I couldn't find an email address I needed). You can also check to see if any other team in your org (like sales) already uses a tool with email-finding functionality.
While every method won't work 100 percent of the time, there are enough resources out there to make the probability of finding any email every time you run an email address search high – quickly, and within budget.