Updated July 2021
Sourcing candidates and wondering how to actually get in touch with them? Unless someone has their email publicly listed on one of their online profiles, or you're using a paid tool, it'll take a little bit of extra sleuthing to find the email you need. Luckily, the internet abounds with tools (ranging from free to affordable) that make running an email address search a breeze. 
Here are our 7 best ways to find emails: 
1. Entelo
Cost: Pricing available upon request

Entelo is one of our favorite tools to use to find emails. Their deep candidate database and search engine are built specifically for recruiters. Enter simple search queries, sophisticated Boolean strings, or take advantage of the advanced search filters available to easily refine your results and get in-depth insights into each prospect. They can pull the candidate's career highlights and progression, company fit, the likelihood of switching jobs, and the details of their unique market value. 
2. Hiretual
Cost: 25 contacts per month free,  packages starting at $49 per month (with 7-day free trials)

Hiretual is an AI-powered recruitment solution that gathers candidate information from the open web, your applicant tracking system (ATS) or candidate relationship management system (CRM), and imported candidates. Through these platforms, you have access to the most comprehensive list of candidates and it allows you to fully leverage a candidate's presence from multiple platforms and perspectives.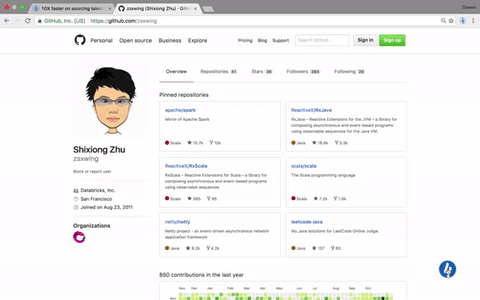 Cost: 25 searches per month free, packages starting at $49 per month

To find an email address through the website, Hunter, you can either search by domain, or by specific names. In addition, you can run email addresses through an email verifier with – according to Hunter's website – 95% accuracy.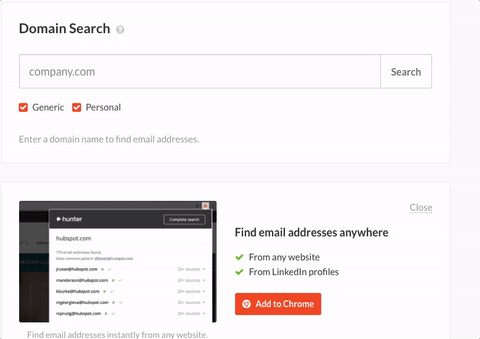 4. ZoomInfo
Cost: For plug-and-play integrations it is free, then you can reach out for a package best for you

here

.

Through ZoomInfo, recruiters have access to 360-degree sourcing intelligence including contact information like phone numbers and obviously emails, job functions, titles, years of experience, skills, and professional certifications. 
5. ContactOut
Cost: The most basic package starts at $39/month/user with more packages available. Can be billed monthly or annually. 

ContactOut is a simple Chrome extension that gets the job done. They can get contact details for up to 75% of professionals at 99% accuracy. Ongoing, their team source, stores, and refreshes their data first hand for high-quality information. 
6. Gem
Cost: Pricing available upon request

Gem offers integrations with Chrome, Gmail, Outlook, LinkedIn, and your applicant tracking system (ATS). Through their Chrome and LinkedIn extensions, you can build out lists, capture candidate information, find emails, reach out, and upload the candidate to your ATS. 
7. Interstellar
Cost: Their standard plan starts out at $100 billed monthly, with a recruiter plan for $200 per month. 

Interstellar has an easy-to-use Chrome extension to help find contacts' work and personal emails, easily personalize messages and sync them to sequences and connected integrations. You are able to look up contacts' email addresses with just their name and website or verify if an email address is correct. 
Conclusion
If your organization doesn't have the budget to invest in an email-finding tool, the free tools above are solid bets. You can also check to see if any other team in your org, like sales, already uses a tool with email-finding functionality.
While every method won't work 100% of the time, there are enough resources out there to make the probability of finding any email every time you run an email address search high – quickly, and within budget.