Last week, the great Lou Adler stopped by Lever headquarters to discuss content for our December 2nd joint webinar on "How to Crack Quality of Hire Through Superior Interviewing". It was an invigorating brainstorming session. I've known Lou for years now, and there is nothing more fun than whiteboarding with him. Until you try to decipher what he's written on the whiteboard, that is.
Ladies and gentlemen, at the risk of revealing too much about our upcoming event, here's what Lou mapped out for discussion on December 2.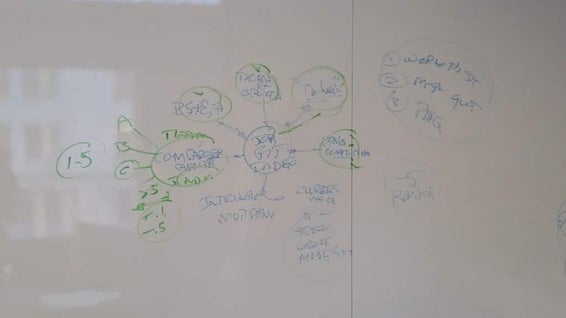 As you can tell from the above diagram (or not), Lou will share a wealth of practical recruiting advice to help you and your teams meaningfully improve your interviewing process and techniques. He's even promised to unveil a new Adler formula for successful interviewing. For now, I guess you'll have to take my word for it.
I hope you'll join Lou and Lever on December 2nd at 1pm ET/ 10am PT to hear how you can turn interviewing into a strategic advantage for your company, one that helps you maximize your quality of hire. And in the meantime, if you think you have worse handwriting than Lou Adler – and I seriously doubt that's possible – please tweet a sample to @lever with the hashtag #qualityofhandwriting.