We are excited to be acknowledged by Digital.com for Best Recruiting Software as well as Best Applicant Tracking Software solution for 2020. It is an honor to be selected as one of only 15 companies out of more than 70+ evaluated organizations. We are further pleased to be commended for areas of the product in which we pride ourselves on most. 
In espousing Lever's value as Best Recruiting Software, Digital.com explained, "Lever's recruiting software combines its basic applicant tracking system with other HR functions to streamline the processes involved in sourcing candidates, screening resumes and making hiring decisions."
"The top (ATS) solutions were selected based on several core features and analytics capabilities," according to Digital.com's press release. More specifically: offerings in candidate sourcing and interviewing, hiring and onboarding, and analytics and reporting helped determine the short-list of winners.
Lever's ability to excel amid this review is due in large part to our comprehensive talent acquisition platform that eliminates silos and coalesces key talent management stakeholders to achieve a common objective: help their companies grow amidst ambiguity.
So how did Lever make both of these prestigious lists? Read on to see the criteria we were evaluated on during such a challenging year for recruiting.
Sourcing That Drives 2X Increase in Candidate Response Rates
Lever's sourcing tools help companies speed up results, while also improving the quality of responses. Instead of one-and-done emails, our sourcing automation software enables candidate relationship building initiatives; aka, Lever Nurture Campaigns that are at the heart of companies' sourcing strategies. These include 3-cadence nurture campaigns known to boost responses by 91%, as well as candidate emails on behalf of the executive to further bolster results.
Lever client and biotechnology firm, Kernel, needed an ATS that could help with their uniquely challenging hiring goals: gather a team of world-class neuroscientists, physicists and engineers in record speed. Talent and HR Leader Srbouhi Uzunyan and her team were drawn to Lever's solution that helped deliver on their priorities to cut time to hire by 35% and scaled hires by 200% in 2 years.
Resume Reviews That Create One-Click Recruiter Solutions
In response to one of the top recruiter pain points, our team at Lever created a Fast Resume Review process that improves candidate experience by shortening their time in the queue and improves compliance via consistency. It also accelerates recruiters' abilities to have a clean pipeline and identify needle-in-the-haystack applicants.
With this tool, recruiters can easily skip, advance or archive and email candidates. Archiving an opportunity triggers an automated workflow that enables subsequent candidates archived to then be emailed in a single click.
Diversity Surveys That Enable Global Hiring Solutions
In a survey conducted by Lever in June 2020, 50% of companies said that diversity and inclusion was more of a priority given social injustice that had become even more highlighted. Programmed with questions around demographics, candidate experience and geo-specific inquiries to prevent non-compliance, Lever's multiple diversity surveys allow global applicant surveys. This enables companies to gain more intel to how their process is working, mitigate bias and spotcheck gaps in various departments and areas.
This new functionality includes greater flexibility for more accurate insights; support for compliance with differing laws on diversity data collection; ability for candidate self-selection regarding location to ensure correct questions are presented; and increased flexibility for more comprehensive data collections—to more accurately pinpoint instances of hiring process bias.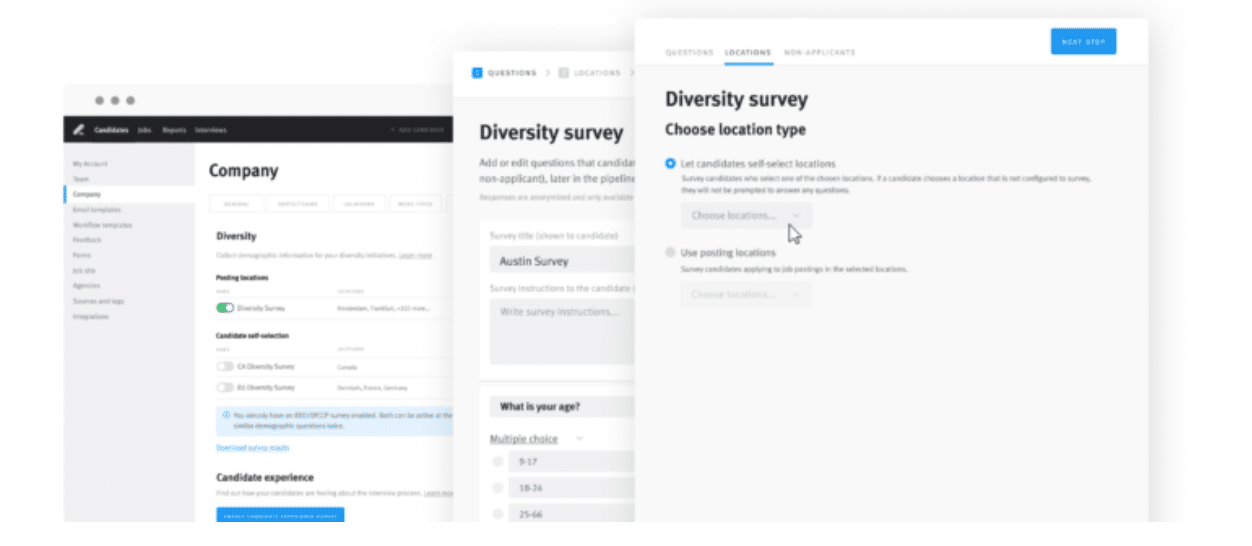 Features That Double Interview Productivity
As a result of Lever's actionable mission to tackle the most strategic challenges that companies face—how to grow their teams—recruiters can experience an average 2-fold increase in productivity and a nearly 2-month reduction in time to hire. A tedious task of interview scheduling is now much easier when remote all with Zoom is auto populated into the invite.
These amazing metrics result from several benefits built into Lever's award-winning ATS. This includes the freedom to connect with great candidates versus getting bogged down in scheduling. Automating 1:1 interviews and empowering candidates to choose the interview time eliminates back and forth, freeing up recruiters and hiring managers to focus on candidate connection. 
A journey of rapid growth led Atlassian, an enterprise software company, to Lever as they sought out an intuitive and well-designed recruiter interface that also would create a smooth and welcoming candidate experience.  Very quickly, more than 100 recruiters could smoothly move candidates through the recruiting and interviewing process without losing any data or personal connection with each candidate. The partnership ultimately contributed to Atlassian's growth to over 4,900 employees worldwide and expanded presence in Bengaluru India.
Analytics That Help Recruiters Plan for the Future
Pipeline predictions underpin Lever analytics, helping recruiters and hiring managers assess the number of candidates needed; length of time estimated to hire for a particular role; and the percentage of all pipeline candidates likely to be hired.
Lever Advanced Analytics also details the cumulative number of applicants that entered the system since a posting was created. Further drill down identifies where new candidates originated; e.g., they applied, were sourced, were referred, were internal, etc. This feature calculates how many candidates received offers, what number were hired and how many were archived for future opportunities.
Moreover, we recently redesigned our reporting experience to include a Visual Insights Preview. Built atop Lever's unified reporting database, Visual Insights leverages the power of Looker to create actionable dashboards that provide at-a-glance insights. As well, a high-level overview of all dashboards and requisitions, as well as additional new reports, augment the existing experience.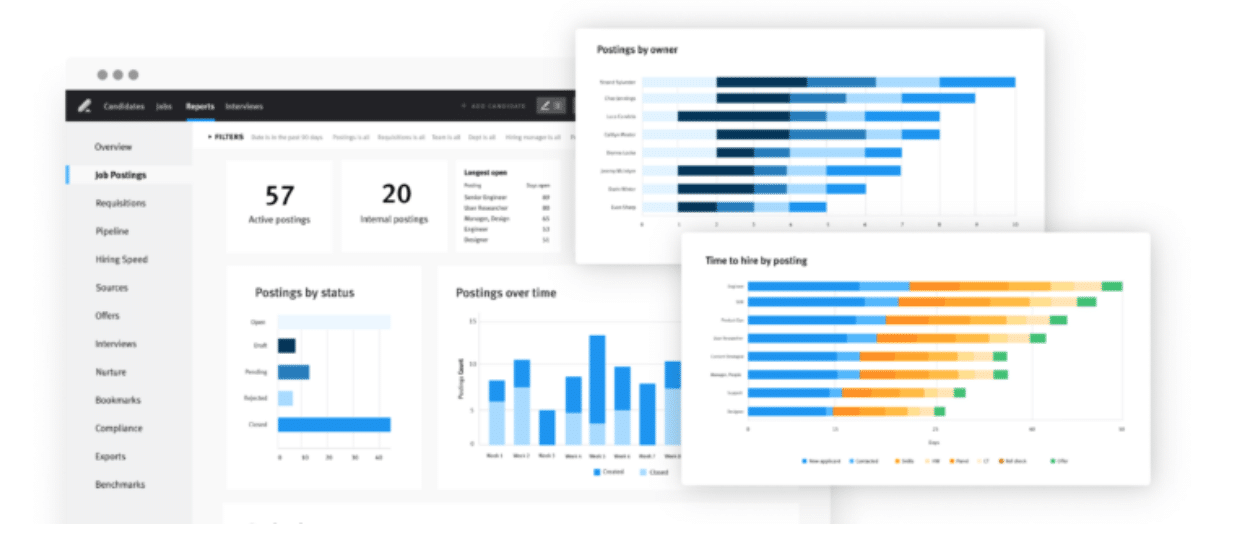 After Levi Barbosa assumed the Lever account at DiDi, the world's leading mobility platform, he sought increased visibility and tracking, as well as workflow optimization outcomes that required a scaling of the Lever platform usage. As a result of Lever and DiDi's partnership initiatives, DiDi not only achieved increased candidate flow, but ultimately better data integrity. 
"Each contributor has better views into the data and hiring consistency. We enabled our team to apply a scientific approach to hiring," says Barbosa. Moreover, DiDi's, 60+ recruiters who are now able to hire efficiently, exceeded their hiring target during the pandemic, as well as migrated 2 additional countries onto Lever.
Recruiting Software Built for Whatever Happens Next
As Digital.com touted, "Lever combines a CRM and an ATS to create a robust Talent Acquisition Suite," an all-inclusive, end-to-end solution to recruiters' hiring objectives. The combination of functions provided in one talent acquisition suite is not only easy to use — it's also built to ensure workflows don't suffer when efficiency and collaboration remotely needs to be at its highest.
Moreover, Lever receives high customer praise for our extensive support during the implementation and well beyond. One user comments: "It was probably the best and most comprehensive onboarding to a platform that I have ever received."
Download our detailed ATS Buyer's Guide to understand what goes into researching recruitment software options — and how you can find the best one for your talent team.