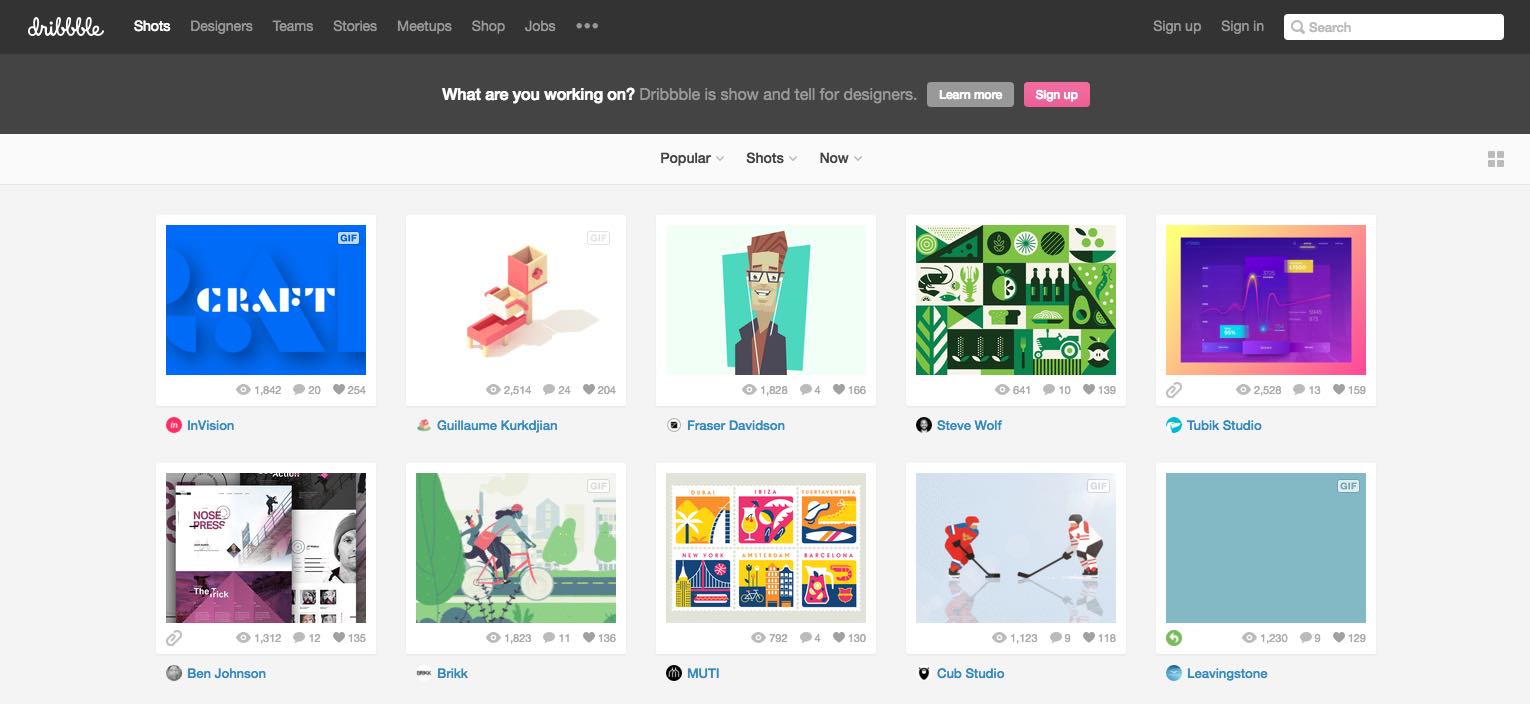 When it comes to hiring a designer, work samples speak louder than resumes. You don't just want a candidate to tell you what they can do – you want them to show you what they're capable of producing. A resume often isn't indicative of a creative candidate's potential job performance, and it could be a mistake to ask for one as the first step of your designer recruitment process. Rather than posting a job and sorting through applications, companies can benefit from proactive candidate sourcing to find design candidates through sites like Dribbble.
Dribbble is an online community for designers to showcase their portfolios, and may include web designers, graphic designers, illustrators, icon artists, typographers, logo designers, and other creative talent. It allows candidates to demonstrate their talent and projects, as opposed to their resume-writing skills, so the designer's work can speak for itself.
There are a few ways to use Dribbble for designer recruitment:
Dribbble Search Bar:
Type a keyword into Dribbble's search bar to surface candidates who list that keyword in the skills section of their profile, or who tag their images with that keyword.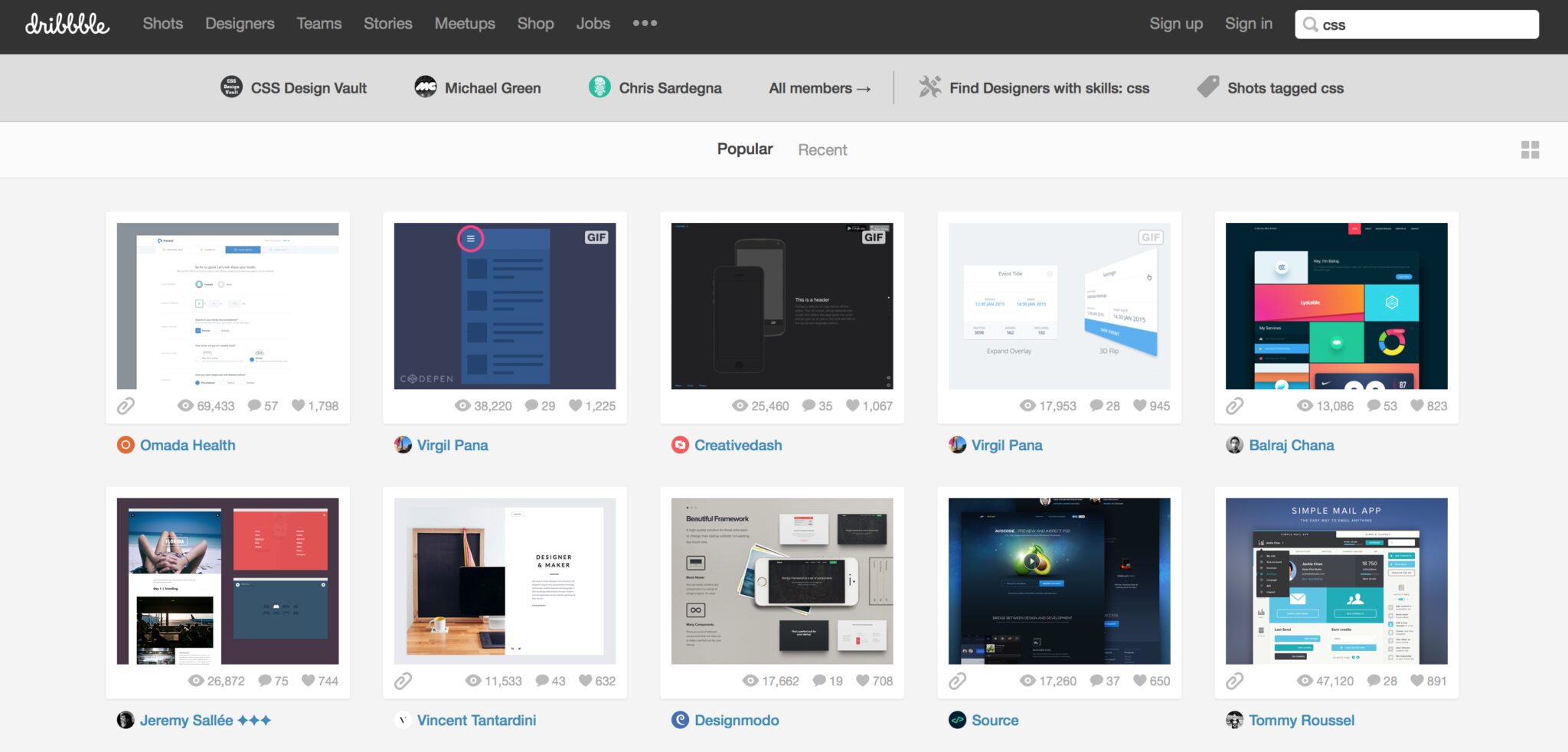 You can also search companies with a design style similar to your own, to discover the individuals who are responsible for the designs. 
Dribbble Pro Search:
Dribbble offers a Pro Search option for $20 per year, which allows you to search by location and skills. It will also surface individuals and agencies that are open to new opportunities, which you will be able to contact directly through the site. Find Pro Search by navigating to

Designers

→

All

(or

For Hire

).
Google X-ray Search: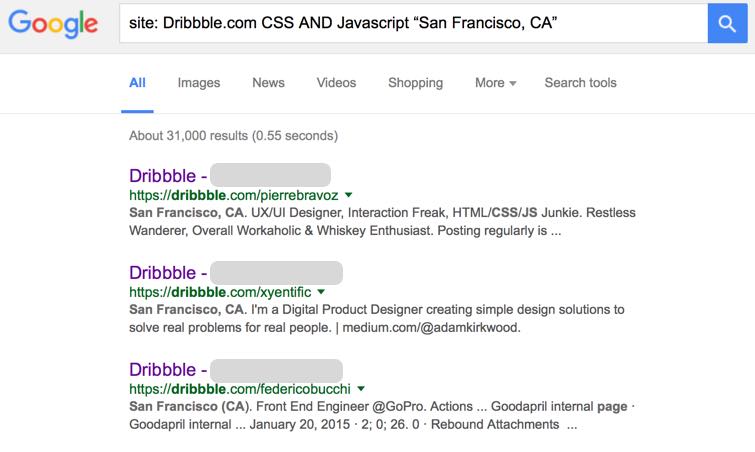 If you want more search functionality than what's available in the search bar, but don't want to pay for Pro Search, a Google X-ray search is a good option. Go to Google and type in your search string to surface candidates with your desired skills, location, and experience. 
Navigating Dribbble's rich profiles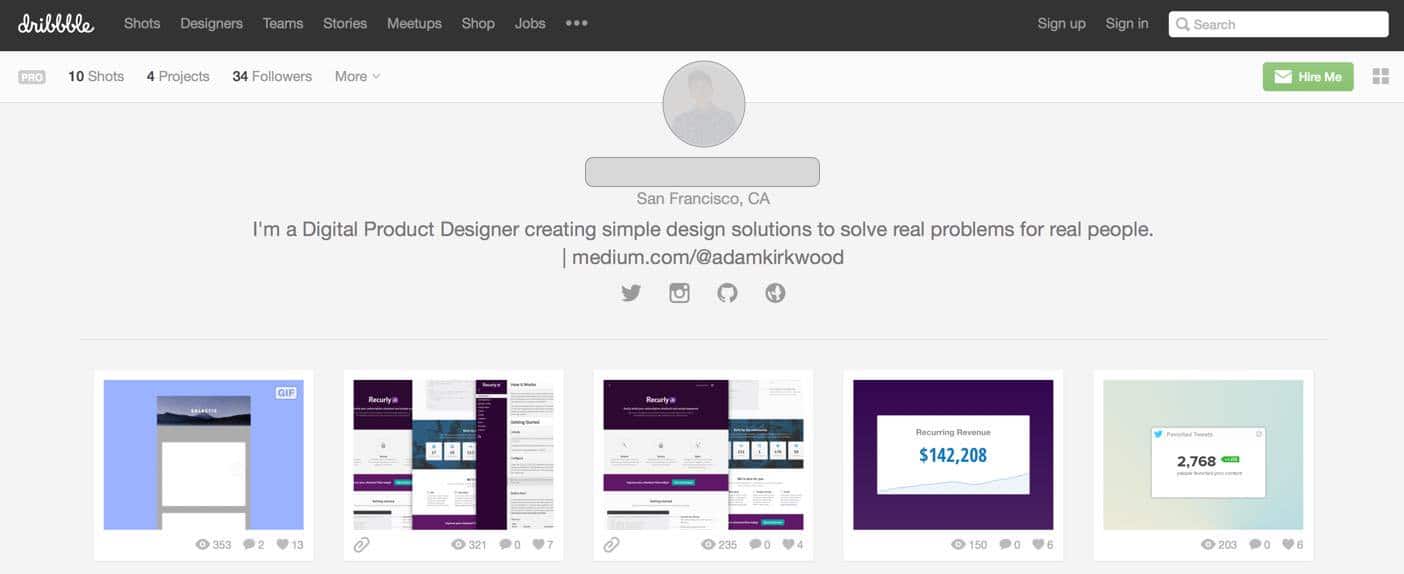 Front and center, you'll see the candidate's name, location, brief bio, social profiles, and website. The social profiles and website help you learn more about the designer, and can be good channels to contact candidates you'd like to engage.
On the top left, you can see the candidate's shots (screenshots), projects (collections of screenshots) and followers, as well as lists they're on, who they're following, shots they've liked, tags they've used, and skills they've listed. Shots and projects are the work samples that show you what a candidate is capable of doing, and will often link to the live site or a more detailed entry on the candidate's portfolio. When you find a candidate you like, reviewing lists they're on and seeing who they follow can help you find similar candidates.
On the top right, candidates will note if they're interested in new opportunities with a green Hire Me button. Keep in mind that only 25% of the workforce is actively looking for a new opportunity at any given time, but 85% is willing to talk and learn more. Expanding your outreach beyond active candidates will yield passive talent that may not be on your competitor's radars yet.
Engaging candidates you find on Dribbble
Whether you contact a candidate through the Hire Me button or reach out through another channel, personalize your outreach with information you've found about the candidate. Explain why you're interested in speaking with them, tell them a little about your company and role, and ask if they're available for an informational phone call or coffee meeting. Your goal is to learn their career motivations so you can sell them on how your opportunity will benefit their career. Not all candidates will be ready to make a move, but you should add each qualified candidate to your talent pipeline and follow up periodically to see if anything has changed. That way, when the candidate is ready to look for a new opportunity, your company is the first they contact.
Conclusion: How to recruit designers
Rather than trying to find qualified design talent from a stack of resumes, surface candidates who are most likely to perform well on the job by proactively sourcing them. Dribbble is a great resource to see a candidate's work samples, review their skill set and, potentially, engage them in conversation about your opportunity, and fill your applicant tracking system with top talent. With fewer, but more qualified, candidates in your talent pipeline, you can build strong candidate relationships that give your company a competitive hiring advantage.
For more tips on how to source and engage high-calliber candidates, download our free sourcing ebook.