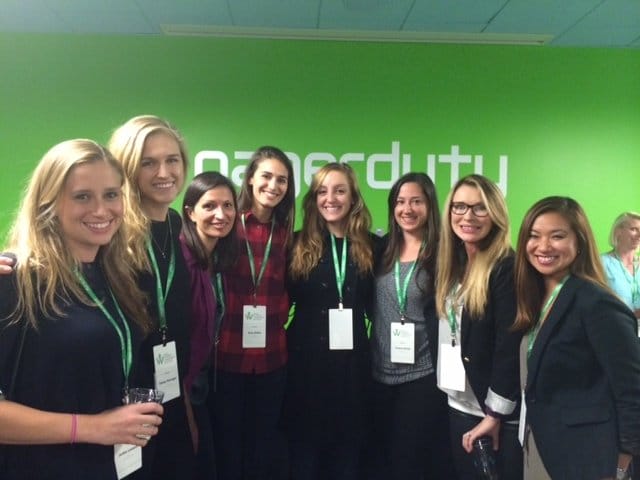 PagerDuty Women's Leadership Initiative, November 3, 2015
A group of women from Lever had the pleasure of attending PagerDuty's Women's Leadership Initiative on Wednesday for an evening of empowering discussion around – you guessed it – women's leadership.
Here are the three main pieces of career advice for women that we walked away with from the night's impressive roster of female leaders, that every employer should factor in to help create welcoming and inclusive environments for women at work.
1. You are not an imposter
Have you ever had a little voice in your head telling you that you don't deserve to be where you are? That you're just an imposter, and soon your whole charade will be up? You're far from the only one. "Women feel like they're waiting to be found out. They think, 'I shouldn't be here, I've gotten here by accident,' and that's not true," said Marla Skibbins, senior leadership and executive coach at BE: Business. Engaged.
Out of this self-doubt, Marla noted that women negotiate their salaries far less often than men, and when they do, they negotiate for 30% less than their male counterparts.
The 'so what' for employers: 
Companies who recognize that women are less likely to be aggressive negotiators can help even the playing field by making sure to give women packages that are on par with men of the same seniority level.
2. Be authentic
"Bring your authentic self to work" is a statement that's so overdone it's almost stopped having meaning. But Sophya Pogreb, the COO of TrueAccord, bought it back to life on Wednesday with her winning formula: ask yourself what you want, make a list, and then tell everybody.
To be your authentic self, don't think about which woman you want to be – the single professional, the married with kids, etc. "That's the wrong way to think about things," said Sophya. Instead, think about the things that make you happy (and then prioritize them, because no, you can't do everything). For Sophya, that meant many things, including having kids on her own and moving away from the consulting partner track.
Once you've decided what you want, don't forget the last part of the formula: tell everybody. Sophya has landed two jobs – including her role as COO at TrueAccord – from the doors that vocally sharing her career desires opened.
The 'so what' for employers: 
To encourage authenticity, provide avenues for your employees – both men and women – to reflect on their career aspirations and how they want to accomplish them. By genuinely supporting career dialogue and decisions, you'll help your people feel more fulfilled at your organization, and encourage them to look internally for their next assignment rather than out into the market.
3. Don't be afraid to market yourself
Not only do men negotiate salaries more often and more aggressively than women, but they're also more likely than women to apply to jobs when they don't meet 100% of the qualifications. "Men push back twice as hard as women, and they get more for it," said Betty Li, the director of marketing and data science engineering at Netflix, "The key thing is marketing yourself. Women who are great performers do it quietly in their corner."
The 'so what' for employers: 
Women don't self-nominate into new roles and promotions as much as men. When you know this as an employer, train your managers to encourage their female employees to apply for the internal promotions and opportunities you think they'd be great for.
---
As a company on a mission to reimagine the way organizations think about growth, the topic of women's leadership – in fact any topic related to diversity and inclusion – is near and dear to our hearts at Lever. We're always interested to hear new and innovative efforts around D&I. Let us know what your company is up to by tweeting us at @Lever!