Candidate persona templates increasingly have become popular as recruitment and digital marketing strategies converge. With the goal of optimizing hiring initiatives, a candidate persona serves as a focused snapshot of your ideal hire for a particular role. It includes items like personality traits, soft skills and cultural values as well as technical abilities, work experiences, education, problems they face, ambitions and more. 
Candidate persona maps help with the recruiting process in several ways. They: 
Fuel the position description with target candidate attributes and technical skills.

Equip recruiter pitches with specific language to align with candidate needs.

Narrow down the qualified candidate pool.

Reduce overall recruiting costs and time to hire.

Increase retention by attracting more sustainable employees.
Characteristics of a Candidate Persona
While not an exact science, most candidate persona strategies share similar characteristics. Anna Roberts recommends the following characteristics—or categories—when researching and writing candidate personas: 
   

Background.

What experience does this role absolutely need to be successful?

   

Current 'pain points'.

What problems will this role solve for?

   

Wants.

What will the ideal candidate be looking for in their next career step?

   

Job-searching habits.

What approach might work best to reach these candidates? Do you need to advertise, source or implement a recruitment marketing campaign?

What motivates them at work? What does work-life balance mean to them?
By tuning into where the candidate has been employed, what they've liked about their past (or current) roles and what they need or want in a future role, you've forged a baseline. Leveraging Anna's 5 categories, you can frame questions to begin the research process.
"Building a candidate persona requires research, interviewing and surveys, and a bit of analysis," says Mike Roberts.  "The result is often a digital document that can be passed among your team that provides a snapshot overview of your ideal candidate."
Who Should Create a Candidate Persona Template?
Ideally, creating a candidate persona is a team effort between the recruiter, the hiring manager and current employees (or past employees) performing (or having performed) the roles for which the company is hiring. For example, the hiring manager and their team may want to maintain job scorecards that promote clarity around the critical candidate persona topics: key performance indicators, skills, traits and competencies, key accountabilities, how to exude the company's core values and so forth.
Recruiters can interview people they've hired for the role, and even those who turned down the offer, delving into areas that align with the persona; e.g., how they learned about and applied to your company, their background, goals and concerns and how they prefer to communicate.
Moreover, you may use a hybrid approach: hiring managers and recruiters collaborate to complete a scorecard from which a candidate persona emerges. A shared responsibility, therefore, between recruiters, hiring managers and their teams will ensure a robust resource repository for creating each candidate persona.  
Creating Your Candidate Persona
In this example, recent college graduate and marketing/sales solutions professional, James Felix's LinkedIn profile is provided as an example of the kind of candidate company A, a digital strategy enterprise, is trying to attract for a Marketing Team Leader—Digital Solutions role. Moreover, the items you would extract from James' profile to create a candidate persona precede each screenshot:
ITEMS TO EXTRACT: In addition to seeking a marketing solutions professional, the company also wants someone who is a creative communicator, leader and inspirer of diverse teams, as their globally diverse culture works tirelessly to present a united front.


ITEMS TO EXTRACT: The candidate should be an ambitious high-performer, ready to grow. They are an articulate communicator and solutions builder, as well as a humble learner, willing to embrace the wisdom, coaching and mentoring of those who are more senior than they are.


ITEMS TO EXTRACT: With a few wins under their belt, either through collegiate activities and part-time roles or full-time corporate experience, this candidate has leveraged skills in motivating, training, marketing, marketing research, project management, sales, digital marketing and social networking.


ITEMS TO EXTRACT: They've shown initiative in customer care, product and service solutions. Their roles have included managing and turning around underperformers. They are adept at navigating and resolving conflict and building trust.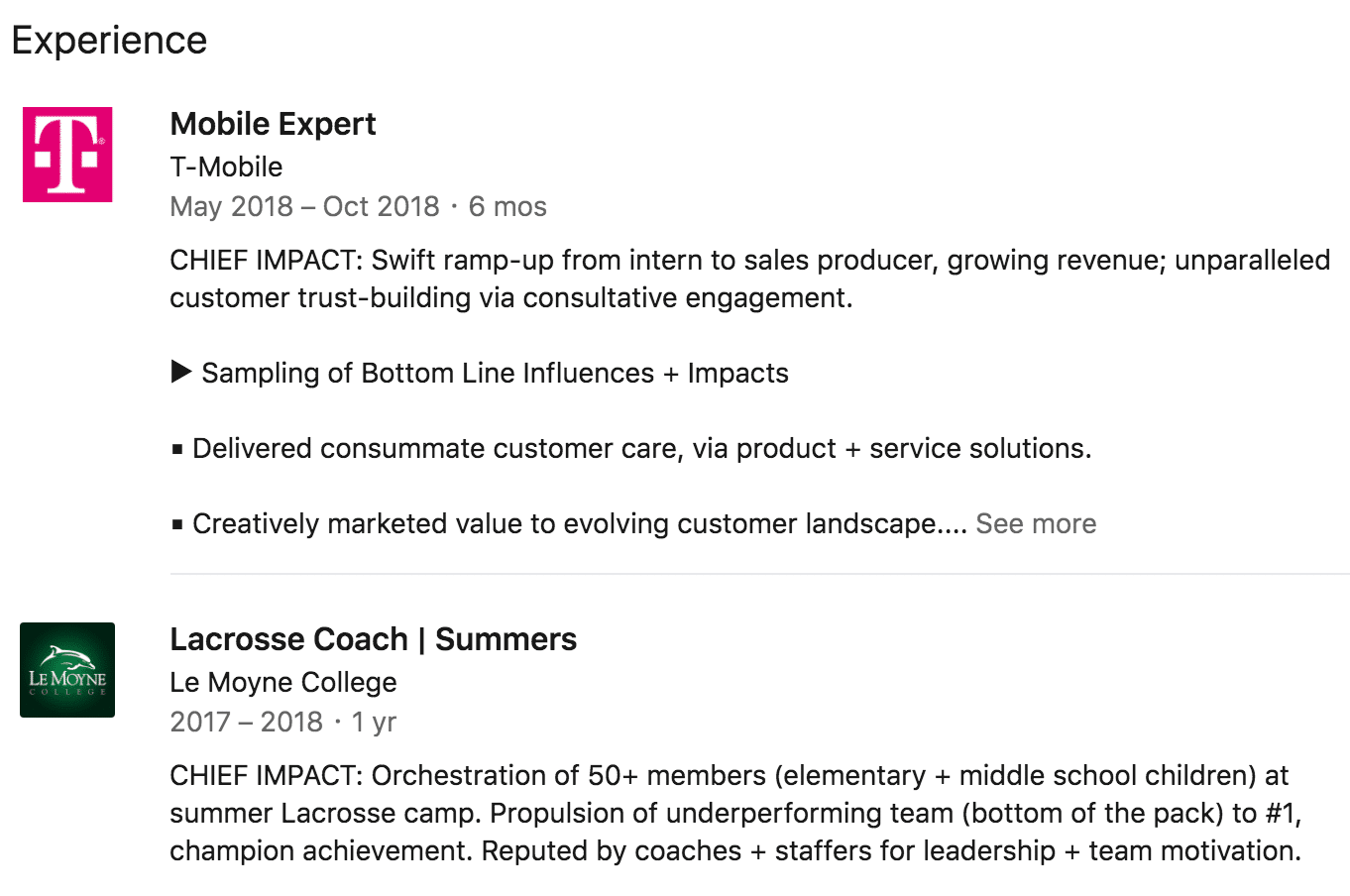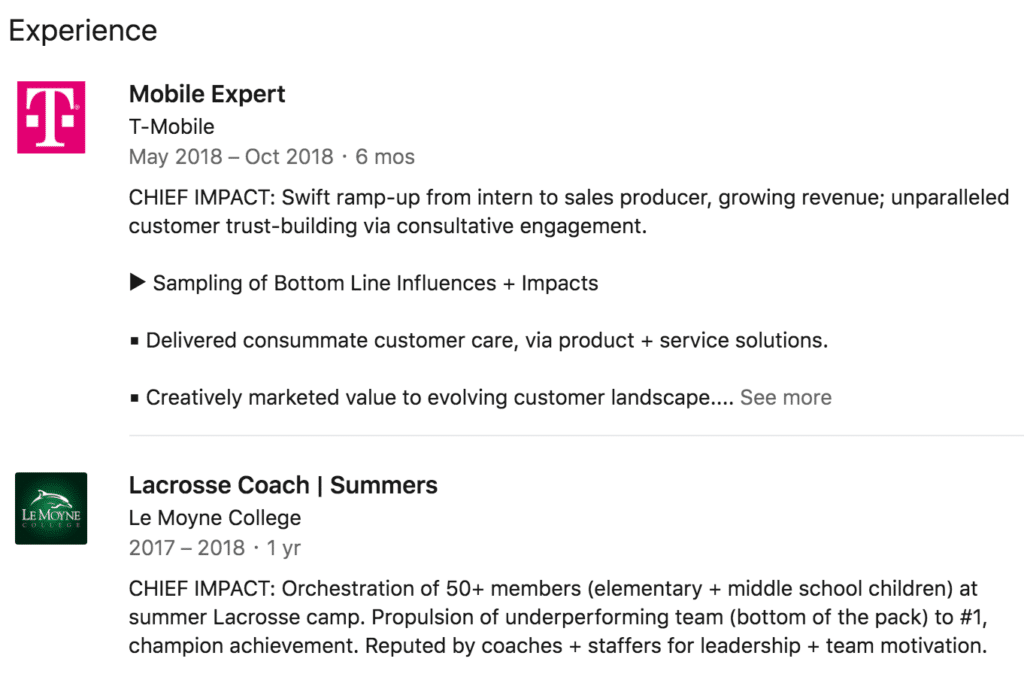 ITEMS TO EXTRACT: With a Bachelor's degree, preferably in a marketing and/or management-related field, this candidate has further proved value through volunteerism, which aligns with the corporate culture of giving back to the community. Their participation in team sports further augments their commitment to collaborative goals.
 —
 As a result of this research, blended with additional sleuthing to determine where this ideal candidate hangs out, we can build the following Candidate Persona Sample: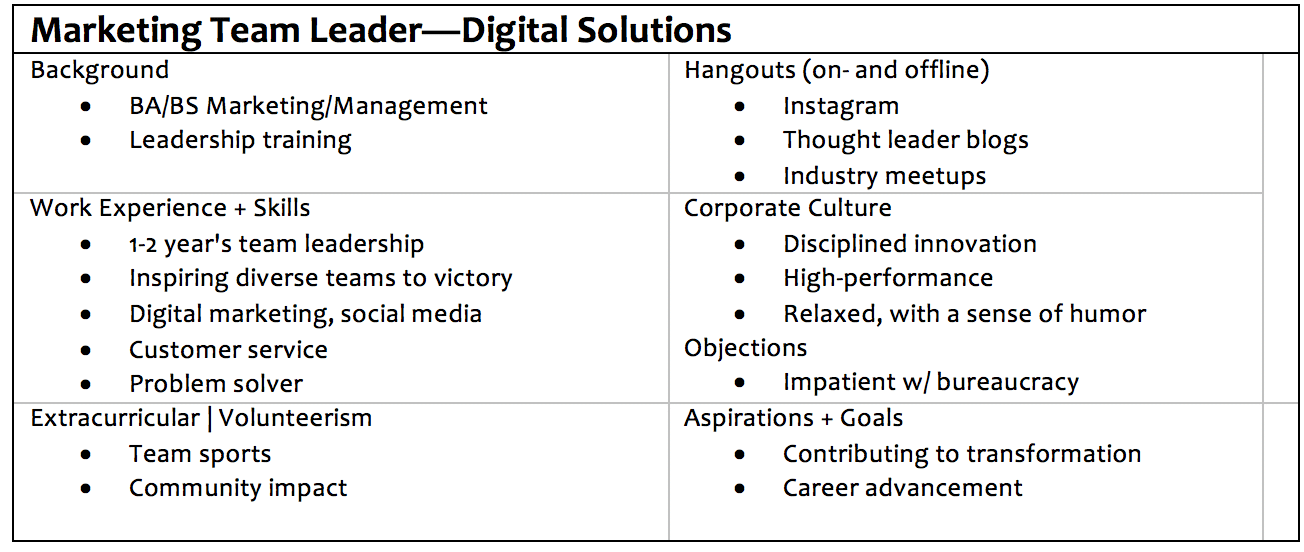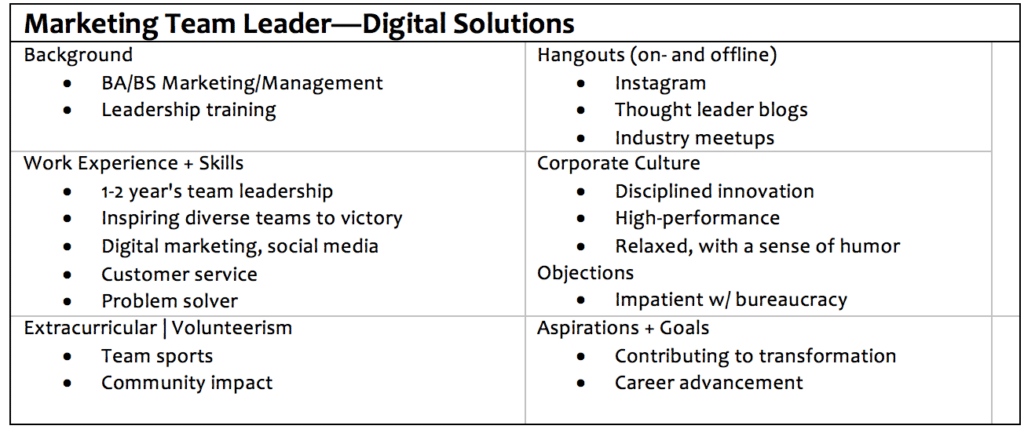 Suggests Mike, "Within each section, you should develop a pitch—a way to discuss and respond to what candidates may say about their goals and challenges and objections. These documents can be refined, and your team should be prepared to update them over time." 
With the newly consumable persona in place, you now have a distributable document to share with key stakeholders. It will also fuel a more robust position description to leverage during interviews and other conversations. 
Perfecting candidate personas for hiring success
By narrowing the aperture by which you identify ideal candidates, you can weed out ancillary resumes and wasted effort. However, experts caution not to crop the image too tightly, as you want to maintain a diverse mindset.
For example, focusing too heavily on cultural fit may risk "reducing the diversity of your workforce," according to Anna. "Fresh viewpoints and differing opinions are essential if your company's to innovate and stay relevant."
Energize your newly invigorated candidate persona with the clearest, most transparent communications possible by checking out our eBook on 10 Dos and Don'ts for Communicating With Candidates!