Recruiting is a team sport and, therefore, should not be confined to just the recruiting team. The best companies utilize their employees to help attract, source, refer, interview and ultimately hire the best talent to move their organizations forward. To encourage this collaboration, we've built deep integrations with the most popular productivity and communication platforms so that your employees can participate in the recruiting process effortlessly, in the tools they use everyday.
Recruit faster with Lever + Microsoft Office 365
Today we're proud to announce a new native integration with Microsoft Office 365 to provide a more seamless recruiting experience. Our new native integration connects Lever with Office 365 email and calendaring systems enabling your teams to collaborate and, ultimately, recruit faster.
"With Lever's new Office 365 integration, we can make more informed recruiting decisions since all communications between our employees and candidates are automatically synced right in Lever," said Irene Taylor, HR Manager at Outpost Games. "Interview scheduling is much easier and faster now that we can see when interviewers and conference rooms are available and book them directly in Lever, without having to jump back and forth between multiple systems."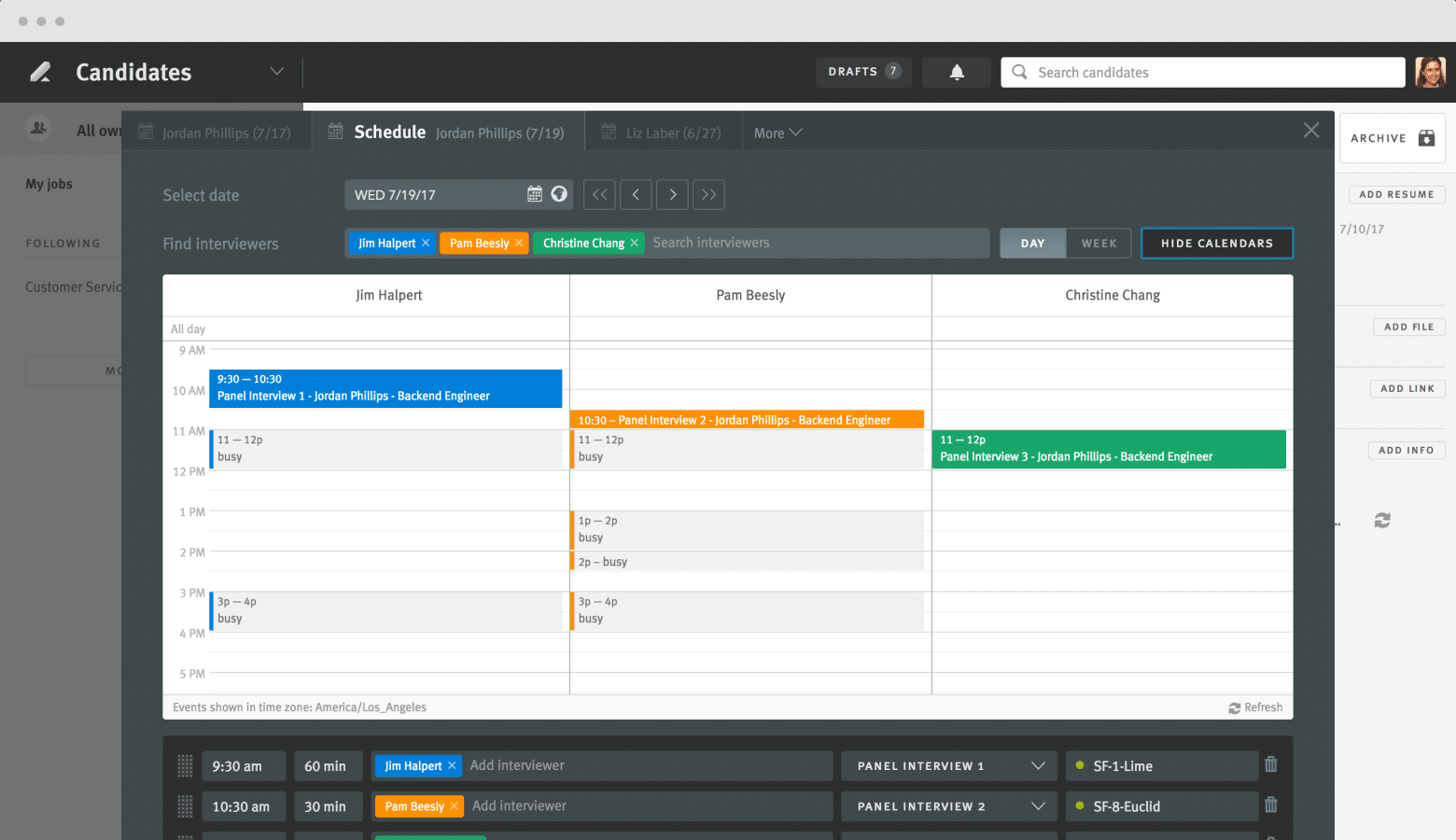 Streamline your recruiting processes
Lever's native integration with Office 365 streamlines a whole host of recruiting activities for the entire team, from recruiters to interviewers to executives. Our real-time, 2-way email sync between Office 365 and Lever provides the following benefits:
Robust Candidate Profiles. Make informed decisions on candidates quickly with our Candidate Profile. The Candidate Profile provides a single source of truth for all candidate interactions including all jobs they've applied to in the past, interview feedback, notes, resume, social links and all emails between your company and the candidate, giving you complete visibility into the status of the candidate.
Easy Book Scheduling. Eliminate the back and forth and schedule 1:1 interviews with one click by allowing candidates to book interviews based on your real-time availability and preferences.
Seamless Interview Scheduling. Schedule interviews straight from Lever, look up when interviewers and conference rooms are available, and automatically send calendar invites to the right people. We'll warn you if you're scheduling over an existing event to reduce conflicts, and you can use drag and drop functionality to quickly reschedule or adjust interviews as needed.
Faster Approvals Over Email. It's important to have the appropriate controls in place to manage the creation and approval of requisitions, job postings, and offers while also moving quickly. Approvers receive an email with all relevant details associated with a request and approve by simply clicking on an approval button in the email itself.
Synchronize Team Communication. Quickly contact hiring managers and others by sending @-mention notes in Lever which fires off an email to the recipient. Replies are synced back into Lever, keeping everyone on the same page.
Boost Sourcing Response Rates. Our Send For feature in Lever Nurture empowers you to email candidates from a busy executive or hiring manager, without having to ask them to do it for you. Candidate replies will be sent to both the sender and to Lever keeping everyone updated as candidates progress through the pipeline.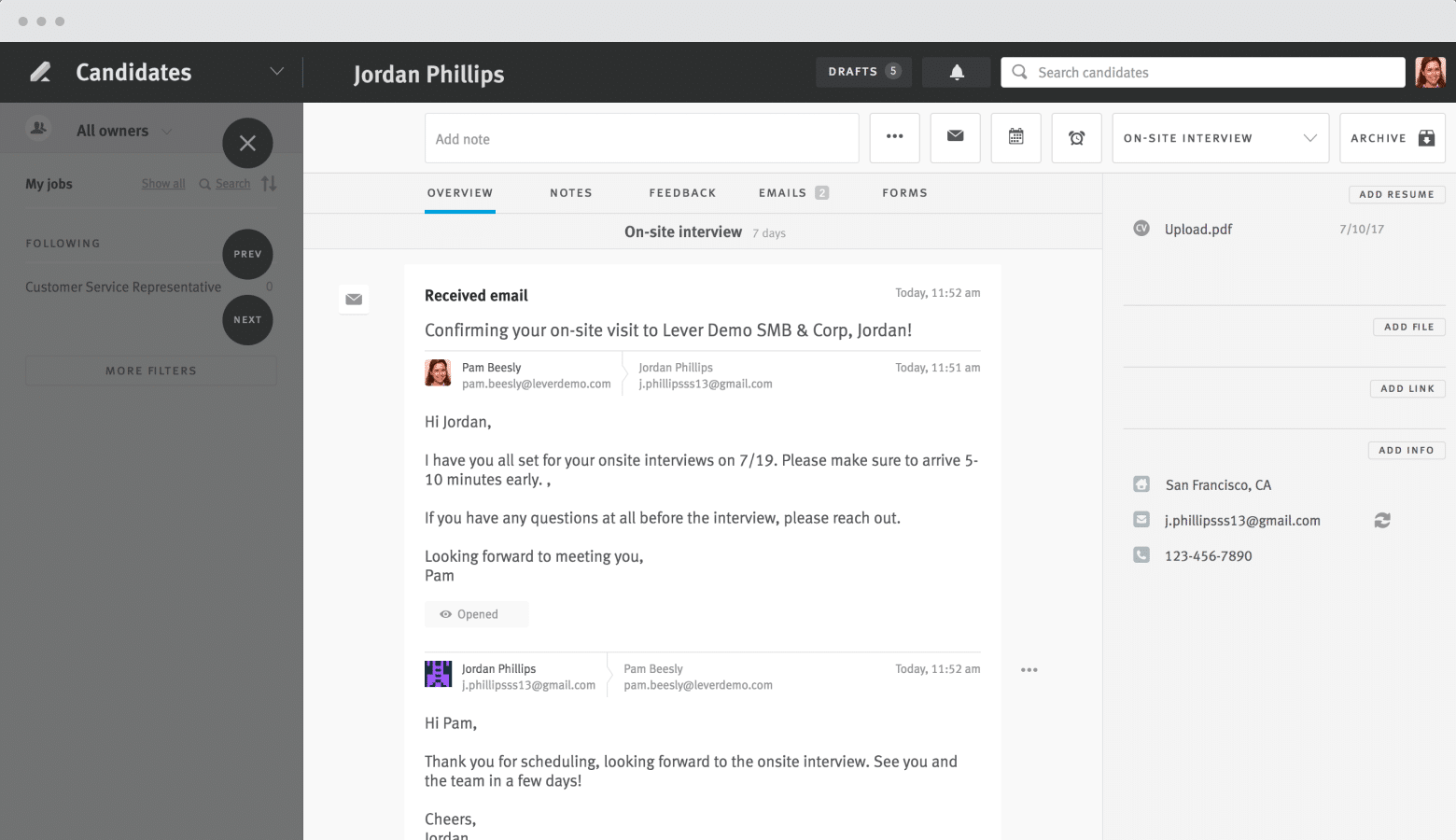 Why integrate with Office 365?
The short answer: Our customers want this. Microsoft Office 365 is a popular cloud-based solution for email, calendar, and other productivity applications that many of our customers use to run their business. In fact, Office 365 is now available in over 150 markets and 44 languages with another 97 markets expected to be launched later this year.
Rob Howard, Director of Office Ecosystem, Microsoft Corp. said, "Organizations are focused on collaborative tools that make employees more productive. Lever benefits our mutual customers with its Microsoft Office 365 integration that will help recruiters hire faster and more efficiently."
Fantastic! What happens next?
We're extremely excited for this new integration with Microsoft Office 365 and look forward to accelerating recruiting results for our customers.
For a quick tour of what the integration entails, watch our video below.