From day one, we set out to make Lever more than an "applicant tracking" system because recruiters deserve tools that not only track candidates but empower them with a competitive edge to win the very best talent.
With this belief, we embedded CRM functionality for building and fostering candidate relationships deep into Lever's DNA. Lever was designed from the ground up to help companies source the best candidates, preserve candidate history in a single source of truth, and revisit their warm connections when the time is right.
This belief was also the inspiration for Lever Nurture, the first product of its kind built directly in an ATS to maximize companies' returns on sourcing the top passive candidates. The results have been stunning. Through best-in-class sourcing tools and personalized email campaigns that automate 100 percent of the follow up work, we've helped customers like Shopify and Button turbocharge their sourcing and double candidate response rates.
Today, I am excited to announce the latest addition to Lever Nurture that continues to redefine and expand the ATS: Nurture Recommendations. While other ATSs are just beginning to bolt on and build out search and CRM functionality, these features were baked into Lever from the start, and we've been innovating ever since. Nurture Recommendations go beyond search to intelligently resurface past candidates who fit open jobs, enabling organizations to get more from their talent community and kickstart the hiring process.
"We switched to Lever largely because we needed a recruiting system that made it easy to search our large candidate database and take advantage of our warm relationships," says Graham Pionkowski, Head of Global Talent Acquisition at Bazaarvoice. "Now, we're thrilled about the addition of Nurture Recommendations, which we anticipate will help us gain greater value from our past recruiting efforts and accelerate hiring."
Why Nurture Recommendations
Far too often, candidates disappear into the depths of an applicant tracking system as soon as the role they're attached to closes. But past candidates are extremely valuable, even when they don't get hired. Perhaps they showed promise but needed more experience, timing was off, or they were the "Silver Medalist" who got inched out by someone else.
Past candidates are also some of a company's warmest leads. They've engaged with the company previously and are more likely to respond than someone they reach out to cold.
Companies are sitting on top of thousands, even hundreds of thousands of these warm connections. But instead of leveraging the hard work they've already done, recruiters often start their candidate search from scratch, even coming across the same candidates again and again in their sourcing activities.
It shouldn't be so hard, and it isn't with Nurture Recommendations. We do all of the talent mining work for you, so you can hit the ground running with automatic recommendations of past candidates who are likely to be a good fit for your current roles.
How Nurture Recommendations Work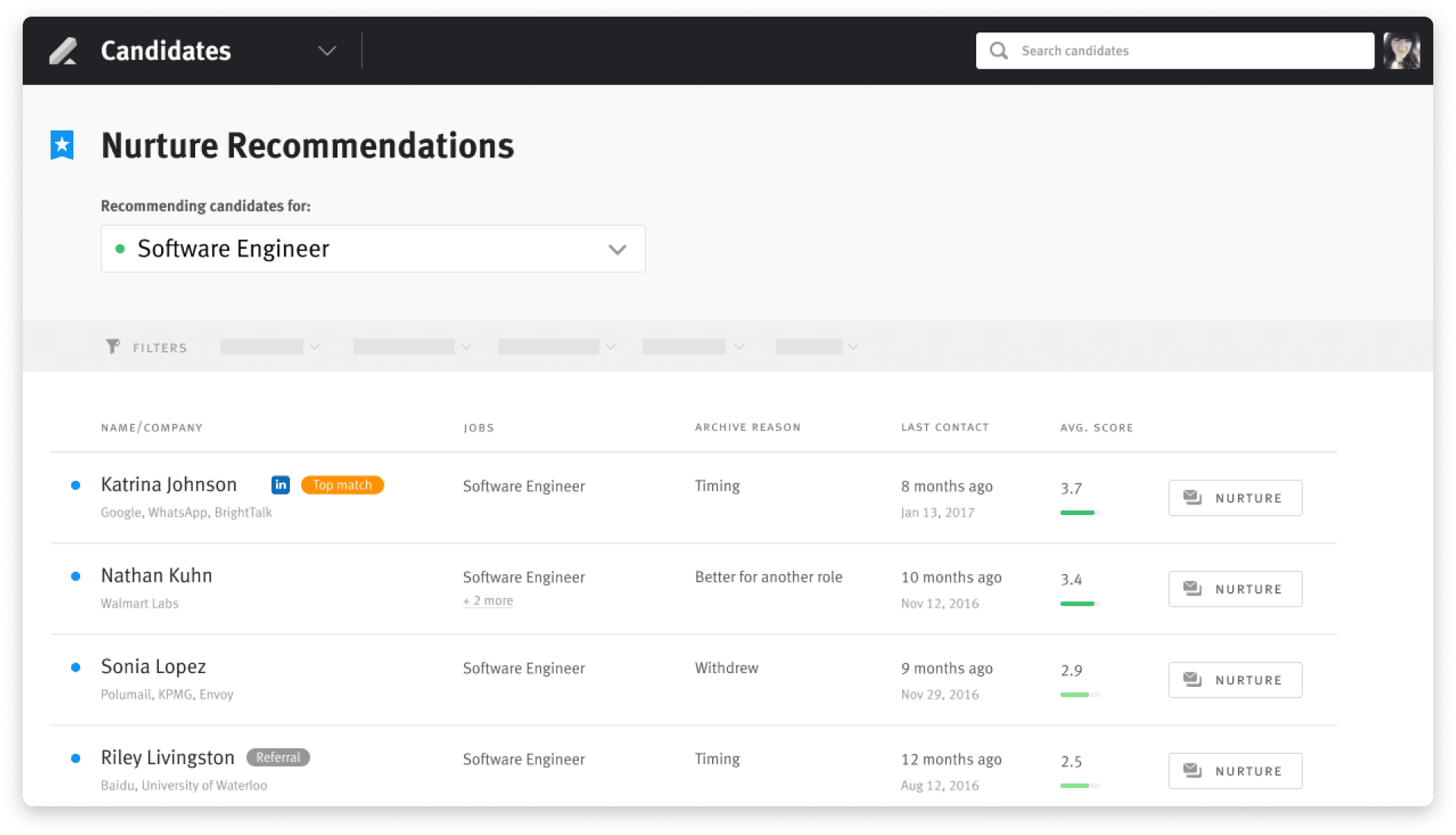 Lever's recommendation engine will automatically generate a list of recommended candidates for new job postings, based on a proprietary algorithm that takes into consideration a weighted combination of different criteria – including but not limited to interview scores, date of last contact, archive reasons, previous job postings, stage progression (i.e., how far they got in the process), referrals, and origin.
We'll send you periodic email notifications when you post a new job, and you can always see your list in a brand new Recommendations tab in the main candidate view.
Because Nurture Recommendations work seamlessly with Nurture Campaigns, you can immediately re-ignite conversations by adding candidates directly to ready-made email campaigns that handle every follow up for you.
If you're not ready to reach out, you can also add candidates to current jobs or continue to refine your list based on criteria like archive reason, last date contacted, and interview stage reached. And with a handy dismiss button, it's easy to fine-tune your list so you're only viewing candidates you are interested in. We give you all the information you need to make quick decisions and jumpstart your hiring.
Elevate your talent strategy
The value of a candidate doesn't end when a role closes. Recruiting is a long game, and the software recruiters use should reflect that – ensuring that the strong connections they cultivate with candidates continue to pay off well into the future.
At Lever, we've been working tirelessly to build a seamless platform that maximizes the value of every single datapoint and every single relationship. I can't wait to watch how our customers continue build upon their hard-won relationships with Nurture Recommendations.
Nurture Recommendations will be live in Lever Nurture this fall. If you're ready to elevate your talent strategy, get a demo today.