William Tincup estimates there are over 21,000 HR and recruiting technology products in the world today. Even if we assumed that 20 percent of them are defunct due to the intense pressure of the other 80 percent, we'd still be left with almost 17,000 products to consider. The upshot: this is an exceedingly crowded and competitive space – as it should be, because nothing is more vital than people and talent.
Given all that noise, I'm excited to share that Lever has been named the InfluenceHR Brand Velocity Award winner for 2016 in the Talent Acquisition category, courtesy of The Starr Conspiracy. The InfluenceHR awards, which honor the best HR Technology brands, were presented last night at the McCormick Center in Chicago.
The InfluenceHR Brand Velocity Awards recognize brands that are growing the fastest, building momentum, and disrupting industry categories. Recipients are selected based on quantitative and qualitative research used by The Starr Conspiracy Intelligence Unit to produce its Vendor Brandscape Reports™. Top industry brands are awarded in six categories: Engagement, Talent Acquisition, Learning Technology, HCM, Benefits and Rewards, and Hot Startups.
Within Talent Acquisition, the Starr Conspiracy evaluated companies across five categories: Candidate Discovery (like Indeed, LinkedIn and Glassdoor); Candidate Connection (like Hired and Randrr); Candidate Management (largely comprised of ATS players including Lever); Candidate Intelligence (such as HackerRank and Hirevue); and RPO (for instance, Randstad Sourceright and Cielo).

Here's a snapshot from the brandscape chart that the Starr Conspiracy shared yesterday, reflecting where Lever falls in the candidate management brandscape according to their intensive research: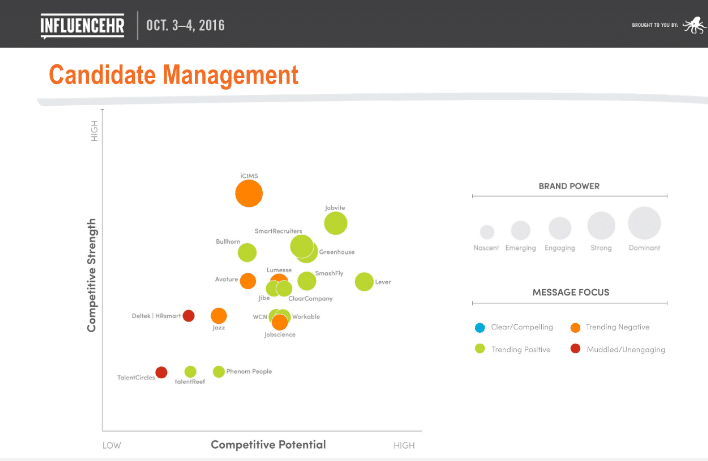 Last month, Lever was also named a Forbes Rising Star as part of the first-ever Forbes 2016 Cloud 100, the definitive list of the top 100 private cloud companies in the world. The Forbes 2016 Cloud 100: Rising Stars are innovative and promising young companies in each of their respective categories; Lever was named the Rising Star for HR. You can read more here.
We're excited and humbled that Lever is being recognized these days amidst a sea of formidable brands. A huge thanks to our customers, employees, followers and evangelists; we look forward to taking things to the next level with your support!