Multiple, competing demands and a plethora of platforms from which to choose leaves many small businesses to wonder: how can I recruit? How can I compete versus the deep-pocketed Fortune 50s in deploying my employer brand, exhilarating the candidate base with my value and landing that next great talent?
In Uncertain Times, the Small Businesses That Adapt Are the Ones That Remain Strong
Moreover, it's important to not stop recruiting as a small business, even in these uncertain times — just do so affordably. Historically, the small businesses that have survived hard economic or social times are the ones that got more creative about staying productive — not the organizations that fully halted operations. This post is aggregating helpful tips to maintain a high-level of recruiting, amid waves of disruption and battered budgets. 
I sought out help from savvy recruitment pro, Rob Dromgoole, whose enthusiasm spilled over into a sea of cost-affordable ideas for any business, large or small, looking to expand their recruiting initiatives.
Dromgoole currently serves as Senior Director of Recruiting at Choctaw Nation of Oklahoma, and has held previous talent management roles with T-Mobile, Pacific Northwest National Laboratory and JPMorgan Chase & Co. over the past 23 years. An avid social media advocate, Dromgoole has leveraged Facebook, LinkedIn and other channels to develop synergies, cultivate candidate relationships, expand employer brands and articulate his own unique value proposition.
Described as a "recruiting force of nature" by a former colleague and known for his passion and discipline in understanding the market forces, those who intersect with Dromgoole can count on him for staying current with affordable marketing trends that power up recruitment solutions to challenging business problems.
3 Examples of How a Recruiter Can Build Their Personal Brand on Social Media 
1) Use Organic Messaging on Linkedin
#1: Highlight Your Interests
"Last weekend I posted a picture of Wyoming; that photo had 10,000 views," says Dromgoole. In a period of social networking transparency, bringing a little of 'you' into your posts connects you to the candidates on a more personal level.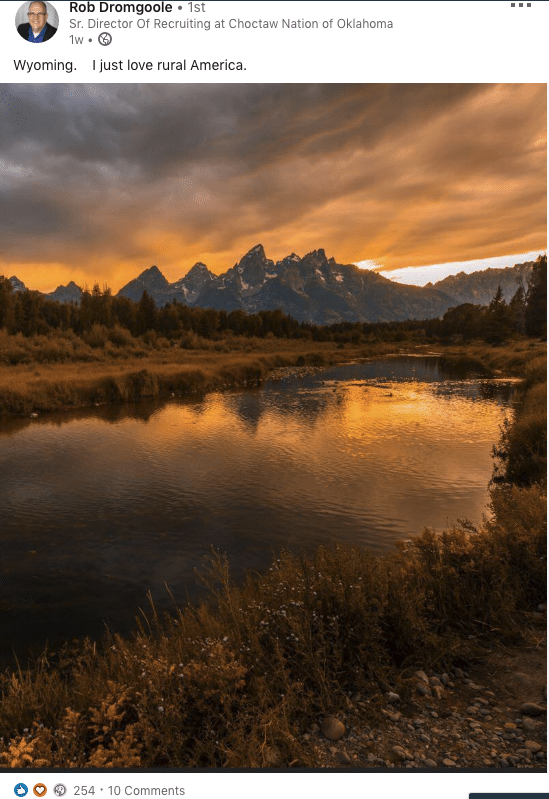 #2. Create Easy Links for Jobs You Are Advertising
With an easy link to the company's career page, the next post articulates the message that the company is hiring. It also provides a portal into the Strategic Project Manager description and other thousands of roles currently open.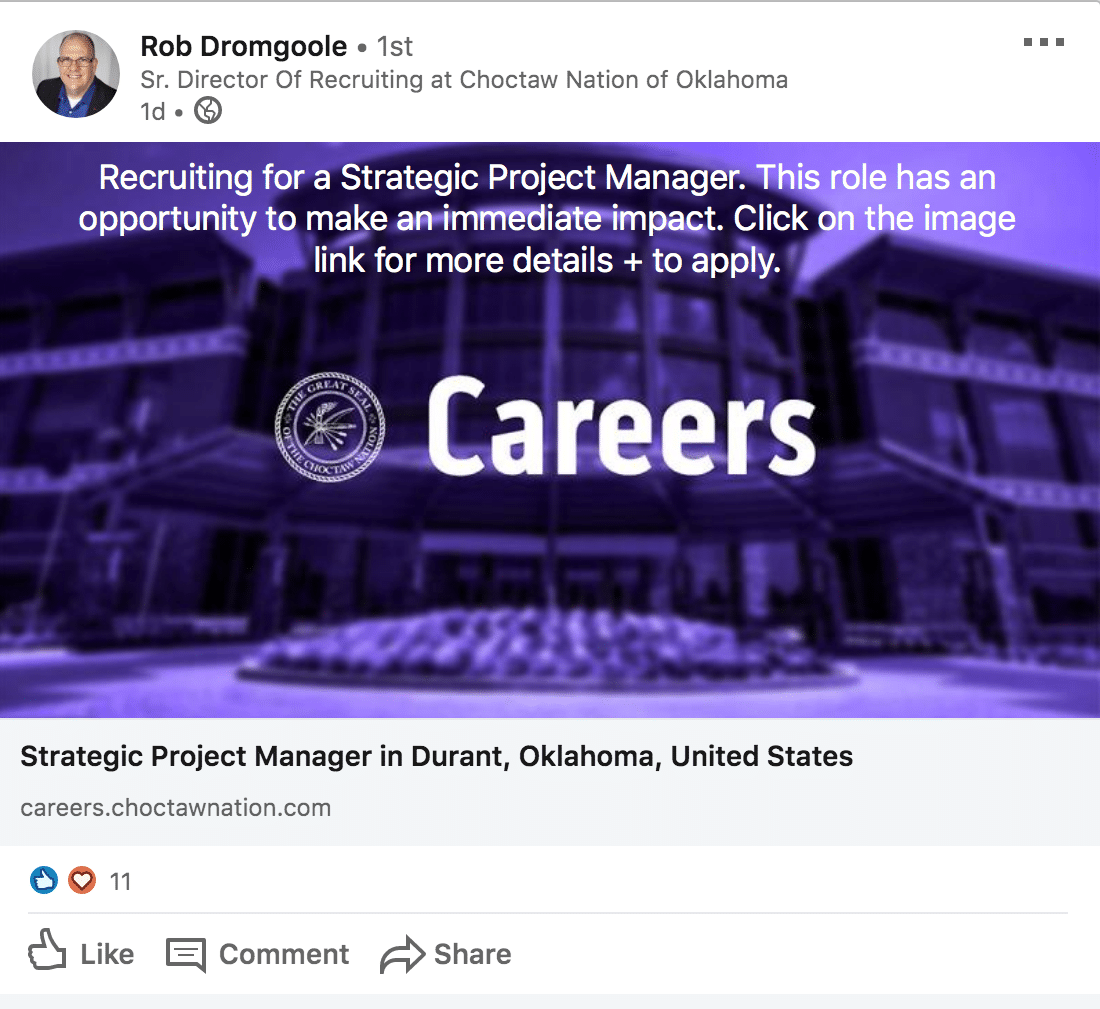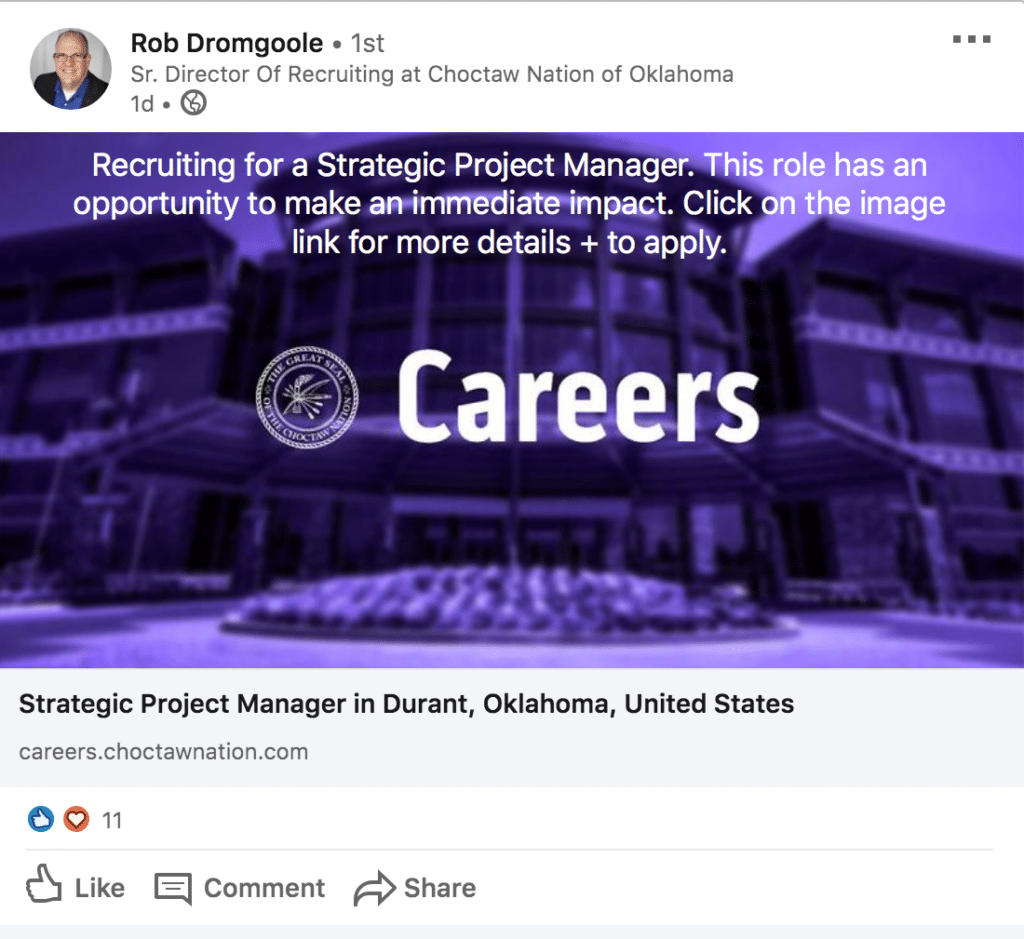 #3: Post About Industry Trends in Your Target Market
In this example, Dromgoole shares an article by the local television media that showcases his company's investment in a community child care center.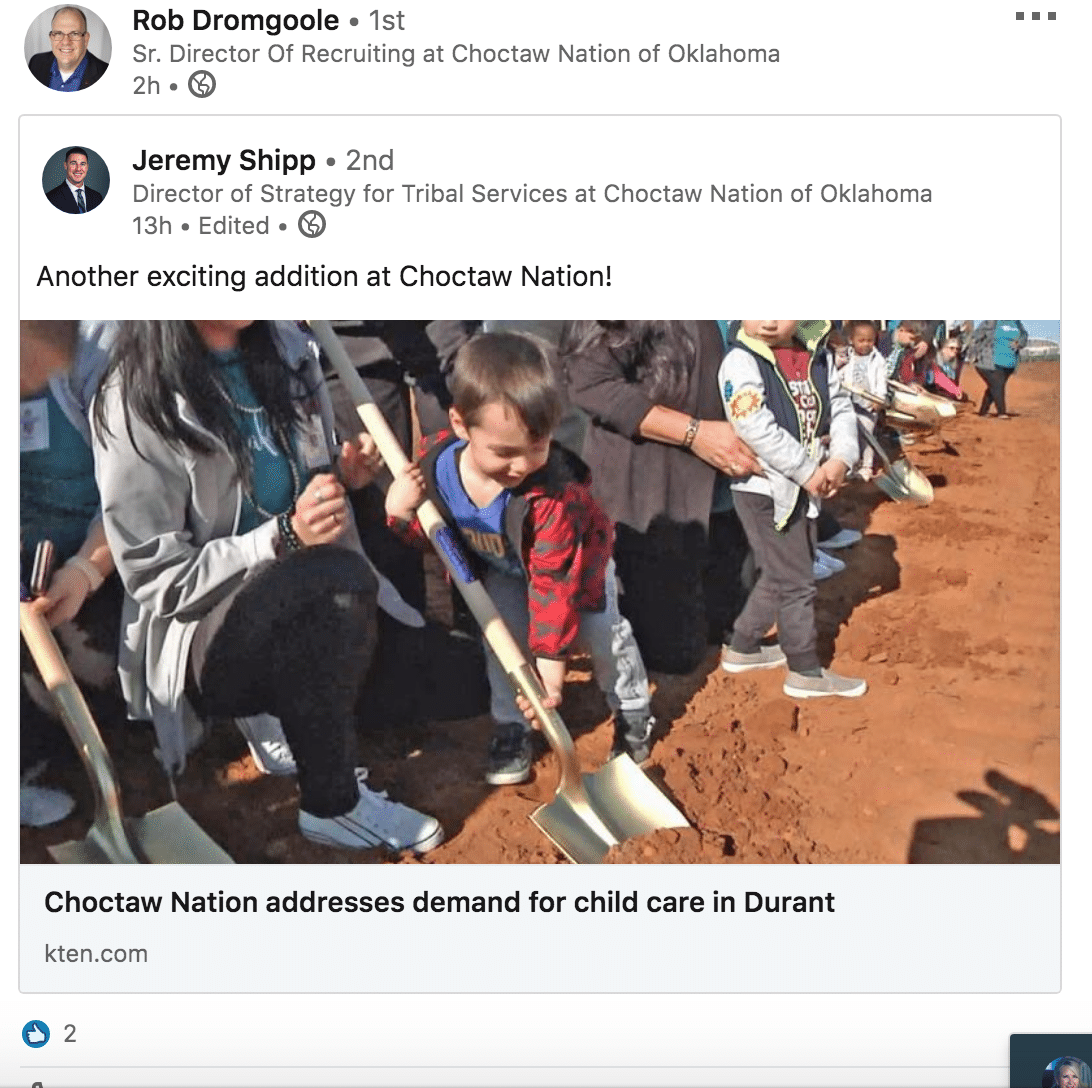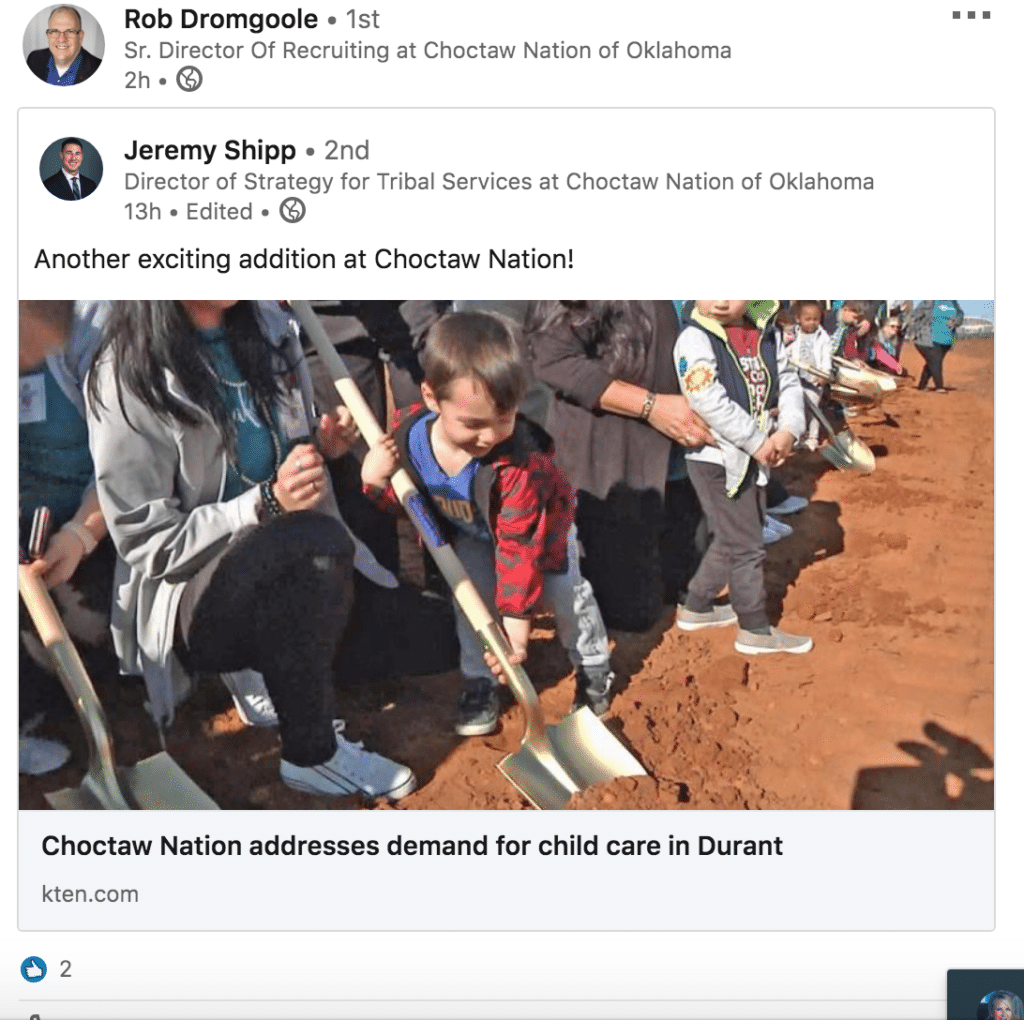 2) Boost Your Open Positions on Facebook
Facebook also can be an effective, low and no-cost recruiting tool (particularly for targeting entry-level talent), according to Dromgoole. Choctaw's recruiting page on Facebook has drawn in several thousand followers.
 A company can use their page to post a job on Facebook free of charge. Deepen the reach, boosting the job ad for a nominal fee ($50-$100), pushing it out to the people who are already following your company page as well as thousands of people in targeted demographics.
You can also use images and content on Facebook to highlight events that your recruiting organization is hosting.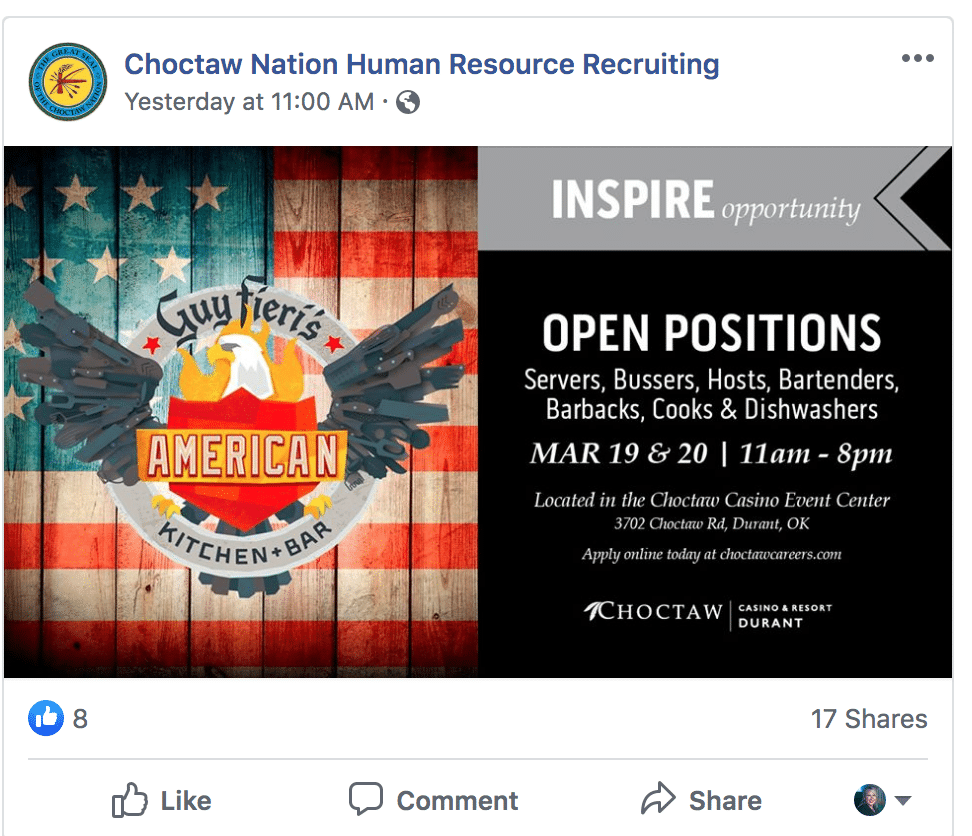 Further leverage the value of Facebook for recruiting through mobile exchanges, including basic pre-interview questions; e.g., "Are you available to work on weekends?" as well as supply "Apply Now" links directing candidates to your Lever hiring technology, maintaining recruitment momentum.
Moreover, Shelly Goldman, National Sales + IT Executive Recruiter and Talent Acquisition Consultant, in an article in Glassdoor, explains the value of Facebook as a referral tool. She says that recruiters "post information in our Timeline and evangelize our positions on Facebook. This can be very helpful, not just when the candidate who matches the talent we seek sees the post, but also when others see our posting, and then refer potential candidates. Facebook also helps a recruiter project their brand and the types of people we recruit for." 
3) Multiplying Visibility Through TikTok's Organic Reach 
Dromgoole also has seen companies do well with TikTok for employment branding. "If you can get your employees to self-make something on TikTok that is fun, it can work. Employees from Lowe's, McDonald's, Washington Post, as well as numerous healthcare industry people (doctors and nurses, for example) are using this channel in delightfully creative ways, according to Dromgoole. "The organic reach is amazing," he continues, emphasizing the potential for millions of views at no cost.
In this example, Washington Post is marketing how all their employees have been encouraged to work from home amid Coronavirus concerns.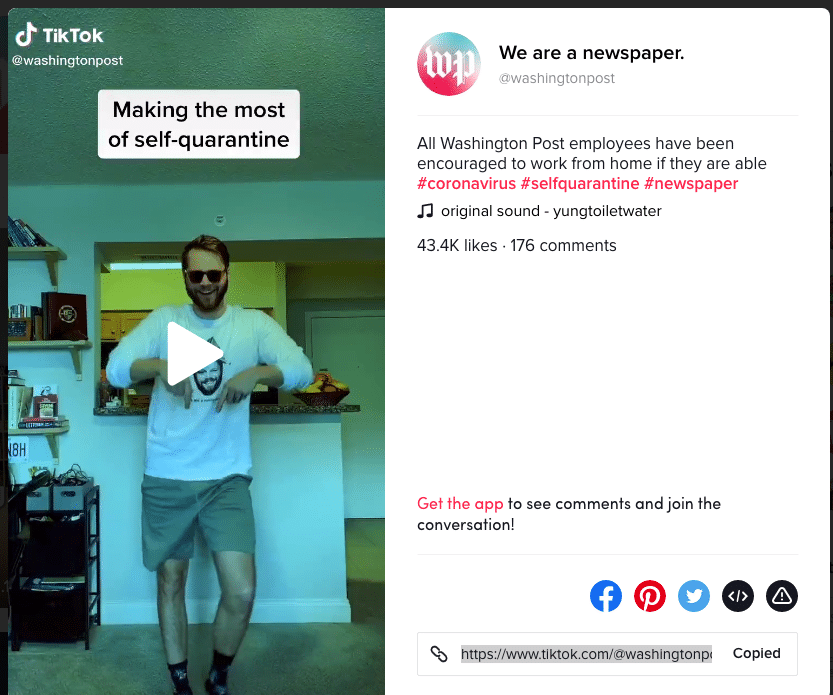 And speaking of organic reach, "The NBA uses TikTok similarly to ESPN, with even better results," according to Jessica Malnik in How to Get Started With TikTok: A Guide for Marketers. "They have more than 5.5 million fans and 79 million hearts." 
Small businesses may wish to encourage your employees to do something light-hearted, suggests Dromgoole. For example, a bakery might consider having a 'talking donut.' At the least, you may elevate your employee engagement and overall brand visibility.
Catering to a diverse, international audience with younger users, TikTok fits specific brand types. The following questions (adapted from Malnik's recommendations) will help determine if your recruiting brand and TikTok are a match.
Does your brand …
Target candidates younger than 35?

Sell products that are visually appealing and demonstrative?
Have a trendy, casual, fun and "cool kid" vibe?
Malnik further encourages test-piloting any new marketing channels with 1-month or 3-month tests, reducing the risk of overusing resources in the event the results don't meet expectations.
To learn more about TikTok, including steps to get started, follow this link to Malnik's full article.
Final thoughts: Affordable ideas to jump-start small business recruiting
By strategically expanding your visibility through a diversity of free and low-investment social channels, you can organically increase the number of candidates you are sourcing. Funneling that newly sourced talent through Lever is an affordably efficient way for your small business to hit your hiring goals, keep track of the best talent and nurture that talent through personalized messages. It also automates easy tasks like scheduling, enables Zoom conferencing for remote interviews and organizes your interview panels at the click of a button. Contact Lever today for a demo.