Human resources teams have long used 'people' analytics and ongoing feedback from their existing workforce to enhance the quality of their work. The results of using workforce analytics to elevate their performance leads to constantly improving HR metrics (e.g., better employee engagement and employee retention rates).
Today, talent acquisition leaders and their team members are following suit by embracing talent analytics.
Many TA teams now make key recruiting and hiring decisions based on candidate-centric dashboards and reports that tell the complete story of how prospects move through their recruiting process.
This holistic view of their talent pipeline means they can better manage priorities and tasks: everything from sourcing net-new prospects to nurturing current candidates — all of which leads to smarter hiring.
What we mean by 'actionable' talent analytics
Before explaining how your TA team can leverage candidate data and related insights and visualizations to enhance your talent management efforts, let's explore the concept 'actionable' analytics.
On top of driving innovation and building competencies, a recent Harvard Business Review study found a key challenge for enterprises today is making the most of analytics. More specifically, the challenge is "extracting new value from existing data and delivering actionable, customized intelligence throughout the organization."
Sales, marketing, engineering, customer service: These are all departments that require real-time, accurate, and actionable insights to thrive. But talent acquisition and recruiting can now be added to that list as well.
Just as HR uses human-capital insights to enhance their workforce-planning operations, TA orgs now utilize recruiting data to elevate the quality of their hires and overall results of their work.
TL;DR: Actionable talent analytics is essentially data on which you can take action immediately to realize better, smarter outcomes as it relates to your sourcing, nurturing, interviewing, and hiring activities.
But before you can take advantage of your analytics, you need both defined processes around which data each team member needs to succeed and a centralized solution in which your analytics lives.
How leveraging talent analytics can lead to better hiring and performance for your team
With a coordinated effort around recruiting optimization, analytics available to each TA specialist, and a game plan to capitalize on candidate data and related insights, it's easier than ever for talent orgs small and large to turn potential employees in their pipeline into new hires.
A prerequisite to mastering this approach, though, is having the right tech.
Consider Lever users. They utilize Visual Insights to drill down into data regarding intricate facets of their recruiting and acquisition efforts through dedicated dashboards. Our analytics offering gives them the intel they need to enhance their candidate outreach and engagement and, in turn, boost their hiring conversion rates.
Lever customers take action on the analytics provided in these dashboards in a variety of ways.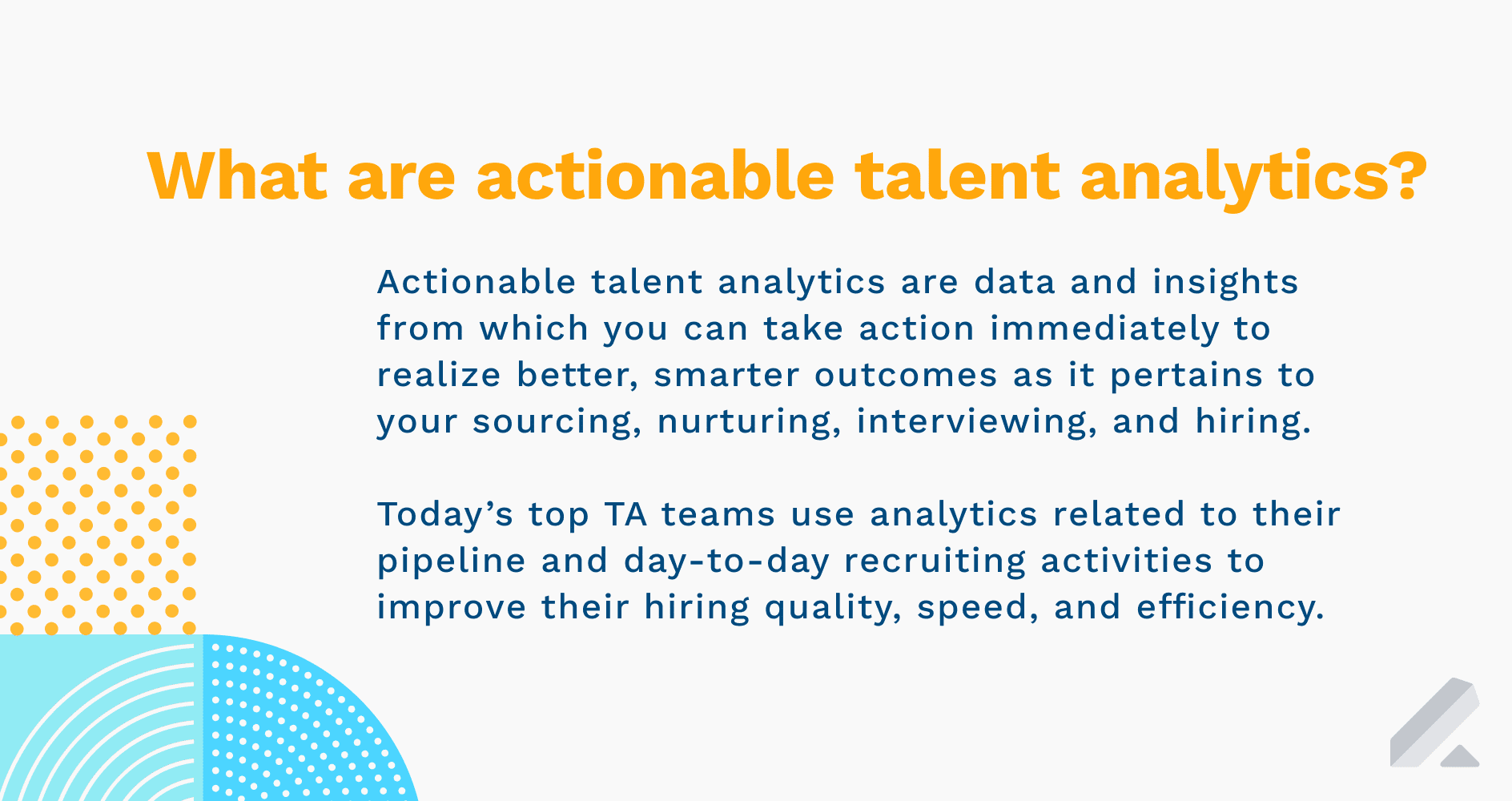 Ensuring they source and employ a diverse array of talent
A big part of success for Lever users' DEI efforts is routinely monitoring their sourcing and hiring data.
Many use the EEO dashboards in Visual Insights to see which source origins lead to the most diverse array of (and eventually hired) talent. If few diverse candidates are being generated, they can see which sources do and don't help them find diverse prospects, double down on the former, and turn to the latter less often.
Take Lever customer Maxwell. The business uses LeverTRM to build a diverse and equitable recruiting funnel.
More specifically, Maxwell uses the built-in DEI surveys in our complete talent acquisition suite to gauge the diversity of active and passive candidates. Its TA team then use those insights in tandem with its analytics to ensure it sources, engages, and — at the end of the day — hires a diverse array of individuals.
Maintaining compliance by tracking candidate data requests
The age of data privacy doesn't solely apply to consumers. Lever users who collect and store candidates' info in our TA suite must comply with various laws regarding how long they can hold onto prospects' data as well as candidates' data-deletion requests/consent preferences.
Thankfully, Visual Insights enables these businesses to track their compliance efforts over time. Notably, they can see how long data requests from prospects remain open before being actioned and closed.
If it takes their talent org too long to comply with requests, TA leaders can address the potential problem with their team ASAP, thus preventing any issues with candidates or compliance regulators.
Keeping regular tabs on their time to fill for open requisitions
Another area of recruiting where speed is of the essence is filling open requisitions.
Let's say the number of closed requisitions (either overall or for specific teams, departments, and/or locations) continues to trend downward over a 30-day period for a business. That tells the Lever customer in question they need to deal with the decline sooner than later.
In this case, the company's talent leader can check in with recruiters struggling to fill roles to determine what might be stalling their efforts, then update HR and hiring managers as necessary.
When the closed-req numbers get back on track and the team starts to fill headcount quickly again, the TA leader can share that data with those stakeholders to show they're trending in the right direction.
Altering job descriptions for active roles with little engagement
One factor that sometimes prevents recruiters from filling requisitions speedily is poorly constructed and/or promoted job descriptions. For Lever users, this is where the Job Postings dashboard can help.
Lever customers who discern a particular listing has been live for a lengthy period (say, 100-plus days) with few clicks or applications, for example, can infer from that data that a change to the copy describing the role in question and/or where it's being marketed might be needed.
One decision customers could make based on their respective data: Test changes for the posting one at a time.
For example, they could revise listing copy first. If that doesn't lead to more candidate interest, they could attempt an entirely new marketing approach (i.e., promote the listing on new job boards/communities).
Helping low-performing recruiters and talent specialists improve
Talent analytics isn't just helpful for on-the-ground recruiters. TA leaders also benefit from them.
For instance, if they see one of their sourcers is struggling to add a high quality and/or quantity of candidates to their candidate pool, TA managers can provide training for them to bolster their sourcing skill set.
Similarly, talent leaders' data shows them a sourcer is reaching out to candidates for an active role deemed not as big a priority as another open requisition assigned to them, they can talk to them about time management and ensure their focus is on filling the other position.
________
Bottom line: There are countless ways for talent orgs to take advantage of actionable talent analytics — as long as they have both leading TA tech that offers rich reporting, in-depth dashboards, and predictive insights as well as well-defined processes and roles within their teams.
Learn how three Lever customers built highly successful data-driven recruiting strategies with the actionable talent analytics offered in our complete TA suite in our in-depth eBook.