As popular talent sourcing platforms like LinkedIn become saturated with recruiters, there is more competition for the same talent. The best candidates are often overwhelmed by the volume of recruiting messages they receive, and don't bother responding. Strategic recruiters know they need to diversify their sourcing channels if they want to tap into newer talent pools and increase their candidate response rates.
AngelList Talent is one such channel that is a goldmine of great talent, yet is underutilized by recruiters. It's a free platform that you can use to find almost any type of candidate who is interested in working at a startup, but it's particularly useful for sourcing developers and designers.
Here's how to use AngelList for candidate sourcing.
Create a Compelling Company Profile

AngelList will only allow you to contact a candidate on its platform after you've posted a job description, and if there's mutual interest in starting a conversation. Candidates want to learn about your opportunity before responding, and AngelList provides better visibility to organizations with complete profiles, so it's important to optimize your organization's AngelList presence before you begin sourcing.
Complete or  create your company profile, paying particular attention to your high-concept pitch, which is one of the first things your candidates will see. Write compelling descriptions for your Why Us? and Product sections that will entice candidates to express interest in your organization.
Candidates also want to know about the people they'd be working with, so bolster your company's presence by adding information about you and your team. Complete your personal profile with a photo, education information, work history, and a short bio to show candidates who you are. Share information about your team, including your founders, employees, investors, and any other key people or companies you're working with. Add as much information as you're able, in order to boost your ranking and be seen by more candidates.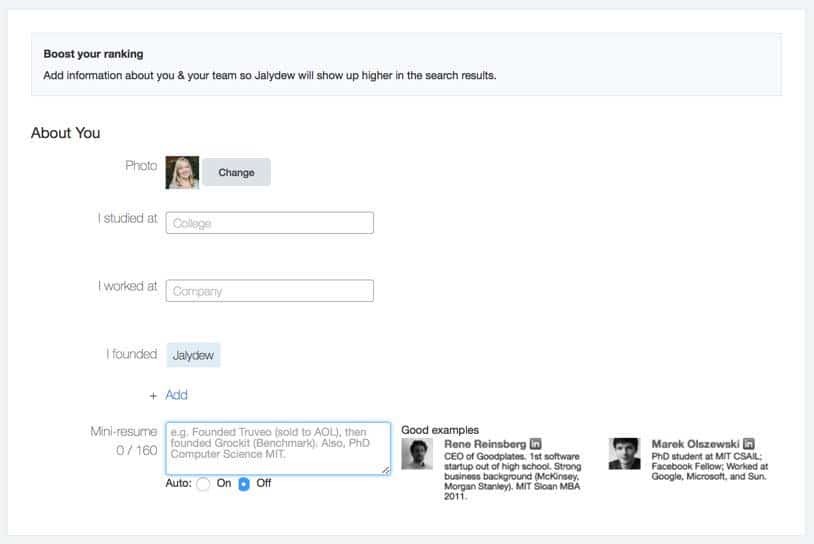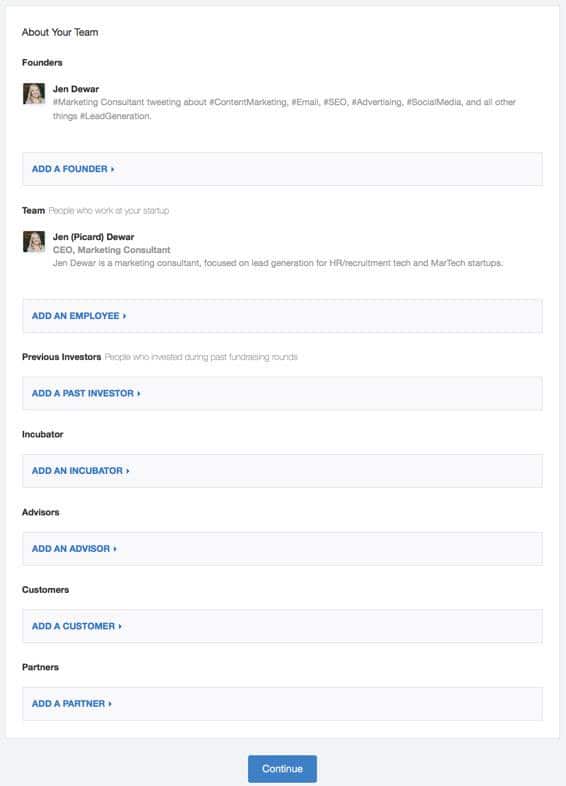 Post your job description
After optimizing your organization's presence, you are ready to post your job description. This will allow you to both proactively source candidates you'd like to speak with, as well as receive notifications from interested candidates. Remember, both parties have to express interest before an introduction will be made, so you need to  write a compelling job description that will capture your target candidates' interests and entice them to respond.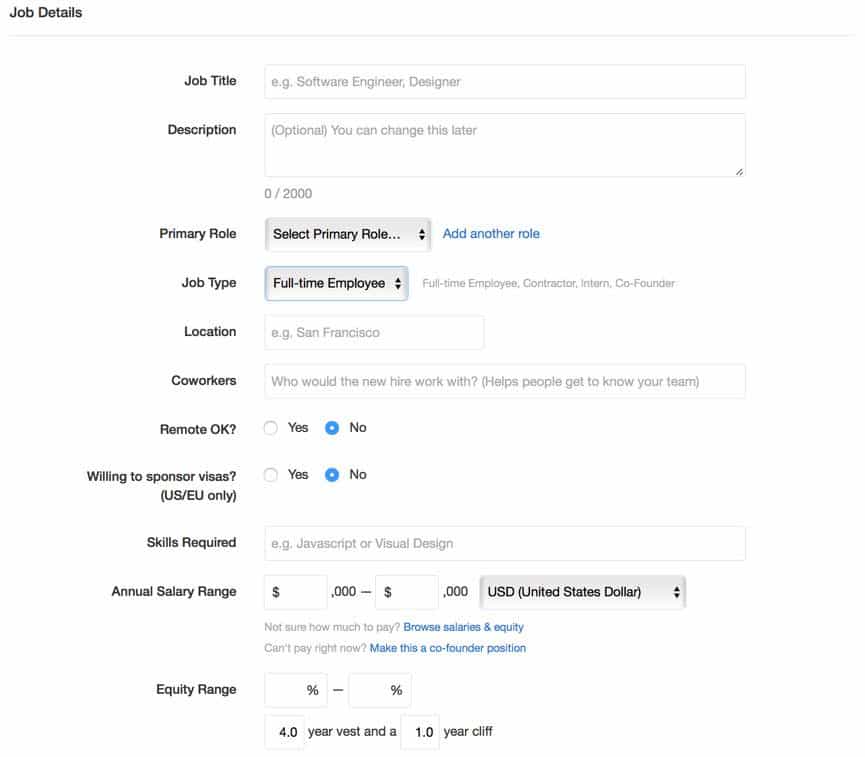 Review your candidates and optimize your filters
Once you've posted your job description, AngelList will automatically match you with candidates. View them in your recruiting dashboard by selecting the job that you just created. You can update the filters to hone in on the most qualified talent, or expand your search. Depending on the completeness of each candidate's profile, you may see their name, location, work history, skills, and other key information.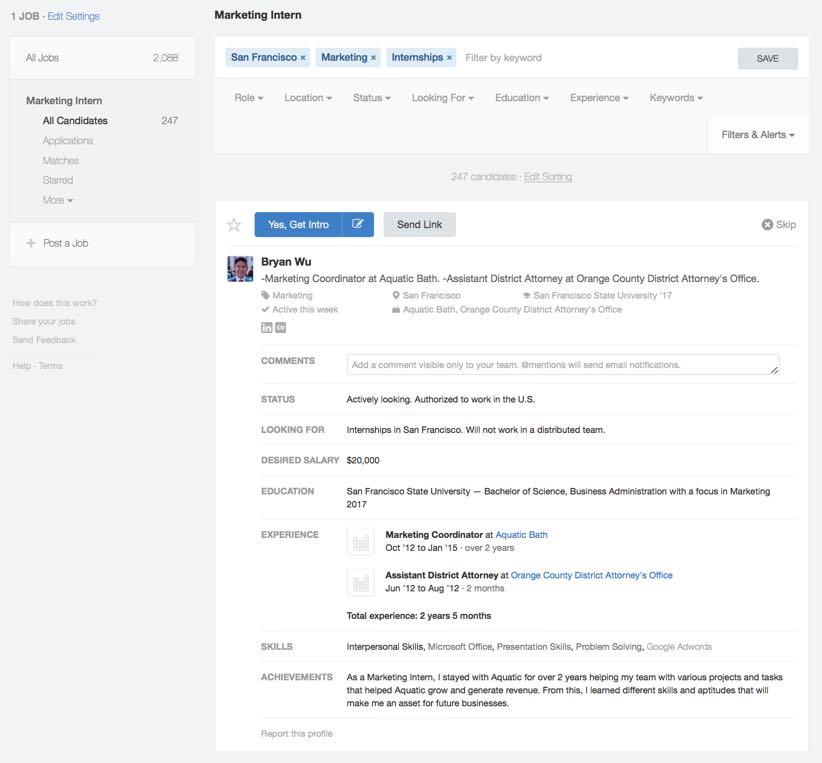 Engage candidates
Once you've identified a potential candidate, click "Yes, Get Intro" and write them a note to introduce yourself and your opportunity. To increase the chances of a response, make your opportunity stand out: personalize it, say what makes your company unique, and give some insight on how the candidate would be able to contribute.
Better yet, send the profile and an email template to your hiring manager first and ask them to reach out. Hiring managers are the ones candidates really want to speak with, yet recruiters reach out in most companies. This is an opportunity to stand out, create deeper engagement, and close more top-tier candidates.
Conclusion
AngelList is an untapped pool for talent sourcing. With fewer recruiters looking for high quality talent on the platform, your recruiting efforts can stand out – if executed correctly. Treat top-tier candidates as such to maximize your results from sourcing on AngelList, and continue experimenting with new talent sourcing channels to stay ahead in the recruiting game.
For more tips on how to source and engage amazing candidates, download our free sourcing ebook.