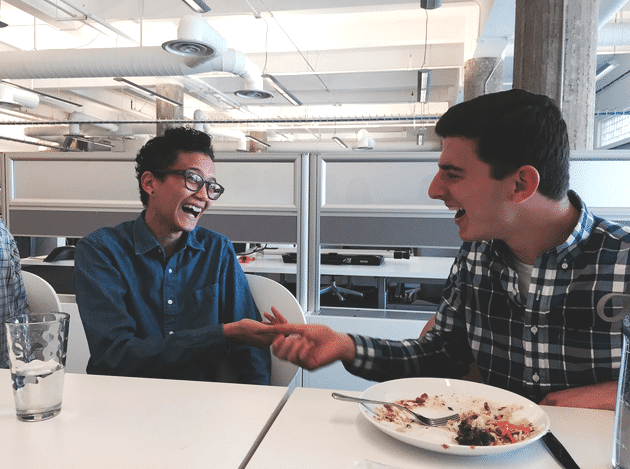 As a hyper-growth startup, Lever is in constant hiring mode. In interviews, in addition to the usual questions about Javascript and sales quota numbers, we ask our candidates some pretty unique questions:
If you were hosting a party tonight, what would the theme be?
Describe a room you'd have in your dream home.
Do you have a guilty pleasure song?
What's your favorite bad movie?
You may wonder what kind of candidates we're hiring with these – but these questions are actually a valuable tool that allows us to build a unique candidate experience that showcases culture and team, instead of perks.
One of the most important elements of the Lever culture is lunch. We're a tight-knit group and every work day at noon, gather around one long table to eat together, often joined by candidates, customers, etc. What makes lunch at Lever truly special though, is the Roundtable Question.
The Origin
Back when the company was less than a dozen people, we noticed that sometimes with guests, conversations would get fragmented – often, engineering candidates would only end up talking to engineers and so on for sales, design, etc. So we tried an experiment with a casual question that allowed every person to introduce themselves to the candidate. Because the whole company was working so closely with each member of the team, we all wanted to at least meet the candidate over lunch.
Since then, Lever has tripled in size, and the Roundtable has taken a life of its own. During each Roundtable, we get to tap into the collective creativity and humor, and individual's personalities really come out. This way, candidates to get to hear from a wide range of potential coworkers and a sense of what it would feel like to be a Leveroo.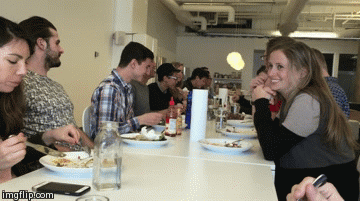 Impact
Logistically, the Roundtable Question is fantastic. It's casual, and provides organized structure for a large group interaction. While of course the candidate also gets to learn about the company culture during 1:1 interviews, getting to experience this kind of group dynamic is really special for understanding the vibe of the office.
Lunches have been especially helpful for courting warm candidates. Many of us weren't actively looking for jobs and were happy elsewhere when we decided to join Lever. Top-tier candidates are rarely hunting for a new job and when they are, in this competitive talent market, there's no shortage of trendy companies to engage. In these situations, culture / team fit is critical and through a candidate experience like ours, we get to show (not tell) people what Lever culture is like and they get sold immediately.
Furthermore, a lunch is a welcome break in the jam-packed schedule of onsite interviews. In a normal lunch interview, the candidate gets bombarded by questions and is nervous about being in "interview mode" to properly eat. With the Roundtable Question, the candidate gets to take a break in talking, listen to others' answers, and actually eat!
Candidate feedback
Over the past few months, we've had dozens of guests for Lunch and have heard abundant feedback about how much they enjoyed the experience (not to mention all the customers, especially recruiters, who wanted to adopt it for their own companies!):
Playing the game around the table really put me at ease and provided me some insight into the wonderful dynamic your team possesses. Interview processes can be daunting but your team made it less so." – Jim, candidate for Product
Candidate experience is a top priority for us – top talent has their choice of companies, and the competition is fierce – and feedback like this has really validated our efforts. Candidates see how engaged the team is at lunch and how genuinely interested we are in getting to know our guests. Even candidates we ultimately end up having to reject have told us how much they enjoyed the experience, and we're seeing increasing number of candidates from external referrals (not originating from employees).
"Going through the Lever interview going through process is really chill, it's really indicative of the culture. It was so awesome people remembered my name from last time when I visited for lunch and said hi. I felt really welcomed!" – Helena, candidate for Design
Best Practices for Roundtable Questions
Some of our favorite questions from the question bank:
If you were a Disney character, who would you be?
What would you like to win a lifetime supply of?
Who was your favorite teacher and why?
Favorite project from college/school?
If you could choose any 2 people to be your parents, who would you pick?
We've gone through many Roundtables at this point and have developed some guidelines for coming up with new ones:
The question should be easy enough to answer so that everyone can think of something relatively quickly. Low pressure is key: not the time for hard-hitting questions! Keep it open-ended and see what the group comes up with! "What is the one thing you HAVE to have in your home?"
You want a balance between not too probing but still allows people to reveal things that wouldn't come up in everyday conversation. Asking about anything "guilty pleasure"-related has worked out well – let folks share something a little embarrassing! "Which app on your phone do you not need but you actually DO need?"
Make it flexible to give people different ways to answer. "What high school superlative (like "Most Athletic") DID or SHOULD you have received?" was a really fun one. "What beliefs did you have a child that turned out to be wrong/silly? Or, what did your parents lie to you about?"
Put a fun spin wherever you can – instead of "Favorite ice cream flavor?" to get the group to think outside of the box, ask instead, "If you were reincarnated as an ice cream flavor, which would you be?"
Anything food-related is good. Everyone loves talking about food, at least at Lever: "The first thing you ever learned to cook?" "Theme for your future restaurant?" "What is your all-time favorite dessert?"
How it affects our culture
A lot of startup interviews rely on showing off the latest and the greatest perks to attract candidates – ping pong tables, beers on tap, dry-cleaning services, the list goes on. While those things are nice, we believe the best thing an employer can provide are the opportunity to help build something great, a mission you can personally connect to, and perhaps most importantly, great coworkers that will make the every day enjoyable yet challenging. We're deliberately designing a candidate experience and recruiting strategies around that.
Originally meant for candidates, the Roundtable is now just as important to the current team. Even on days we don't have any candidates or guests for lunch, every now and then we break out a Roundtable Question. It's helped us further shape our culture by getting to know every single teammate, even if we don't work closely day-to-day, not to mention all the inside jokes that have stemmed from the past Roundtables.
We may be growing quickly and running out of room in the one long table, but the Roundtable involving the whole team is something we'd like to keep as long as we can.